Anyone who has tried building a stockpile of food to get them through emergencies knows that this is an expensive proposition. For that matter, you don't even need to try building a stockpile to know that; it's pretty obvious just looking at your receipt from your last trip to the grocery store.
If you ask people what the most expensive food in the grocery store is, they'll pretty much universally tell you meat. That's not quite true, as fresh fruit and vegetables are more expensive. But then, we don't buy fresh fruits and vegetables for our stockpiles, we buy canned. Those cans aren't all that costly, but then when we go to the meat department, we all want to put our hands on our wallets.
Yet protein is one of the three key macronutrients that we have to have in a survival diet. While carbohydrates and fats provide us with the energy we need, proteins are the essential building blocks for all cells.
Since the body can't store proteins, if we aren't eating protein or amino acids (the building blocks of proteins), the body has to cannibalize itself, getting the protein it needs from living cells. Since this process is inefficient, protein deficiency leads to muscle loss, as well as edema (swelling of the ankles, feet and belly).
In order to build an effective survival stockpile, we have to include protein in our diet. The trick is, finding sources of protein we can use, which aren't going to cost an arm and a leg. Fortunately, there are some tried and true solutions we can use.
Lentils and Other Beans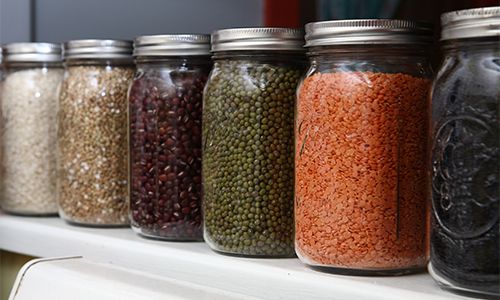 Beans in general are known as protein-rich foods. While they won't provide the same amount of protein as a nice thick steak will, most beans have about 15 grams of protein per cup. Amongst these, lentils stand out as the highest, with 18 grams of protein per cup. There are many countries in which beans are one of the main protein sources that people eat.
Beans tend to be extremely inexpensive, especially if you buy them dry and in bulk. That makes them ideal for filling those five-gallon buckets with. While they may not be your favorite food to eat, they can be mixed in to soups, casseroles and a variety of other dishes. Dry beans are really cheap, running as low as $0.05 per ounce in bulk.
Related: Bean and Rice Survival Soup; Easy and Adaptable Recipe
Peanut Butter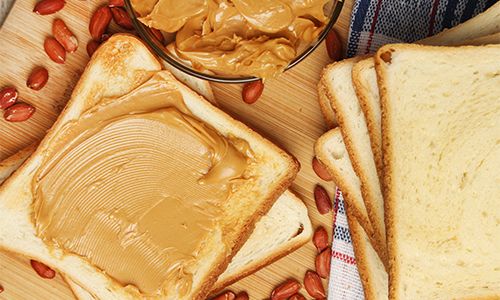 The kids' favorite of peanut butter and jelly sandwiches is actually quite nutritious, mostly because of the peanut butter in them. The bread and jelly are great sources of sugar, fiber and other carbohydrates, while the peanut butter provides protein and fats.
Two tablespoons of peanut butter has 7 grams of protein and 16 grams of fats. Peanut butter is pretty inexpensive, at $0.11 to $0.15 per ounce.
Compared to the price of buying just nuts, peanut butter is extremely cheap. While adding other nuts to your prepping stockpile can be great source of protein, it's just about as expensive as buying that steak.
Green Peas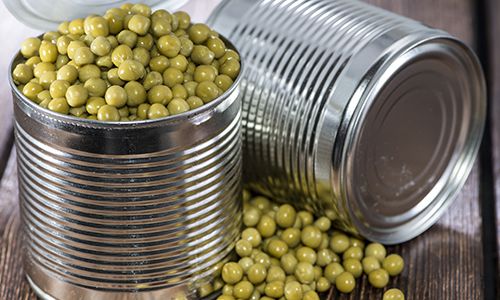 Those little green peas you see on the side of your plate are actually a good protein source, in disguise. Peas actually have 9 grams of protein per cup, making them one of the most protein-rich vegetables around. They're also rather inexpensive, with cans ranging from $0.60 to $1.20, which works out to as little as $0.06 per ounce.
You can buy dried peas as well, or at least split peas, but with how well canned foods last, I'm not sure why anyone would want to, unless they're planning on making split pea soup.
Amaranth and Quinoa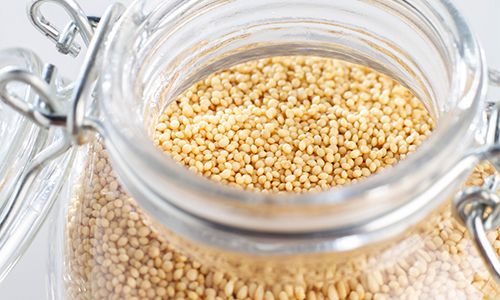 These two grains have become more popular for side dishes in recent years, perhaps as a fad, with them being referred to as "ancient grains." Unlike other grains, these do not grow from grasses, so are referred to as "pseudocereals" rather than cereals.
Nevertheless, they both provide 8 to 9 grams of protein per cup. In addition, they are great sources for complex carbs and fiber, like other grains.
Amaranth and quinoa are especially interesting as plants or grains, as they contains all nine of the essential amino acids. Not many plants do that.
Soybeans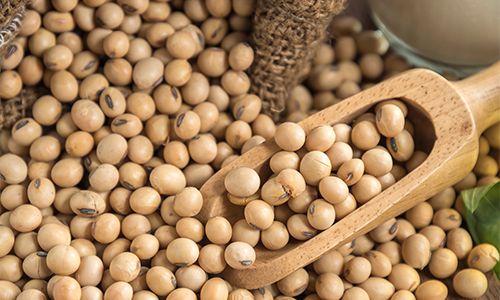 Soybeans are packed with protein, to the tune of 68g per cup. That puts them up in the same range as meats, which might explain the existence of tofu. It certainly can't be for the taste.
The problem here is finding soybeans, as your local grocery store probably isn't going to carry them. You'll have to go to a health food store somewhere, which makes the idea of them being inexpensive something that's probably a bit iffy.
Nevertheless, if you can find them cheap, or even products made with soybeans, you've got a good protein source.
Wild Rice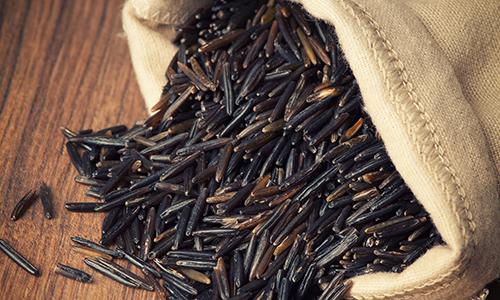 While no rice product is a powerhouse of protein, wild rice contains roughly 1.5 times as much as other types of long-grain rice, like brown rice. So if you're going to stockpile rice anyway, you're better off with wild rice, at least from the protein point of view.
The problem is finding wild rice at a reasonable price. Most rice consumed in this country isn't wild rice, not even the brown rice that many people confuse with wild rice. If you buy the boxed version in the grocery store, it will run roughly $0.90 per ounce, which is not bargain. Health food stores are even worse.
However, you can often find it bagged in oriental grocery stores for much less than that.
Oatmeal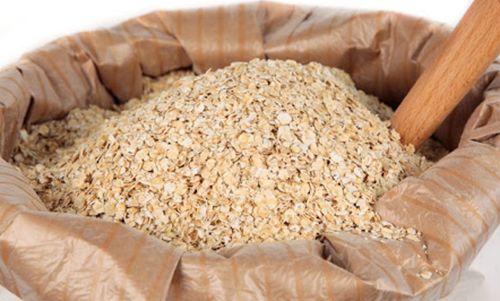 You've probably already included oatmeal in your prepping stockpile, which is good, as it provides 6 grams of protein per cup. Granted, that's not a huge amount, but it is better than most other grains. It's also great for keeping your cholesterol down and helping your heart.
Oatmeal also fits our criteria of being an inexpensive food, running around $0.07 to $0.11 per ounce, if you buy the larger packages, rather than the individual servings. In bulk, it tends to run about $0.08 per ounce. But the nice thing about buying it in bulk, is that it's easier to repackage it in five-gallon buckets that way.
Related: How to Use Avocado Seeds to Lower Blood Pressure and Cholesterol
Canned Meats
While it might seem like I'm trying to avoid meats on this list, I'm really not. We can't finish it out, without talking about some of the low-cost canned meat options out there. These may not be your favorites, but their prices make them a really great option for your prepping stockpile.
Potted meat – as low as $0.15 per oz.
Vienna sausages – about $0.13 per oz.
Lunch loaf (generic Spam) – about $0.16 per oz.
Canned chunk ham – about $0.25 per oz.
Canned chicken breast – about $0.25 per oz.
Deviled Ham – about $0.36 per oz.
Albacore Tuna – as low as $0.31 per oz.
Salmon – as low as $0.38 per oz.
Mackerel – about $0.13 per oz.
Chicken breast – as low as $0.21 per oz.
Please note that none of those prices are based on catching the items on sale. I've gotten canned chicken breast for as little as $1.00 per can, cutting that price in half. That's how I buy most canned meat, waiting until I catch a sale and then buying a bunch at once.
Of course, canned meats aren't as tasty as fresh or even frozen meat; but at least it's meat. When you put it into soup or a casserole, you really can't tell the difference. So it will satisfy that craving for meat, without having to spend a lot of money.
Just a note: If you've been buying fresh fruits and vegetables to can, you're spending more than you need to. You're actually better off buying them factory canned. On the other hand, if you're canning produce you grow, you're definitely saving yourself some money.
You may also like: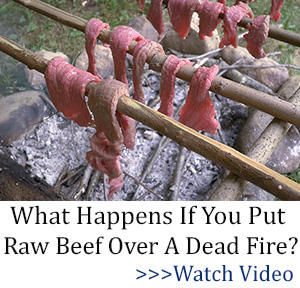 How To Stockpile Lard, The Calorie Rich Survival Food Of The Great Depression

H2O Dynamo – The Awesome DIY Device That Turns Air Into Fresh Water! (Video)
How $5 A Week Can Get Your Family 295 Pounds Of Food
How To Preserve Food With Duct Tape And Bentonite Clay