While foraging has again become a popular pursuit only in the last few years, it is, of course, the most ancient way that we have fed ourselves since we came down from the trees. If we are honest with ourselves modern foraging is nothing compared to what our ancestors used to do.
Their knowledge of the natural environment around them was awesome and it had to be because it and hunting was the only way that they could survive.
With the advent of agriculture, some ten or so thousand years ago foraging in many cultures died out although in others it continued all the way through to the 19th century in North America. In many ways, this is a shame as nature can provide us with so much food all on its own so long as we know what we are looking for.
Foraging also gives us the chance to reconnect with nature in a meaningful way. With that said, foraging should not be done without careful planning and education.
The average person today simply does not have the knowledge that our ancestors probably took for granted. So, in order to engage in foraging today you have to take the time to re-educate yourself about the natural world around you.
Related: 79 Edible Flowers in North America (with Pictures)
Below I am going to outline some of the most common first mistakes people make when they start out foraging and give a little advice on how to avoid them.
It is not an exaggeration to say that some of the advice below could save your life, so read carefully!
Try to avoid using common names for plants
This one is probably one of the hardest pieces of advice to follow. Learning, let alone pronouncing scientific names, can be a challenge. But trust me it is a good habit to get into.
You don't have to forget the common names, of course, but learning the scientific names is important because common names change depending on who you talk to, and with foraging, you really need to know what you are picking before you put it in your mouth.
Learning the scientific names is also just a great way to learn a little bit more about the plants you are foraging for. Most plant books will list the scientific name, some common names, and give a short description on how to identify the plant, where it grows, and when it flowers.
Don't eat too much of a plant the first time you pick it
While you may have spent time learning the scientific name of the plant you are foraging for and a little bit about where it grows and what its flower looks like, identifying plants can still be hard particularly because some plants actively mimic the looks of others.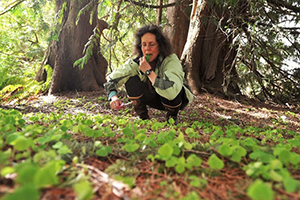 Even if you are pretty sure that you know what you are picking, if it is your first time foraging for a plant it is best to consume it carefully.
I usually take a little nibble first chew it carefully in my mouth for a minute or two even and let it dissolve there a bit.
If it tastes off or I get any adverse reaction, such as a tingling on my lips or any burning sensations, spit it out immediately and drown it out with a long drink of water. Believe you will make mistakes sometimes when you are foraging so it pays to be cautious.
Related: The Best Natural Treatments for Poison Ivy and Poison Oak Rash
If you don't feel anything adverse go ahead and swallow. Then wait a few hours. If it is still all good, then more than likely you have found what you were looking for so enjoy!
Don't think that close enough is good enough
Related to my above piece of advice, plants can look similar but have very different effects on your body.
If you are looking for a type of wild garlic, for example, it's best to be disciplined about finding it, and only it, on a foraging outing.
Particularly if you are new to foraging, before you go out decide what you are looking for and stick to that. Grabbing a few other plants that look similar to what you wanted can be dangerous again because plants mimic each other but can have very different effects on your body!
Related: 8 Edible Backyard Plants And Their Poisonous Lookalikes
Don't go out without doing research. Get a book!
Learning is fun! There are a ton of foraging guides out there full of interesting and practical knowledge about foraging and the plants you want to find.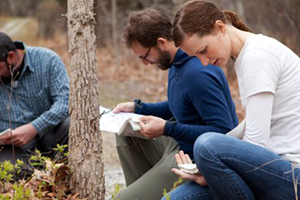 When you go out foraging, take the book with you as a reference. Especially if you are foraging for something new, trying to remember what it looks like, whether it has three-pointed leaves or four, for example, can be harder than you think! It's nice to have your handy reference book right there with you.
If you don't want to lug around the whole book at least jot down some notes on a piece of paper or if you are tech savy take a few pictures of the relevant pages with your phone.
Don't pick everything!
This should almost go without saying. Don't go foraging with the attitude of a farmer who has worked hard to plant everything that he or she is going to harvest.
Mother Nature is bountiful but be kind to her and don't take everything that you can. Leave some for the animals, or other foragers, or just so the plant can easily reproduce itself.
As a rule for myself, I never take more than half of what I find. Not everyone needs to follow this rule.
There is certainly always a lot more out there than you can find on anyone foraging outing, but I find it works for me and ensures that come next season I know there will always be more waiting for me.
Really study your mushrooms!
Mushrooms are one of those plants that most new foragers always want to find. They are also one of the hardest edibles to get right. Why not start with something easy like wild garlic?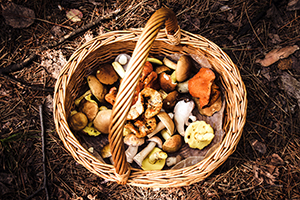 But if you really want to start with mushrooms, get a book, or even better yet, find someone in your area who already forages for mushrooms and go with them.
Mushrooms can kill you easily if you eat the wrong one.
And if they don't kill you, they can make you see things you might not want to! Don't get me wrong, I love picking some nice wild chanterelles as much as the next guy but do right or you can get into some real trouble.
Related: Edible and Non-edible Mushrooms you Find in Forests
Careful about foraging to close to urban areas
Finally, not all of us can live in the great wide open with a forest in our backyard. If you do, congratulations, easy foraging awaits you!
But if you are like many of us and live closer to urban or suburban areas, don't worry foraging is still entirely possible!
Only you do have to be a little more careful about what you pick because urban environments can be subject to the pollution that will turn an otherwise perfectly edible plant into a health hazard.
Be careful, for example, of picking anything that is too close to a road. All manner of nasty stuff flies off of cars driving on them that can spoil plants nearby.
Final words
With that said don't let my cautionary advice scare you away from going out and foraging for your food.
If done correctly, it is perfectly safe, a great way to get to know your natural environment, and also a great source of delicious food!
Happy hunting!
You may also like: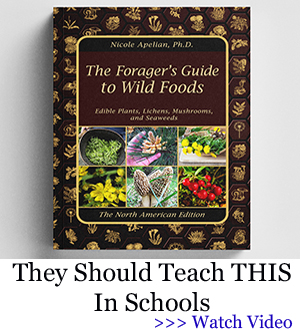 20 Stone Age Foods Every Prepper Should Try
This Hidden Survival Garden Will Keep You Well Fed In The Next Crisis (Video)
A Forgotten Wild Edible: Pine Bark Flour
Can This Be A Better Alternative To Modern Antibiotics?
How To Make A Pantry Under Your Bed