A Proper Prepper's Pantry…is totally hidden from view. You don't want every Tom, Dick, and Mary who walks into your home to know you're a prepper, and you don't want to make it easy for vandals, looters, and marauders to haul your stash away. Secrecy is key! (Which is, of course, why I'm revealing my secrets to the world at large!) Here we have instructions for constructing a proper prepper's pantry, underneath the bed, where it is safe, hidden, yet accessible in an emergency.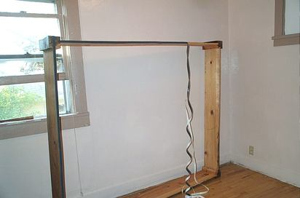 This is a bed frame in an empty bedroom. The bedroom was constructed in 1878, so the floorboards, which were hewn in 1878 and most recently refinished in 1996, are slightly warped. Because this is going to be one of my biggest food caches, I do not want to risk a single pregnant moth, beetle, or weevil getting into my stuff.
So in this picture, I'm in the middle of lining the bottom of the bed frame with thick self-sticking foam rubber insulation in order to make a tight seal between the bottom of the bed frame and the floor.
---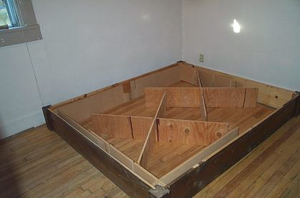 The bed frame is on the floor (insulation side down) and I've put some slotted support cross-beams in the middle to help hold up the weight of the mattress and all the rest of the stuff I'm going to be storing underneath the mattress.
After the emergency, I'll have a ready-made shelving unit to hold supplies, or I can use the boards to cover broken windows.
---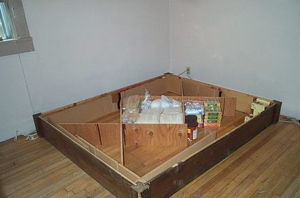 Here I'm starting to fill up my prepper's pantry. Everything made of grain goes in the middle to discourage grain-loving insects from inviting themselves in. These grains will end up being totally surrounded by a sea of canned goods. This is the best possible place to store canned goods, where the temperature is constant but cool, and there's no chance of any sort of moisture.
---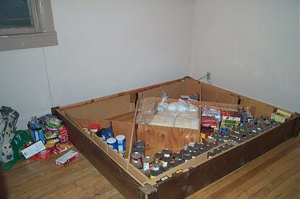 Canned goods going into place. It took me four years of collecting cut-rate groceries incrementally in order to have enough food to fill up this pantry. I own a large antique steamer trunk, and every time I went shopping, I'd buy extra stuff and drop it into the trunk. Every time the trunk was full, I would open up this under-bed pantry and load the stuff in.
This series of pictures was taken when I had to move the bed from one side of the bedroom to the other in order to accommodate a new furnace.
---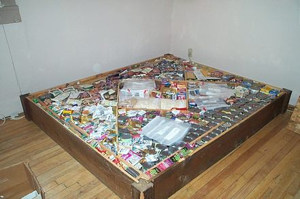 Here the pantry is officially "full". The canned goods are double-stacked. There are gobs of tiny things poked into the little spaces between the cans: cigarette lighters, packs of gum, match books, tea bags, rolls of Lifesaver candies, etc.
If there was even a quarter-inch of available space on top of the cans, I used it to store flat things like fruit leather, soup packets, lots of extra Zip-lock baggies, and pouches of gravy and seasoning packets. Every square inch of space is used up.
---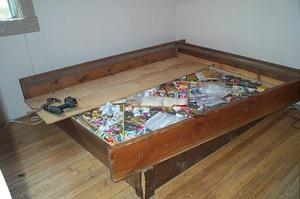 This is the "lid" going onto the bed frame. This was originally a waterbed, but the waterbed suffered a catastrophic failure some years ago, at which time we replaced it with a regular mattress. This upper frame originally held the waterbed.
I'm using lots of braces and screwing the boards to the frame, not only for stability, but also so that vandals will have to have a screwdriver and a lot of time in order to break into this pantry.
Do you think I'm going to leave a screwdriver anywhere in the household if I ever have to leave this stash behind?
---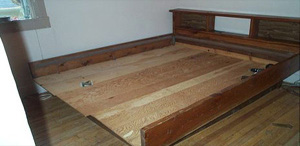 Bedframe all assembled and headboard in place as well.
A year's supply of food for two people is totally out of sight and protected.
Related: DIY: Bedside Holster System
---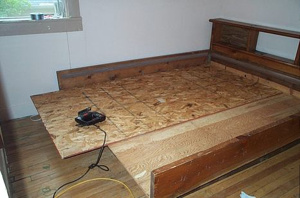 This is a wonderful place to store lumber, and lumber is a great thing to have on hand after a catastrophe.
I'm starting my lumber stash with four sheets of plywood because I have three picture windows plus one extra-large entryway that I might need to cover one day.
I had to trim the ends to fit.
---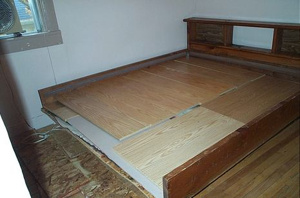 Now I'm adding several layers of laminated shelving that I picked up at my local 
Re-Store
, a used building supply store that's run by Habitat for Humanity.
The boards cost me a buck each.
---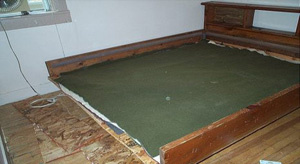 Now I'm alternating layers of wool blankets, tarps, and air mattresses because storing those things here is far better than having them take up the limited space I have available in my closets and basement.
---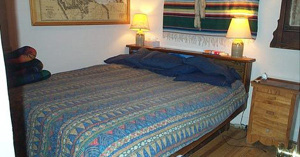 Add the mattress, the sheets, the blankets, and the pillows and here you have a perfect and proper prepper's pantry.
Do you have any idea how soundly I sleep, knowing what I'm sleeping on?
This article was gladly contributed by Calamity Janet, that appeared in Season 1, Episode 9 of "Doomsday Preppers.
You may also like: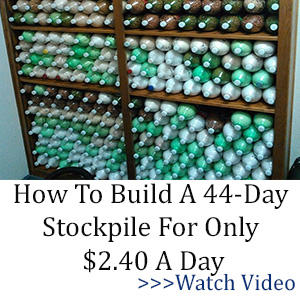 Pemmican vs. Spam. Which is the best food for survival?
How To Get 295 Pounds Of Extra Food For Just $5 A Week (Video)
What's the Best Fuel to Stockpile for Survival?
5 Survival Foods Your Grandmother Used To Make
What Really Happens When You Only Eat Walmart Cans For 30 Days?