Editors' Note: This article is based on the fact that, after an EMP, we wont be able to fix automatic weapons if they break at some point. We'll also have a hard time reloading bullets.
Limited or no ammo availability means the brass has to last as long as possible, to be able to reload ammo. Semi-auto rifles are harder on brass than bolt, falling block or other type's rifles. With semi-autos, you have brass elongation; you need to trim your brass frequently, full-length size on every load. And after a few reloads, you basically run out of brass life.
From the same point of view, I personally think an AR-15 would still be a good choice. Because a lot of people have them, you can easily find spare parts for your own if it breaks.
---
By Rich
Of all the potential TEOTWAWKI events there are, an EMP is the one to keep our eyes on. Not only is an EMP one of the most devastating disasters we might encounter, it is also one of the more likely. There are a number of different bad actors in the world, which could use an EMP against our nation; not only rogue nations like North Korea and Iran, but terrorists as well.
While it takes extremely sophisticated technology to build nuclear warheads, especially the miniaturized ones needed for launch by missiles, it doesn't take particularly sophisticated technology to build the missiles. The SCUD missile is really nothing more than a German V2 rocket from World War II, yet it reaches an altitude high enough to launch an EMP attack. While not high enough to destroy the electrical grid nationwide, three SCUD launched nuclear devices could, launching from off the East Coast, the West Coast, and Gulf of Mexico). Ordinary container ships could be the launch platform.
This means two things to us. The first is that attack by EMP is more likely than many other potential major disasters. While that is not good news, the second is that if we use an EMP as the basis for our long-term survival planning, we're ready for just about anything.
An EMP would put our country back to the 1800s, technology wise. However, we would not be as well off as our ancestors in that time, simply because we don't have their technology or know how to use it. This was the tail end of the Industrial Revolution, with tools and equipment that was much different than what we use today.
Few people know how to do the trades that existed in the later 1800s, let alone the early 1800s. Without modern tools and equipment, there are many things which we will not have any idea how to do. We will have to literally recreate technology and methods, relearning things that our ancestors took for granted.
It will probably also be advisable to rethink our use of firearms. Modern centerfire cartridges came into use in the latter 1800s, with shotgun cartridges predating them by almost a half a century. But semi-automatic firearms didn't it the market until the early 1900s.
While we wouldn't lose the semi-automatic firearms we have, there was a reason why they weren't invented until the 1900s; that's because they are more complicated. So, while our semi-auto rifles, shotguns and pistols would work, once they break, we probably won't be able to repair them. That is, we won't be able to repair them unless we have a stock of repair parts on hand to work with.
With this in mind, let's take a look at what sorts of firearms we should consider adding to our arsenal, specifically with the idea of using them in a post-EMP world. In this regard, I'm going to ignore the idea of having a stockpile of parts and concentrate on what would be workable for the average person who can't do a whole lot of detailed repairs.
Semi-automatic .22LR Rifle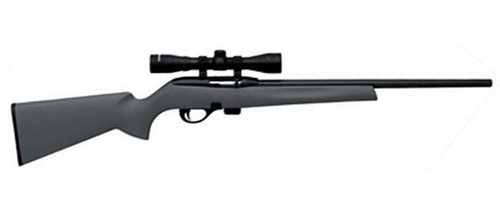 Probably the most important firearm to own in a post-EMP world is a .22LR rifle. Big game will be scarce and overhunted, leaving little to hunt other than small game. You really can't beat a .22LR for hunting small game. The small bullet doesn't waste a lot of meat and the light caliber is easy to use. With a scope mounted to the rifle, you can shoot a fair distance.
But I'm thinking of the .22 in a little different light than most people. I'm thinking of it as a disposable gun. You can buy these for as little as $120, not a whole lot of investment. So it's really not much of a problem to have a few spares around. If the one you're using breaks, you can simply switch your scope over to another one and keep shooting.
Another advantage of the .22LR is the cost of ammunition. While the price of ammo has increased, this is still the cheapest you can buy. Stockpiling a few thousand rounds for hunting small game really isn't going to be a big deal.
Related: The Top 5 .22 LR Survival Rifles
Bolt-action Hunting Rifle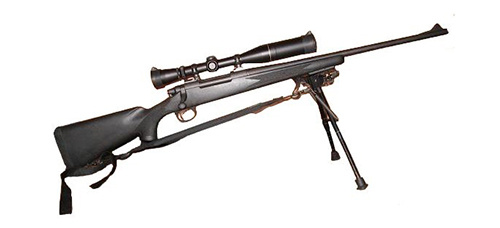 The bolt-action rifle has been around since the early 1800s, actually predating the lever action Winchester 1873 Repeating Rifle (carbine) that "Won the West." From the time the US Army adopted the Springfield 1892, up to the time they adopted the M-16 during the Vietnam War.
There was a good reason for this; bolt action rifles are highly reliable. There is little that can go wrong with the bolt, other than a broken ejector or firing pin. About the only thing that can go wrong with the firing mechanism is a broken spring. So, chances are a bolt action rifle would last well, without needing repairs.
Lever-action Rifle

The rifle that won the west was the Winchester 1873 Repeating Rifle. This was a lever action, sold both as a carbine (using pistol cartridges) and as a rifle. Like the bolt action rifle, the lever action was highly reliable, with little to break. One can be used for years, without any serious problem.
Revolver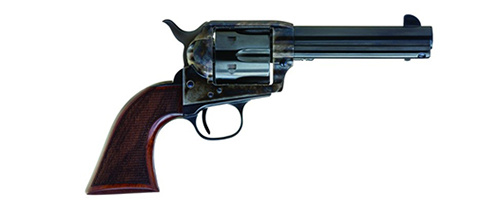 This one is hard for me to say, but a revolver is definitely a better sidearm in a post-EMP world than a semi-automatic pistol. I'm a semi-auto man myself, but I recognize that the revolver has a much simpler firing mechanism, with much more robust parts. This makes it highly desirable in a time when making repairs to a gun might be impossible. While I love my Glock and my 1911, I'd want to have a good revolver by my side in a post-EMP world.
What that means for me is adding a revolver to my handgun stash, just to have something to use, if something happens to my other pistols. I'll still keep my other pistols, but it will be nice to have something that's easier to repair, just in case.
Related: 6 Reliable "Pocket" Revolvers For Off-grid Defense
Black Powder Rifle

Now let's go a little off the reservation. In addition to the above, which you can probably find in any of a number of different lists, I'd highly recommend a black powder rifle or two, as part of your arsenal. Specifically, I'd recommend this as your main hunting rifle for big game. Please note that I'm talking about a rifle (with a rifled barrel) not a musket, which is a smoothbore weapon.
The problem with black powder rifles is that most are muzzle loaders. There are a few breach loaders around, but they aren't common. Yet, for the purpose of using it as a survival hunting gun, I'd highly recommend finding a breach loader. Not only can they be reloaded much more rapidly, but they tend to be more accurate than muzzle loaders.
One of the big advantages here is that you can make black powder and cast your own bullets. While it might be hard to find the ingredients to make black powder, they can be found. Lead for bullets shouldn't be a problem, because you can always melt down lead from car batteries. Just be sure to rinse the acid off first.
The one problem here might be percussion caps, if you buy a muzzle loader that uses them. A flintlock would be better as far as supply is concerned, but percussion is more reliable. So just make sure you have a good stock of percussion caps, if your rifle needs it.
Related: How To Make Gun Powder The Old Fashioned Way in Less Than 30 Minutes
Black Powder Revolver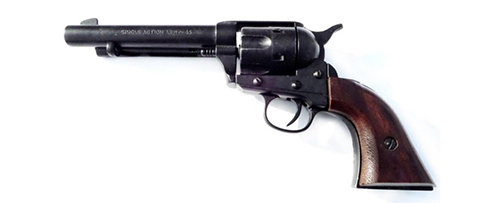 Of course, if you are going to use a black powder rifle, you might want to consider a black powder revolver to go with it. There are a number of replicas and kits available for these, making it a good option for a hunting sidearm. Just be sure to avoid the early Colt revolvers, which don't have a frame strap above the cylinder, as they tend to be weak and break.
Black powder revolvers all use a percussion cap, so you will definitely need to put in a goodly stock. But other than that, you can make the powder and shot yourself. As for the grease that is used to pack the cylinders, you can use any animal grease you can find.
Speaking of Repairs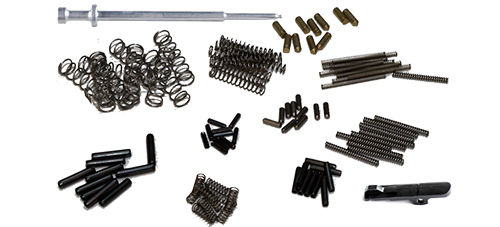 I've talked a lot about repairs in the article. While I stand behind what I've said about the firearms above, I really think the most important thing you can do, besides having a good stock of ammunition to go with whatever firearms you have, is put in a good supply of repair parts. At a minimum, you should have spring kits, pin kits, firing pins and extractors. Those are the parts which are most likely to break. If you have those parts, chances are you can repair your firearms.
Take the time to watch some videos about the takedown and repair of the specific model firearms you own too. I have found that the best videos to watch are those that show a full takedown and rebuild. If you learn how to do that and you can recognize damaged parts, you can repair just about anything.
You may also like:
Awesome Places to Hide Your Guns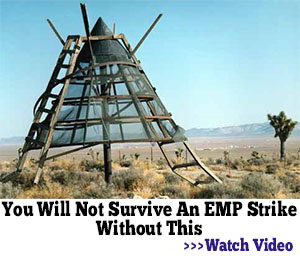 What Really Happens When You Bury A Shipping Container (Video)
How to Make Shotgun Shells at Home? (With Pictures)
How to Turn a Handgun Into a PDW using KPOS kit from FAB Defense with a SIG Brace