Carrying a handgun for self-defense (where lawful) is one of the most basic steps of being a prepared person.
The old saying is that "God made All Men, and Samuel Colt made them equal."
The gun is the great equalizer between individuals. A person's size, strength and even fighting ability rarely matters when they are looking down the barrel of a gun. This is why I carry, and I imagine why many people carry. The problem we face is what happens when someone brings a bigger gun to the fight?
Handgun versus Rifle is a fight you don't want to be in. The majority of mass shooters and criminals are coming armed with rifles. As civilians, we really can't conceal carry a rifle. I wish we could, but it's not possible. A handgun is substantially better than having nothing, but what can we do better?
Related: I Asked a Friend What I Should Stockpile for SHTF: The Great .223 Remington Or The Stalwart .308 Winchester?
Enter the PDW
The Personal Defense Weapon concept came to be from a NATO requirement. The desire was for a weapon between the size of a handgun and a rifle to fill the role of a defensive weapon for mostly noncombatant troops. These were truck drivers, cooks, supply and logistics. These were not frontline roles.
A true PDW is still something your everyday Joe isn't going to have access to. Many would suggest carrying a 'truck' gun. I like truck guns, but there are issues with firearms theft. Vehicles are targeted for firearms theft often. So, for those in urban areas there are certainly theft issues to consider. So what is the right solution to the problem?
There is a compromise though. It comes from an Israeli Company known as FAB Defense and is called the KPOS Pathfinder. The KPOS G2 isn't a gun, but an accessory you can add to a handgun that completely changes the way it handles.
The devices are designed for specific handguns, and FAB Defense makes them for tons of different guns. This includes popular guns from Glock, FN, IWI, CZ, Beretta, and more. It attaches via the front rail and uses a rear sliding piece that adds tension for a tight and secure fit.
What's the Pathfinder?
Most may recognize the KPOS kits as SBR kits, and until the Pathfinder came to be this was true. The Pathfinder is unlike the standard KPOS kits because it lacks a stock, instead it has a pistol buffer tube. When the KPOS is attached to your handgun the entire kit remains a handgun. There is no paperwork needed, no Federal Permission slips required to install your handgun into a Pathfinder kit.
This pistol tube is perfect for adding a brace from a company like SIG or SB Tactical. On my model we've done just that. This Pistol buffer folds for a smaller design which makes it easier to conceal. With a SIG brace you can stabilize the weapon to a greater degree. The KPOS has an excellent center of balance and this makes it perfect when using the SIG Brace for its intended purpose.
Related: 6 Reliable 'Pocket' Revolvers For Off-grid Defense
The Pathfinder frame offers shooters substantial advantages over a standard handgun. First, it offers a ton of picatinny rails. These rails allow you to mount a ton of additional accessories. This include lights, laser, angled foregrips, and of course optics. Not just mini red dots, but actual optics. A fixed power 3x or 4x optic is perfect for a handgun round. That being said a red dot is still substantially faster and more accurate that a handgun's iron sights.
When mixed with the SIG brace you have an additional point of contact to add stability. In accordance with the ATF's interpretation of the NFA and how the SIG Brace works it's not illegal to brace the weapon against your shoulder. It is illegal to modify the brace in any way to make it easier to shoulder, and doing so may create an unregistered SBR.
On the Range
The KPOS Pathfinder extends your control over the weapon. It adds a greater level of stabilization and allows to extend your effective combat range. It's not impossible to hit targets at 50 to 75 yards with a handgun. What is close to impossible is to do this under combat conditions. The KPOS Pathfinder makes it possible to extend the effective range of your handgun out to these ranges and still be combat effective.
At closer ranges the KPOS Pathfinder is still easier to use than a traditional handgun. Transitioning between targets is faster and placing rounds into effective hit zones is easier. You can shoot faster, further, and with more precision using the KPOS and SIG Brace than any standard handgun.
Installation
Installing the gun into the kit is the make it or break it moment of will this work. You need to be able to install the gun fast and easily. To do it under stress this would of course mean you need to practice it. Practice it a lot. The kit itself isn't hard to use, and you can install it in seconds.
Related: Tools You Will Need When SHTF
Step 1 – Pull the lower pin from the rear of the KPOS.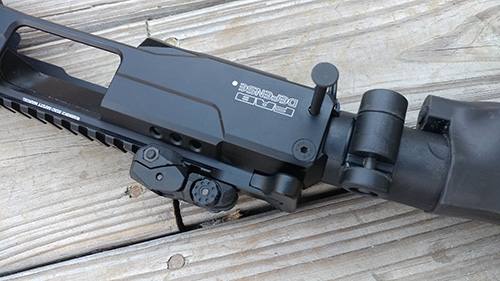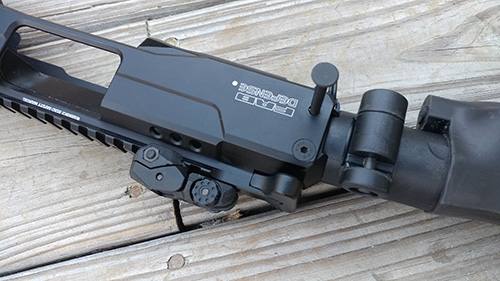 Step 2 – Push the pistol tube upwards and Move the Slider to the rear.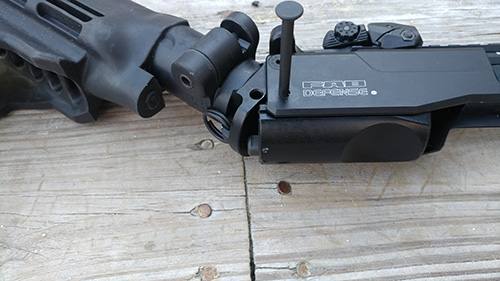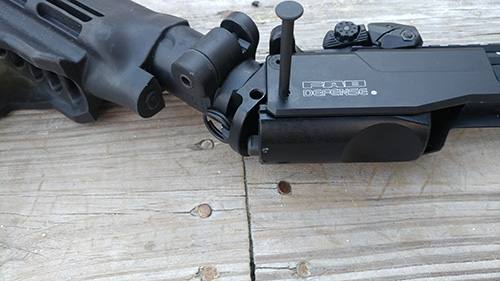 Step 3 – At the front of the KPOS is a QD switch. Flip that switch over and rotate it downwards.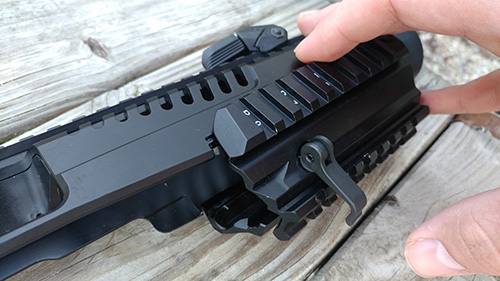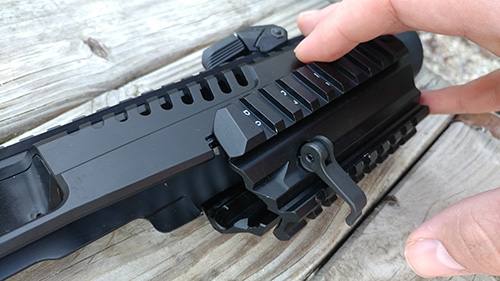 Step 4 – Pull the Front rail downwards.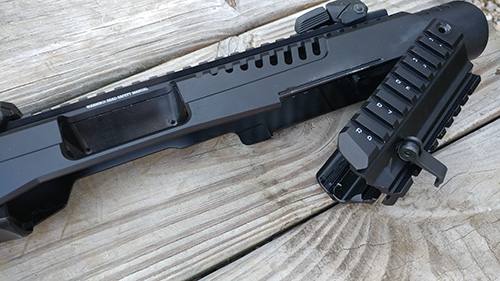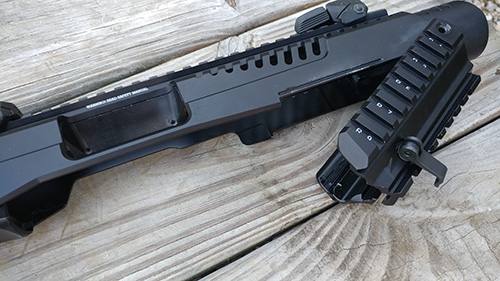 Step 5 – Line the rails of the gun up with the rail of the KPOS and slide the gun into the kit.
Step 6 – Rotate the QD switch upwards and lock the kit down.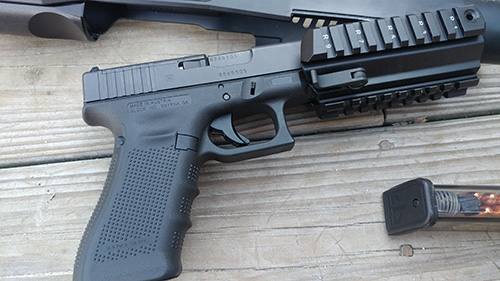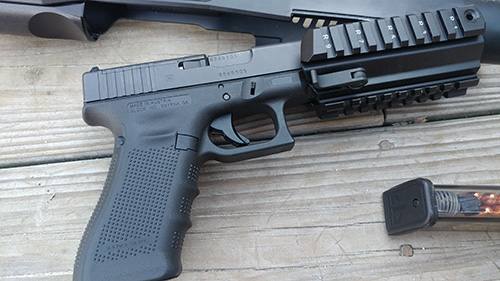 Step 7 – Push the gun upward until it locks into place.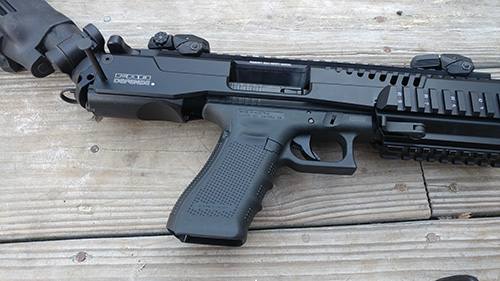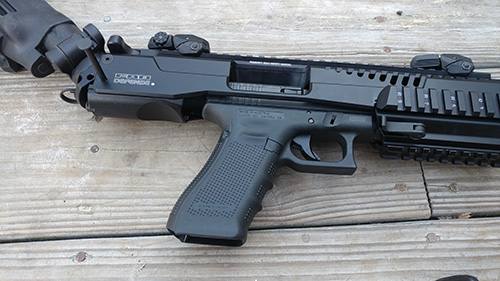 Step 8 – Move the slider towards the gun. Pull the pistol tube downwards and reinsert the pin.
That's it broken down Barney style. It can be done in less than 10 seconds with practice.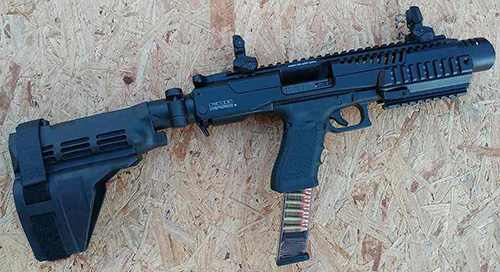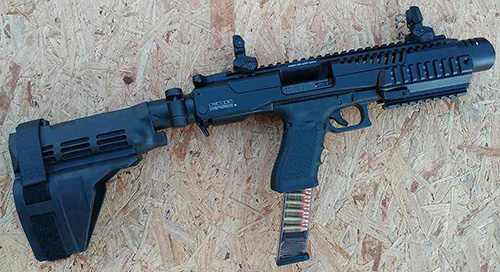 How You and It Works Together
My plan with the KPOS is to mix it with my standard carry gun, the Glock 17. The kit itself isn't a firearm so I can leave it in my vehicle without needing to worry about theft. The gun comes inside with me, and the kit can stay in the car. Admittedly if the kit is stolen that sucks. The good news is that if it's stolen you aren't losing a gun. You lose the kit, but there isn't a freshly armed criminally wandering the streets.
The Pathfinder is lightweight, and the folding stock makes its extremely compact. You can hide it in backpack, with the spare tire, or possibly your glove box if you keep it clean and empty. This replaces the truck gun and gives you a more effective option than just your handgun. It offers substantial advantages over your handgun and gives you the ability to create a PDW anywhere.
It narrows the gap between you and a rifle armed attacker substantially. It's not perfect, and if I could I'd carry a squad full of shooters with me everywhere. I can't do that. What I can do is carry a gun, and the KPOS Pathfinder. It's not for everyone, but is it for you? Let me know below.
You may also like: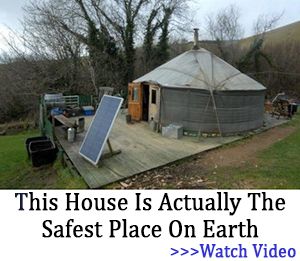 How to Conceal Weapons in Your Vehicle
US Nuclear Target Map. Do You Live in The Danger Zone?  (video)
When Is It Okay to Open Fire on Intruders?
How to Make A Cool Rocket Stove For Free
11 Survival Tricks Learned from Homeless People