As a prepper, you probably recognize the commercial food supply system has its flaws. Some prepare for the possibility of its breakdown by stocking up on shelf-stable foods and keeping vegetable gardens. But could these emergency food stocks be exploited by others during a food shortage?
What will people eat when the supermarkets are empty or looted? People will probably emerge from their homes in search of government aid.
For some desperate individuals though, it might seem easier to trespass on your property and steal from your garden instead. This can be especially alarming if you live in the city or suburbs.
Protecting Your Hidden Survival Garden
Now, you might be the type of person who delights in sharing your knowledge about gardening (and even some of your harvest!) with your friends and neighbors. Be that as it may, that doesn't mean you're okay with people stealing from you.
The truth is, in stressful survival situations many people would have no ethical qualms with stealing from their neighbor's garden. In times like these, it's wise to expect the best but prepare for the worst.
In this case, creating a hidden food garden might be a good idea. It's helpful to consider some ways you can protect your edible plant supply in the event of a food shortage.
As you explore this important topic, consider questions like the following:
What should I plant that will not be obvious to thieves?
What edible wild plants do I already have growing naturally on my property?
What plants should I keep that can help to make a decent meal?
What plants should I keep that have enough nutrients to survive on for some time?
Where and how should I hide my plants?
What plants can I keep that are both medical and edible?
When it comes to survival gardens, the best "secret" planting spots are usually hidden in plain sight. Hide and disguise your important survival plants near other plants using a permaculture-like gardening method. Trees, shrubs, groundcover, and vines all make for great camouflage.
The trick is to avoid planting in rows or any method that looks too intentional. In fact, the more messy and disordered your hidden plants look, the less likely they will be disturbed by strangers. You can also keep several edible plants indoors or in a hidden root cellar as an added precaution.
Depending on your region, you might even consider guarding your plants with cacti, poisonous look-alikes, or other similar protective plants. Although this option could prove to be more dangerous to you than possible trespassers in the long run, it would definitely keep would-be thieves from making the same mistake twice!
Related: Ingenious Traps You Can Set Up On Your Property To Catch Looters
15 Survival Plants You Should Hide From Your Neighbors
Generally speaking and not accounting for specific hardiness zones, there are a few plants you would do well to keep in your hidden survival garden if you can.
These plants will provide you with multiple uses—medicinal and edible—and will ensure you're getting a good enough balance of carbs, macronutrients, and micronutrients.
Plus, a lot of the plants on this list are not instantly recognizable as edible to the untrained eye, so your survival garden will be safeguarded that much more.
Purslane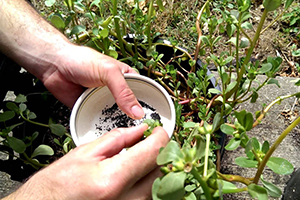 Purslane is a delicious and nutrient-dense "weed" that often gets dismissed. This trailing annual succulent plant has an impressive list of vitamins and minerals. It's high in omega-3 fatty acids and vitamins A, B, C, and E. It also has high levels of iron, magnesium, calcium, potassium, and manganese!
Purslane has juicy, crunchy leaves with mild citrus and pepper notes. You can eat it raw or cooked, and it makes an especially tasty pesto sauce or tossed in a salad.
This impressive survival plant grows in abundance and since most people have never eaten it, they won't know what they're looking at if they try to invade your garden.
Cattails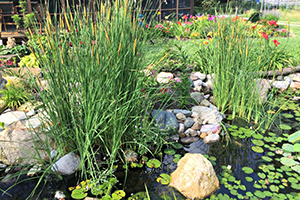 Although well known among preppers, cattails are a tried-and-true survival food. They grow wildly throughout North America and Europe and were a major staple food and medicinal plant among early native American tribes.This plant contains vitamins A, B, and C, as well as potassium and manganese.
Most frequently found near water they have the potential to provide food, tinder, and you can even use them to make flour and fishing bait! This makes cattails a very valuable and unassuming plant to have around.
Related: 50+ Survival Uses For Cattails
Dandelions
Dandelions are one of the most easily identifiable plants and they grow almost everywhere.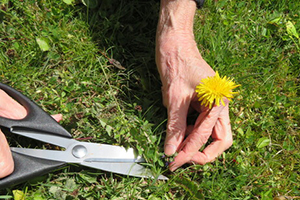 In fact, these flowers are so resilient that they're sometimes spotted growing in some very unusual places like sidewalks, gravel, and roads.
This plant is frequently dismissed as a weed to those not in the know, which makes dandelions an excellent survival food that can be hidden in plain sight.
The dandelion can be cooked, dried, or eaten raw and has surprising nutritional content. They're high in vitamins like calcium and vitamin K, and can help relieve common stomach upset.
Jerusalem Artichokes or "Sun Root"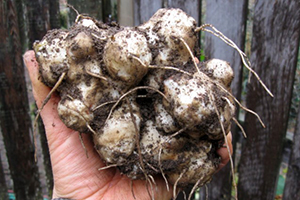 Jerusalem artichokes are a true "set it and forget" survival plant. They are considered an invasive plant and they sow themselves every year. This is bad news for some gardens but perfect for a survival garden. What's more, these hearty tubers are drought resistant and can grow in almost any soil type.
The tubers are the tastiest part of the plant and can be enjoyed by both humans and livestock. These can be used in place of potatoes in recipes and will help to make a hearty meal. Plus, you'll have no shortage in your supply if you plant them ahead of time.
Related: 8 Great Depression Era Recipes We Will Need Soon
The stems and leaves of the plant are also edible and have a surprising protein content that surpasses that of both beans and corn. It's no wonder why so many people add this plant to their hidden survival garden!
Prickly Pear/Nopal Cactus Leaf Meat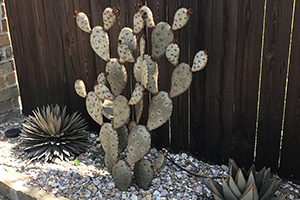 The Prickly Pear cactus might seem too large to hide, however, not many people are aware of the many uses of this desert plant. Most people are aware of the prickly pear fruit, but the thorny leaves of the plant can be skinned and eaten as well. Plus, the meaty leaves can provide you with some water to get you through hard times.
These cactus leaves are delicious when skinned, cubed, and fried up with some scrambled eggs. You can also juice the leaves and the fruit for a refreshing summer drink.
Nopal cactus meat is rich in fiber and has high levels of Vitamin C and antioxidants. If you live in a desert climate, the nopal cactus is a fantastic survival plant to have.
Wild Strawberry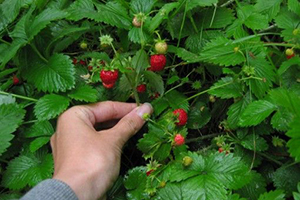 If you've ever found wild strawberries while foraging, you know what a treat they can be. The great thing about them is they don't really look like what most people would recognize as strawberries at first glance. Wild strawberries are found scattered near trees and along the edges of wooded areas.
They're easy to grow and they create a nice ground cover that can be effortlessly concealed among other plants.
Related: If You See This Berry, You May Want To Harvest It
Wild strawberries are high in vitamins A, C, and E and the dried leaves, roots, and stems can be made into a tea that can treat stomach upset. However, wilted wild strawberry leaves can produce a mild toxin that evaporates when dried so dry the leaves before using.
Summer and Winter Squash Varieties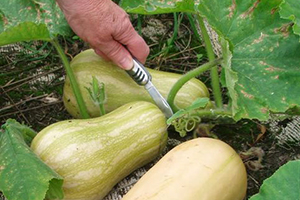 Squash is an excellent addition to your hidden survival garden simply because it can be disguised well in a "messy" garden and can give you plenty of food to eat and preserve. It acts as a sprawling ground cover and does well when planted alongside corn and beans which can distract potential garden raiders.
Squash of all varieties is high in fiber and Vitamin C and makes for a hearty meal when times are tough.
Lentils
Lentils are one of the most nutrient-packed legume varieties around.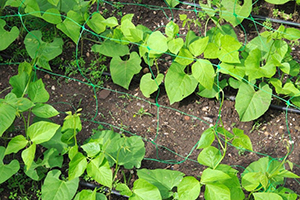 If you live in Europe, Asia, or the northwest region of the United States, you have a growing advantage.
Still, lentils are very hardy, easy to grow, and easy to conceal. With enough TLC and preparation, they can grow quite well in other climates or indoors.
Lentils are high in carbohydrates and protein—two important things you'll need when SHTF. They can be eaten as sprouts, ground to make flour, or harvested off the bush to make a tasty soup or stew.
Cucumbers
Although cucumbers are low in calories, they are extremely productive in the garden.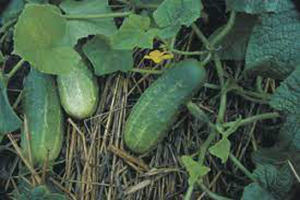 If you or someone you know has ever grown cucumbers you know that they often produce far more than the average family can reasonably consume.
This plant would be a great distraction plant for potential thieves and you might even welcome the idea of people taking some extra cucumbers off your hands.
Cucumbers can be pickled, frozen, juiced, or thrown into a soup or salad. Plus, cucumbers are 95% water so they will help to keep you hydrated when it matters most.
Wild Mushrooms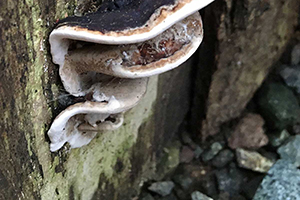 Knowing how to identify and harvest wild mushrooms is not only a valuable skill to have but is also a great way to get back in touch with nature which many people have unfortunately forgotten. As the name suggests, wild mushrooms can be harvested in the wild or intentionally grown in root cellars or on trees.
Some mushrooms are eaten raw or with other food, whereas others best when made into tonics, tinctures, or poultices — making them a valuable addition to your medicinal edible garden.
Peppermint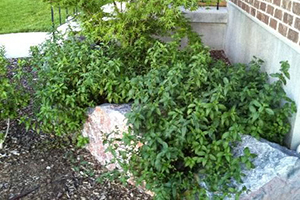 Peppermint is a wonderful plant to have in your survival garden. It can be tricky to grow from seed, but once it starts it's hard to stop! Peppermint or other mint varieties are usually eaten raw or as a refreshing addition to drinks, but this plant has a huge list of medicinal benefits as well.
Peppermint tinctures are often used as a way to treat hiccups, stomach upset, indigestion, and muscle spasms. When made into an ointment or oil, it can provide relief for muscle pain and congestion.
Additionally, peppermint can act as a natural pesticide for some plants and will keep undesirable pests away from your garden.
Mullein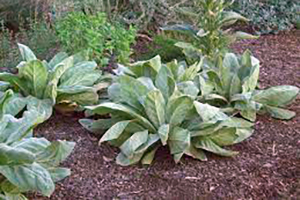 Mullein is an easy-to-grow flowering "weed" that has a wide range of medicinal uses but is most often prepared as a tea and tincture to treat a variety of health issues. Teas made from the leaves and flowers are known to help with breathing problems and immunity support.
Mullein teas have been used to help with chills, colds, pneumonia, sore throat, flu, bronchitis and more.
However, the tiny hairs on the stalk and leaves can be irritating to the mucus membranes and skin so you'll need to strain these hairs away when preparing tea or tinctures or before eating the leaves.
Elderflower/Elderberries
Elderflower and Elderberries have been venerated for their food and medicinal properties for centuries.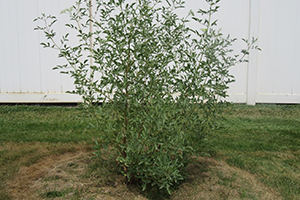 Related: 34 Wild Plants Every Prepper Should Know
The elder tree is host to both of these important plant parts. The sweet, citrusy, vanilla-like elderflower is used more in food whereas the tart elderberry is used more for medicinal purposes or prepared into syrups, sauces, and jams.
The elderflower can be eaten raw but the raw berries are usually poisonous so they require cooking to eliminate toxins before eating. Both the flowers and berries are known for their immune boosting properties but the elderberry syrup is the most potent of these medicinal forms.
Wild lettuce
Wild lettuce belongs to the daisy family and is a relative of common lettuce.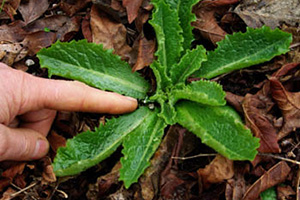 This hardy plant can be found growing freely along roadsides and riverbanks in disturbed soil.
The prepared sap from this plant has long been praised for its antimicrobial, analgesic and sedative effects that are similar to opium and have been used this way since 400 BC.
In addition to its medical uses, the cooked leaves of wild lettuce contain magnesium, vitamin C, and potassium. Because of its psychoactive and analgesic properties, always cook wild lettuce before eating as a food to eliminate the risk of toxicity.
Potatoes
Although it might seem too obvious, no survival list would be complete without potatoes. Potatoes have helped folks survive intense famine more than once throughout history.
Potatoes can be grown outdoors, indoors, in 5-gallon buckets, and can even survive in urban settings so they grow in abundance and are easy to hide or disguise. These root vegetables are a great source of carbohydrates, potassium, and vitamin C and are a joy to have in your hidden survival garden.
One of the more unfortunate truths about our modern society is how removed people are from nature. However, you can use this to your advantage.
When uninvited guests trespass on your property to steal your food, there's a good chance they won't know what they're looking at. In some cases, they may even mistake your edible plants for nothing more than messy weeds and leave your valuable survival garden untouched.
You may also like: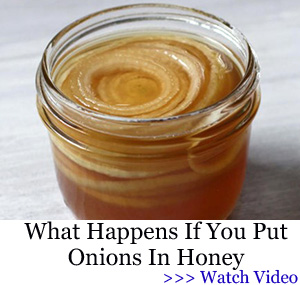 Trees That Can Be Tapped For Sap And Syrup
The Only Food That Grows Almost Faster Than You Can Eat It (Video)
10 Survival DIY Projects You Can Start on Your Property Right Now
Earthbag Homes: The Ultimate Bullet-Proof Retreat
Best Methods To Spot Fake News