Anyone who has paid any attention to the products coming out of Hollywood knows that they are the world's greatest teachers. The experts in Hollywood can teach you anything they want you to know and convince you that they're telling the truth. The only problem is, they have a horrible tendency to get their information wrong. In an attempt to make it look good for the silver screen, they tend to allow accuracy to go by the wayside.
This can be dangerous when people take what they see in movies and television shows too seriously. Yet, rather than taking the time to learn the truth, there are many people who assume that what they've seen in their favorite movie or TV show is true and follow that as if it were advice from an expert… only, it's not. Often times, it's the exact opposite.
I don't claim to be an expert on Hollywood or even on making movies; I don't even watch television all that often. On the other hand, I do know a thing or two about survival. At least, I know enough to spot many an error while I watch actors take on the world. Here are a few of them.
#1. Guns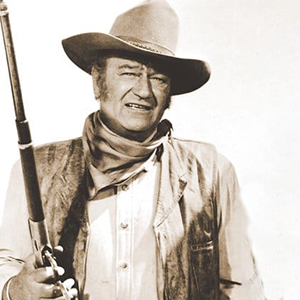 Let's face it, if there's anything that Hollywood gets wrong, it is guns. From not understanding how they work to not understanding how to make best use of them; they mess up on a regular basis. Anyone who has watched anything with guns in it has probably seen just about every mistake you can make, from holding the gun wrong to shooting it wrong.
I hate to say it, but even Duke Wayne made a lot of mistakes with guns. I remember countless times when he snapped off a shot in such a way that there was no way he could have hit anything. Granted, he was supposedly shooting instinctively, but even then your barrel has to be pointed at the target, not up in the air, sending the bullet 20 feet over their heads.
I will have to say though, I would like to have one of those Hollywood guns that never misses and never runs out of ammunition. That's for the good guys guns, that is; somehow the bad guys always seem to get the guns that never hit their target.
The other big thing that Hollywood gets wrong about guns is when you can legally use them. If any of us were to pull the antics the "heroes" in Hollywood do with a gun, you can be sure we'd end up in jail and there would be new cries for gun control. If you're going to be using guns, even in a survival situation, you have to be cognizant of what the law allows and what it doesn't. Otherwise, you'll get a long vacation in sub-standard government housing, with some pretty seedy neighbors.
#2. Wearing Cotton Clothing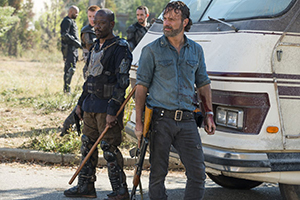 Cotton is one of the most common fibers used in clothing. T-shirts and blue jeans both use cotton extensively. But cotton is one of the worst fabrics to use for survival. In fact, if you want to survive, I'd suggest using just about anything but cotton or cotton-mixed clothing.
The basic problem is that cotton is highly absorbent, holding up to 27 times its weight in water. It doesn't matter if we're talking about sweat from your body or water from falling in a stream;your cotton T-shirt and jeans will soak it up and hold onto it longer than just about any other fabric.
Why is that an issue? Because those wet clothes will draw a lot of heat out of your body, in order to cause the water to evaporate. That's okay if it's hot out, but as soon as the sun sets, you're going to find that you need that heat. Leaving those wet clothes on will bring on hypothermia, the number one killer in the wild.
#3. Heavy Down Jackets
About the only thing that could be worse than cotton is a down ski jacket. All those feathers are great for soaking up water… lots of water. Filled with water like that, that pretty down ski jacket will cause you to lose body heat 300 times faster than if you were standing there naked!
Actually, the best fabric for keeping you warm in cold weather is wool. While a wool coat may not keep you as warm as that down jacket, it will retain half of its insulating value, even when soaking wet. It's the only fabric that does. So if there's any chance of you getting wet out there in the winter wonderland, you're better off being dressed in wool.
Related: How to Make The Coolest Wool Boots Ever, Easily
#4. Hard Physical Work in Cold Weather
You don't have to fall in the river to get wet; you can do it through your own sweat. There are many hypothermia cases every year, which come about from people working or even just hiking in cold weather. Physical activity causes our muscles to produce heat, keeping us warm. But when our bodies can't shed that heat adequately enough, we perspire, providing a natural means of cooling.
Perspiration and cold weather are a bad combination, because once you stop working and your body begins to cool, that sweat can freeze against your skin. Once it freezes, it draws too much heat out of your body, cooling you too quickly and possibly leading to hypothermia.
There are two things to do to help avoid this. The first is to dress in layers, so that you can remove layers of clothing as needed, while you are working. Ideally, you want to be a bit cool when working outside in cold weather. That way, you won't sweat. If you're not cool, then there's a risk of sweating; take off something so your body will cool without the perspiration.
The other thing to do is to pace yourself so that you aren't overworking. This is different for different people, so don't gauge yourself by others. Rather, find a good working pace for yourself and stick to it.
#5. Treating Hypothermia Lightly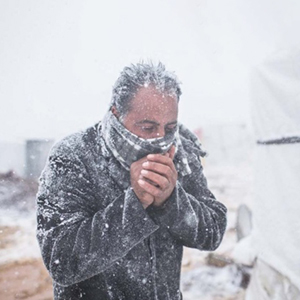 Hollywood seems to think that people freezing to death is good drama, when in fact, it's dangerous. As I've already said, hypothermia is the biggest killer in the wild. It isn't something to be taken lightly. Yet we see scene after scene in movie after movie where people are out in cold weather, improperly dressed and quite probably in situations where the chances of hypothermia are extremely high.
It doesn't stop there though. It's not uncommon for actors to be doused in water, while filming winter scenes outdoors. Granted, they've got someplace warm to take that actor and warm them back up, but they're taking an unnecessary risk.
One of the big names in TV survival shows actually got into a lot of hot water with his producer over this. They wanted to create a scene in one of their "reality shows" where they initiated hypothermia, so that he could show on camera how to overcome it. Without someone who knows what they are doing to recognize the signs of hypothermia and take care of him, he could have ended up dead in that situation. Once hypothermia sets in, many victims aren't cognizant enough to rescue themselves.
Related: What You Really Need in Your SHTF First Aid Kit
#6. Starting a Fire Indoors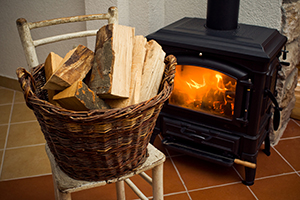 I don't care if you're talking about a home, a warehouse, a garage or a cave, starting a fire indoors is dangerous; yet we see it all the time. People are cold, so they light a fire in the abandoned building they're hiding in.
Granted, our ancestors lit fires in their homes to keep warm, but they did it with proper preparation. Having a fireplace and chimney makes all the difference in the world. They prevent the fire from reaching flammable materials and even more importantly, they provide a place for the smoke to escape, so that it doesn't asphyxiate the people who lit the fire.
Any fire requires good airflow, both into the building, room or cave and out of it through a chimney. Any temporary setup needs to take that into account. It's not enough to stop the spread of the fire, you've got to have air to breathe.
#7. Starting Fires in General
So many shows make it seem easy to start a fire; yet as any of us know, starting a fire in the wild is challenging at the least. If it's wet out, it's a whole lot more than challenging. Yet if you look at your average movie, fire seems to spring from one match or flick of a lighter into a full blaze in seconds.
Why is this dangerous? Because it makes people think they can take care of themselves in a survival situation, without taking the time to learn how. Yet this is one of the most important survival skills there is.
Related: How to Get a Year Supply of Firewood for $10!
#8. Drinking Untreated Water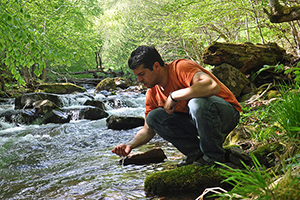 Once upon a time, I'm sure it was safe to drink from clear-running mountain streams. Yet that day is long gone. There is no water source I can think of in a survival situation, which I would call safe to drink. Any water source has to be purified, especially in a survival situation.
Sadly, this has come about due to carelessness on the part of those who have come before. When I was a young man, I could drink from Colorado mountain streams without any risk of disease. But no more. Too many people have used those streams as toilets, contaminating the water with bacteria that can cause serious problems. Yet Hollywood still shows people drinking from them, as if it wasn't a problem.
There's even a great line that John Wayne said in "True Grit," where he tells the Texas Ranger, Le Boeuf, "If I ever meet one of you Texas waddies who hasn't drunk water from a muddy hoofprint, I think I'll… I'll shake their hand or buy them a Daniel Webster cigar." I suppose if you're desperate enough you might try it, but I sure wouldn't recommend it.
#9. Eating Snow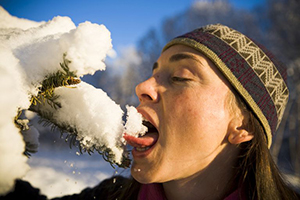 There are countless times when I've seen people eating snow, when they needed water to drink. That seems almost logical, considering that snow is just frozen water. But if you try that in real life, chances are it will kill you.
Don't get me wrong, there's nothing dangerous about a bite or two of snow, when you're out enjoying fresh fallen snow. But that's not the same as eating it for water, when you're in a survival situation. While snow is water, it's about one-tenth the volume of water. So to get one eight-ounce glass of water, you've got to eat a half-gallon of nice cold snow. That half-gallon of snow is right at 32°F, so it will sap a lot of heat out of your body, just trying to melt it and bring it up to body temperature.
If snow is your only source of water, you need to melt the snow in a pot, over a fire. Be sure to stir it while you're doing so though, as melting snow can actually scald in those circumstances.
Related: Building The Three Bucket Bio-Water-Filter
#10. Leaving Food Laying Around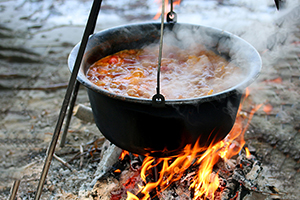 You've probably seen this one without even realizing it. Some group of people is out in the wilderness and cooks their dinner over the campfire. Once they get done, people get tired and start dozing off, all the time leaving their food over that fire, which burns down.
If ever there was a way to attract a bear, this is it. Most species of bears will eat just about anything and cooking just makes the smell of that food travel farther. So if you're trying to get a bear to come into camp, that's a good plan. But you'd better be ready to deal with the bear, once it gets there.
If you don't have airtight containers to store your food in or aren't storing it in the trunk of your car, put it in a cloth or fishnet bag and hang it from a tree branch, at least 10 feet off the ground. That way, even if it does attract a bear, the bear shouldn't be able to get your food. But when they come, it might be a good idea for you to use the moment of their being distracted by that food to make your own exit.
#11. Jumping from a Speeding Vehicle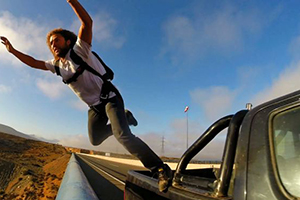 Many times an action picture has someone jumping out of a fast-moving vehicle at some point in time. Seems like a great strategy if you're ever kidnapped. That is, it's a good strategy if you have the inflatable cushions to land on that stunt men use.
A vehicle doesn't have to be moving very fast for it to be dangerous to jump out of it. Chances are you'll either hit the door on the way out, hit a rock when you land or just hit hard ground that will scrape you up. On top of that, your forward momentum will make you roll down the road a ways, giving the road and rocks more chances to get at you.
If you feel that you absolutely have to jump out of a moving car sometime, then be sure to open the door as wide as you can and roll yourself in a ball, to minimize the chances of breaking a limb. Wait for a moment when the driver has to slow down, like when they're going around a corner. The slower they are going, the better your chances will be.
Related: Bug Out Vehicles – Why Most People Get it Wrong
#12. Running Aimlessly When Lost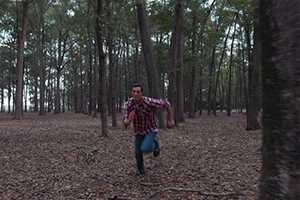 People do the craziest things in the movies, when they are lost. Most of the time, those actions will do nothing more than get you in more trouble, regardless of what you see in the movies. If you are lost, the best thing you can do is to sit down, calm down and formulate a plan to get out of trouble. Then you can move.
If you've done things properly, you should have told someone where you were going and when you would get back. That way, when you don't return on time, they can let the authorities know and someone can start searching for you.
#13. Ignoring Warning Signs
This one is so common as to almost be a joke; actors in the movies invariably ignore danger signs, regardless of what they are. It's amazing that any of them manage to survive.
If there's a sign there, it's there for a reason. Your situation may be serious enough that you decide that you're going to have to ignore that sign anyway; but that should be a reasoned decision, where you measure the risks of going into that danger against the risks you are facing without going into it. If you do end up going in there, you'll at least have an idea that you need to be extra careful. That might help you avoid some of the situations that those actors end up in.
You may also like: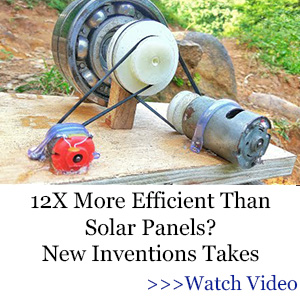 14 Preppers Speculate What an EMP Would Look Like in America
Do You Make These Fatal Mistakes in a Crisis? (Video)
8 Ways to Use Your Rancid Oil for Survival
Classified FEMA Report Confirms Preppers' Worst Fears
20 Foods that Will Outlast You
30 Lost Ways of Survival from 1880 We Should All Learn