There are so many native wild edibles to pick and choose from in summer. You can find and identify them effortlessly and safely in most state forests.
However, many nature reserves and state parks do not allow foraging, as some plant species are protected. Make sure of park rules and regulations before you get the family together to go hunting and gathering.
Be courteous and prevent altercations by getting permission before you start harvesting plants on private property. You want the outing to be enjoyable.
Take note that it is an offense to uproot any wild plant if you do not have the landowner's permission and that foraging is not allowed on a Site of Special Scientific Interest.
Do not consume plants treated with herbicides, fertilizer, and pesticides. Also, steer clear of those that have been nibbled by wildlife or have bird droppings on them. To be safe, do not collect if you are in doubt.
Identifying Easily Accessible Edible Wild Foods
It is vital to make a positive identification before you pick since many edibles have poisonous lookalikes.
Look for several features that correspond to the plant's traits to confirm you have the right one in your sights. Take a good look at the stem, leaf pattern, flower, and fruit.
Related: 8 Edible Backyard Plants And Their Poisonous Lookalikes
Purslane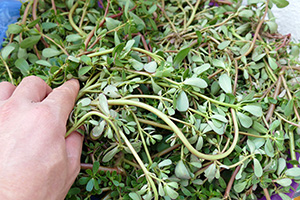 Purslane is a leafy, green vegetable with a reddish stem, many oval-shaped, succulent, fleshy, small leaves, and yellow flowers.
The stalks branch out from a single taproot and lie flat on the ground. They occasionally develop mats of leaves.
You can find this entirely edible plant in parking lots and on sidewalks and can eat it raw or steamed. It is delicious when eaten raw.
Add the greens to a sandwich, put them in a salad and use them as an ingredient in soup or a topping on your tacos. Overcooking makes it slimy, so sauté it gently instead.
Dandelion
Dandelion is extremely easy to find and identify and filled with minerals, antioxidants, and vitamins. The weed does not have a woody stem, is fleshy, and withers away after each growing season.
It grows from an undivided taproot and has deeply toothed hairless leaves that extend from the plant's ground-level crown in a rosette shape. The leaves are lance-shaped, irregularly lobed, narrow, and long. The lobed tips may point towards the crown and appear opposite each other.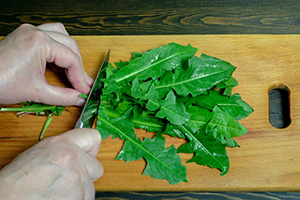 You can eat all its parts in a salad, top a pizza, add it to a quiche lightly cooked, or make cookies, cakes, wine, and tea with the flowers.
The piquant greens are remarkably nutritious. A milky substance seeps out of the leaves, roots, and stems when you break them.
Pick the yellow flowers at the same time and cook them immediately. They do not do well when refrigerated. Dandelion stems may be poisonous to children and can be harmful if you eat large quantities.
Chickweed
Chickweed flourishes throughout the summer, and you can identify them by their small, white, star-shaped flowers with elongated petals that blossom in mid-summer. It grows low to the ground and has a hairy stem.
This broadleaf plant sports wide, egg-shaped leaves with pointy tips and smaller veins branching from the big vein that runs down the center.
The plant has several medicinal uses. People use it to treat vitamin C deficiency or scurvy, muscle and joint pain, psoriasis, asthma, blood disorders, and bowel problems such as constipation.
The leaves have a mild flavor, and you can add them to cooked vegetable dishes, stir-fries, stews, soups, and pasta.
Eat the raw flowers, stems, and leaves – in moderation to prevent stomach upsets – in salads, green drinks, and sandwiches.
Remove all the leaves, root ends, and twigs and use the leafiest, greenest parts. Gently dry them with paper towels after giving them a thorough rinsing in a colander. Bunch the bits together and chop into a confetti texture.
Wild Berries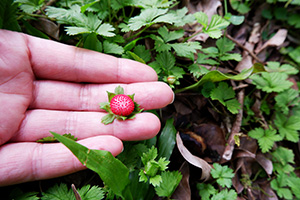 North American wild berries include thimbleberries, dewberries, black and red raspberries, gooseberries, huckleberries, and blueberries.
Strawberries are typically ready for harvest over three to four weeks from mid-June, when the whole fruit is red.
Most other types mature in mid-summer, whereas solid-core blackberries regularly ripen in late August and September.
Blackberry bushes have thorns, white flowers and grow tall. The wild black raspberry looks like a blackberry, but it is sweeter, smaller, and hollow inside.
State parks in most states allow the public to pick wild berries for personal use. They contain antioxidants, minerals, and vitamins, which are beneficial to your health.
Mulberries and the tiny, deep purple elderberries that ripen in late summer – and have powerful antiviral properties – are the most nutrient-dense.
Related: If You See This Berry, You May Want To Harvest It
Pawpaws
Pawpaws are native to the eastern, mid-western, and southern United States. It is North America's largest native edible fruit. You can find them growing from New York south to northern Florida and east Texas and west to southeastern Nebraska.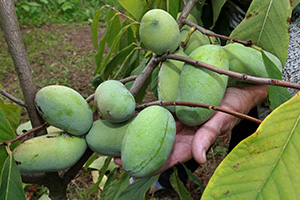 The tree produces a green yellowish, and orange-colored fruit between three and six inches long. The flesh is pale to bright yellow, and the seeds are shiny dark brown. The leaves are large, shaped like a teardrop, long, and plain. You can identify the tree by the soft, black, paintbrush-tipped bud at the leaf base.
Look for them in the understory of well-drained, fertile, deep bottomland, hilly uplands, and woodlands where they grow approximately 20 to 30 feet tall.
The fruit has a tropical, sunny flavor that incorporates hints of banana, mango, and citrus and a floral, yeasty aftertaste that reminds you of unfiltered wheat beer.
Make a smoothie with pawpaw, berries, oranges, and apples together with fresh ginger, or create a delicious tropical fruit salad by adding banana, mango, and pineapple to the mix.
Coastal Edibles
The Native Americans left the shells of marine invertebrates behind in their shell heaps.
Among them are the tiny bivalve mollusks you can find beneath surf-zone sand – called coquina clams – small snails or periwinkles that inch up and down marsh grasses and whelks, the large marine snails that live in marshes and the ocean.
Rangia clams favor water with lower salt content, such as the North Carolina sounds. Old-timers and Native Americans also ate coastal plants.
Sea Lettuce has bright green, wavy blades that look like lettuce.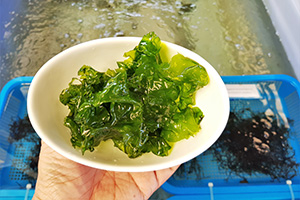 It is rich in iron and fiber and contains vitamins A, B1, and C, plus calcium, sodium, magnesium, and potassium. It grows fast during the spring and early summer. Eat it raw in salads, gradually dry it in the oven, crumble it into sauces and soups, use it as a seasoning, or make sea lettuce squares.
You will find the annual or perennial trailing wild bean in meadows, open woods and fields, sandy soil, and dune areas. It flowers between July and October and is native to the eastern US and Canada.
Related: The Map That Shows You The Edible Trees In Your Neighborhood
The pink-purple pea-like flowers – that fade to a creamy yellow – have steadily curving keel petals and seed pods that look like green beans.
The vines can grow up to three meters long, and there is soft down on the cylindrical pods (that can grow up to four inches long), stems, and trifoliate, fiddle-shaped leaves.
The Native peoples used it as medicine for warts, poison ivy irritation, typhoid, and food. You can eat the roots boiled and mashed, sautéed, or in a stir-fry with other vegetables.
Shell and roast or simmer them as you would peas. Its nutritional make-up is similar to that of the cultivated or common green bean.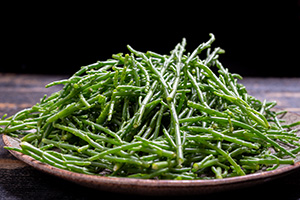 You can pickle glasswort or pickleweed stems, chop it into a cheese ball, or put it in a salad to add a crunchy, salty chew.
The succulent, low-growing, relatively small plant with jointed stems lives in lower salt marshes.
It is bright green in the summer – turning red or purple in the fall – with tiny, scale-like, unusually shaped leaves that give the stems a leafless appearance.
Desert Edibles
The Sonora eco-region covers large areas of the south-western third of Arizona and small parts of south-eastern California. According to botanist and urban forager Mark Lewis, the Sonora Desert houses over 1000 edible plants.
Gluten-free Amaranth is a summer-, or fall annual or perennial "weed" or leaf-vegetable, pseudo-cereal, grain, or quinoa-like seed that grows along roadsides and in alleys and cracks in built-up areas.
There are approximately 75 different species that share characteristics but vary regarding stem, leaf, and flower color in the US. Pigments may fluctuate from maroon to crimson.
Related: 79 Edible Flowers in North America (with Pictures)
They grow longitudinally to between three and eight feet and have a fibrous, succulent, hollow stem containing grooves and leaf-like structures when mature.
They have densely packed, slim, cylindrical, often drooping flower spikes or clusters with either none or unobtrusive petals.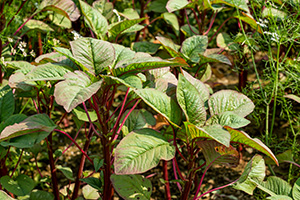 The edible amaranthus tricolor has red, orange, green, and yellow leaves.
The seeds, stems, flowers, and leaves of most species are edible, though some are better for eating. The plant is high in nutritional value. The seeds contain high calcium and protein levels.
The leaves comprise more iron than spinach and supply calcium, magnesium, lysine, fiber, B6, and antioxidants.
You may cook the leaves and use them in quiches, pesto, stews, and soups or as a green side dish or topping. Use the yellowish, tiny, versatile seeds as a breakfast cereal. Boil, roast, pop, or grind them into flour.
They are crunchy and have a sweet, nutty taste. Replace boiled or raw spinach with amaranth leaves. Pick them young before the plant flowers for use in salads.
You can eat almost all Cacti fruits as they are nutritious and flavorsome.
Prickly pear fruits are sweet when red. However, wear thick gloves and protective clothing when you harvest them. Use a pair of tongs and roast them lightly over an open flame to remove the barbed bristles. Peel the skin off and enjoy the delicious fruit. The seeds are too hard to chew, so spit them out or chew around them.
The white (or pink) fleshed pitahaya dragon fruit is delicious when chilled. It contains tiny black seeds, and you can eat the flesh – but not the skin – raw, put it in smoothies, or make sorbet. You can cook the unopened flower buds as you would a vegetable.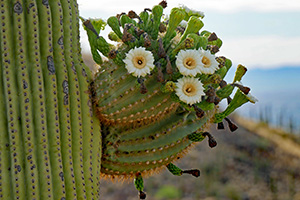 The saguaro cactus is the tallest in North America, which means you need a 15 to 30 feet long pole to knock the fruits off the top.
The two to three inches long, round, scaly fruits ripen in June and split open to expose the bright red flesh with many tiny black seeds.
Separate the fruit from the husk, soak the pulp and seeds in hot water for three hours, mash it by hand in the water, boil the mixture for two hours, strain to remove the pulp and seeds, simmer the liquid to a thick syrup and make wine, fruit rolls, or jam.
Apart from the thorny outer skin, you can eat almost all of the barrel cactus; the fruits that look like waxy, yellow, skinless pineapple, the flower buds, inner flesh, seeds, and even the roots.
The fruits are easy to pick, and you can eat them raw. They taste much like lemons and have a nutty flavor.
Harvest them when they are bright yellow, between late November and March. Gather the buds – that look like artichokes – in early to mid-summer and brine or pickle them. All these cacti are high in fiber, low in calories, and good sources of vitamins A and C.
That's Not All
There are too many edible wild summer foods to discuss in this article.
You may want to try wood sorrel – another garden weed – wild grapes that all have three-lobed, large, serrated leaves, cattail spikes, figs, and bolete-, lion's mane-, and hedgehog mushrooms.
You can also look for milkweed flower buds and fruits and crab apples. Prickly pears, black and English walnuts, pine nuts, and chestnuts are available in August and September.
Foragers have many choices during summertime, so take your guidebook, containers, gloves, scissors, a bottle of water, and enjoy nature's bounty.
You may also like: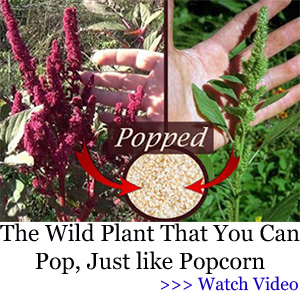 One-Week Meal Plan From The Great Depression
How To Make Bark Bread From A Tree That Grows On Almost Every Street in America (Video)
10 Great Depression Era Strategies For Saving Money
Why Do Government Officials Want To Ban Ham Radio? It's Already Begun In California