Building a bug out bag has got to be one of the most widely discussed prepping topics there is, with everyone giving their opinion as to what should be included. Some people go for a more minimalistic approach, like that suggested on FEMA's ready.gov website. Others have just about every piece of survival gear you can imagine, as if they were going to disappear into the woods and never return again.
A lot of this has to do with the type of bug out that one is planning. If you're going down the road and are going to get a hotel, you don't really need a lot of wilderness survival gear. On the other hand, if there's a chance you're going to spend even one night out in the wild, you're going to have to be prepared. Any bug out bag must be prepared with not just the idea of what I absolutely will need, but also, what I might need if something goes wrong with my plan.
Related: 10 Awesome Food Ideas for Your Bug Out Bag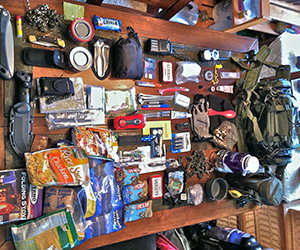 Food Weight
Here's the problem though: everything you put in that bug out bag adds weight that you've got to carry.
Backpackers have known this for years and work to reduce their overall pack weight constantly. They'll spend big bucks on a new tent or sleeping bag, just because it knocks a couple of ounces off their load.
One of the easiest ways for you and I to cut weight out of our bug out bags, is by limiting the amount of food that we are carrying. That may seem a bit contradictory, because I'm normally advocating the idea of upping the amount of food from three days to five. But it's actually not a contradiction.
What I'm advocating for is using a bit more wisdom in the food choices that we make, so that we can keep the overall food weight down to six pounds.
6-Pound Mark
That six pounds number may seem a bit arbitrary, but it's an important number of you want to keep your overall pack down to 25 pounds or less. With the ideal backpack weight being no more than 20% of your body weight, a 150 pound adult should be able to carry 30 pounds. But that's assuming they are in good shape physically. If you're not in good shape or you weigh more than 150 pounds, you probably can't comfortably carry 20% of your body weight all day long while walking.
Six pounds means that you're eating two pounds of food per day or 10 2/3 oz. of food per meal. That's actually quite a bit and will provide you with a considerable amount of caloric intake. Walnuts, for example, are one of the highest calorie foods on our list at 185 calories per ounce, so 10 2/3 oz. of walnuts works out to 1974 calories, almost a full day's caloric intake.
Okay, so how do you do that and still have enough food to last three days?
Less Water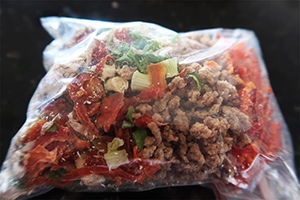 To start with, avoid any canned food or meats; this includes canned in plastic pouches. When you're carrying food in plastic pouches, you're carrying water.
Better to have something that's either dehydrated or freeze dried and reconstitute it along the way.
In some cases, freeze dried foods are a better option than dehydrated. It all depends on the food and how dry "dehydrated" actually is. But one place where it's definitely drier is in fruits. Dehydrated fruits contain considerably less water than dried fruits, making them lighter.
Avoid carrying extras too. Snacks can add a considerable amount of weight to your pack, especially since snack bars and granola are made of dense, fairly heavy food items. We're talking survival here and going a few days without snacks of any sort isn't the biggest survival problem you've got to deal with. You're probably going to face days where you may not have enough food, let alone having your favorite snacks available to you.
Lots Of Calories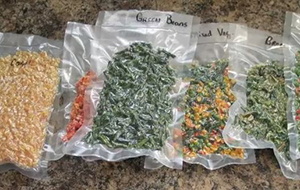 At the same time, you've got to pack a lot of calories into that food. So you want the foods which are going to give you the most calories, for the least amount of weight.
Put another way, you want foods that are high in calories per ounce, while not forgetting to include all three of the dietary macronutrients:
Carbohydrates – converts to sugar to give your body energy
Fats – converts to sugar slower than carbs, so you get a one-two punch of energy
Proteins – provides the basic building blocks for cells, so that your body doesn't have to cannibalize living cells to get that protein
For the short period of time that your bug out bag has to feed you, it's okay to forget about the micronutrients. You don't want to do that for too long, but you can for short periods of time, without your body suffering any harm.
Okay, so what particular foods can we include in those six pounds, so as to have the macronutrients we need, without having too much weight?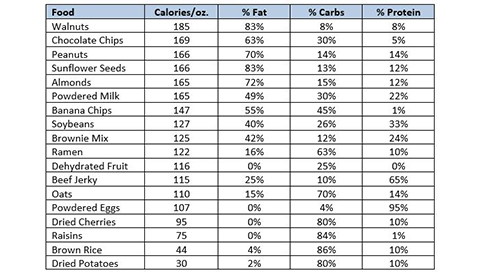 Of course, you've got to think beyond those three days and have a source of resupply ready, whether that is at your survival retreat or a supply cache. While you can survive for a number of days without food, going without will affect your energy level and concentration. Eating gives your body ready energy to use, even if it has to draw more energy from your fat reserves.
Related: The Best Foods You Need When Bugging Out
Refill Along The Way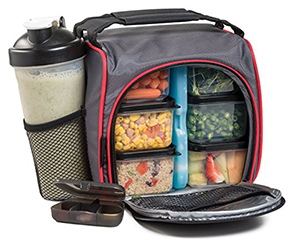 It's a good idea to be ready to augment this food sack along the way, gathering fresh greens that you can eat and fishing if you have the opportunity.
But you have to balance that against the amount of time it takes to do those activities.
If you spend four hours fishing or foraging, how much distance did you lose? Are you going to gain enough calories in the food you gather, to more than compensate for that time you've lost? If not, then it's not worthwhile.
One useful way of making the most of your travel time, while still harvesting food from nature, is to set fish traps at night while you camp. In that way, you only spend a minimal amount of time on fishing, while still gaining the opportunity to supplement the food you are carrying.
Foraging for edible plants should only be done as you are on your way; not taking time out from traveling to do so. Learn how to recognize a number of likely plants for your area, so that you can pick them as you go and will have them ready when it is time to stop for lunch or for the night.
You may also like: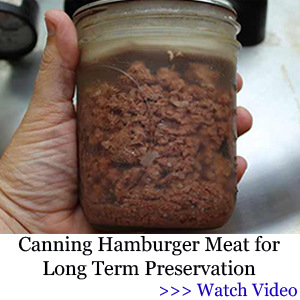 My 3 Bug Out Bags (with Pictures)
If You See This Plant in Your Backyard, Burn It Immediately! (Video)
The SHTF Diet: Minimum Food And Water Supply For 3 Months
BOB from the Dollar Store for $50
12 Foods I Keep In My Car At All Times
How To Recondition Old Gasoline