I don't know about you, but I always look for plants that serve more than one purpose in my garden.
Don't get me wrong, I love pretty flowers, but I think they are even better when they are edible, medicinal, or attract beneficial pollinators.
So, when my friend brought me some pigeon pea seeds, my first question was- what is it good for? What I learned really surprised me- there are so many uses!
But first, let's talk about how you grow it.
Identification
Pigeon Pea, Cajanus cajan, has many different names throughout the world.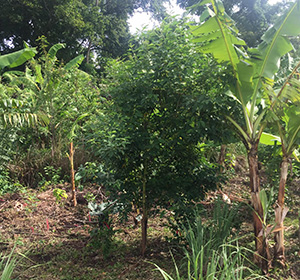 Ahrar, red gram, and frijoles gandules are just a few of the many names this versatile plant has. Whatever you call it, pigeon pea is easy to grow.
Native to tropical climates, these plants are perennial shrubs that grow from 6-12 feet. They grow best in US zones 9- 15 as they can't tolerate frost.
But if you live someplace colder, you can try growing them as an annual.
How To Grow Pigeon Pea
One of the wonderful things about pigeon pea is that they can grow in just about any soil conditions. You can plant pigeon pea in poor, overused soil, and they will grow.
Related: How to Adjust the pH in Soil and Water for Abundant Harvests
While they obviously do better with more nutrients and regular water, the plants can survive drought-like conditions once established, making them a perfect survival plant.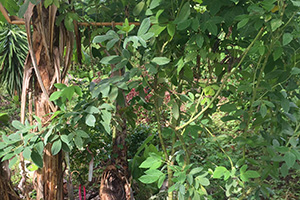 Pigeon pea can be grown directly from seed. Dig a hole 6-8 inches deep and plant 1-3 seeds per hole. Cover with a bit of soil but don't fill the hole completely. You want to leave about 6 inches of space between each hole. If you plan on planting them in rows, you should space them 1-2 feet apart.
Make sure you water them thoroughly when you plant them. After that, you only need to water them once a week.
It takes two to three weeks for the plant to germinate. After that, they grow quite quickly. You might begin to see flowers in just two months.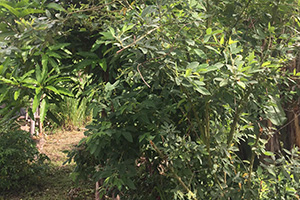 Once pigeon pea has become established in your garden it is prone to self-seed. So, give some thought to where you want to plant your pigeon pea. They can be grown in hedges and used windbreaks. Don't worry if you wind up with too many, I'll tell you all about what you can do with it.
You can also plant them around young fruit trees to help protect the trees as they grow.
They will help shade the tree and as you prune your pigeon pea shrubs they will fertilize the tree, which I'll explain more in a bit.
Harvesting Pigeon Pea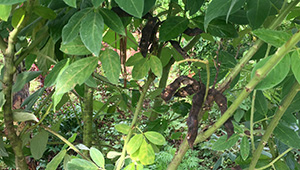 One of the obvious reasons to grow pigeon pea is that it is an edible crop.
After the shrub flowers, it will produce pods.
Inside these pods, you will find four to five edible beans.
You may begin to harvest pods from your shrub in as little as three to four months.
However, depending on the variety you are growing, it could take as long as eight months to harvest.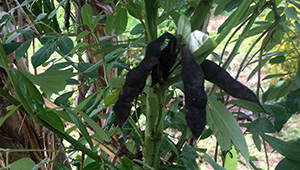 You can pick the pods green and enjoy the green beans inside fresh. They are similar to peas. Don't worry if you find you have more pods then you can eat fresh. You can leave the pods to dry on the shrub. When they are dry you can harvest them in large bunches.
Cook these like you would any other dried beans. You'll find many regional dishes that use pigeon pea.
Related: How to Dry Can Beans and Rice for 20+ Years Shelf Life
From Caribbean-style rice and beans to Indian Dahl with lentils there is sure to be a way you can enjoy these nutritious beans.
A Classic Caribbean Recipe
There are many different ways pigeon peas can be cooked.
A classic Caribbean recipe, Arroz con frijoles gandules is a variation on beans and rice. There are many variations to this dish but here is a basic version starting with a sofrito.
This nice hearty dish can be served on its own or you can add bacon or country ham to it.
Ingredients
1 tsp oil
⅓ cup sofrito
3 cups of chicken broth
⅓ cup tomato sauce
2 cups of pigeon peas (if dry soak overnight)
1 cup of rice
Salt to taste
Bay leaves, dry oregano, other seasonings (optional)
Sofrito
1 onion
1 tomato
4 cloves garlic
2 green peppers
2 red peppers
one bunch of Cilantro
one bunch of Parsley
Instructions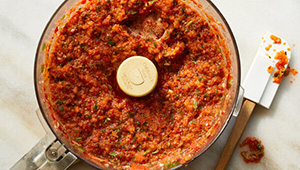 1. First, make the sofrito. Chop the ingredients small enough they fit into your food processor or blender.
Then blend to a paste. You can store the remainder in the fridge or freezer for later.
2. Place a large stockpot of medium heat.
3. Add 1 tsp of oil and then the sofrito. Saute the sofrito to release the aroma.
4. Add the tomato sauce and stir to combine.
5. Next, add the chicken broth. Bring to a boil.
6. Add the pigeon peas. At this point, you can add other salt and other seasonings if you wish.
7. Wait for the liquid to return to a boil and add the rice. Stir to combine the rice and pigeon pea.
8. Cook until most of the liquid has been absorbed. Turn down the heat. Cover and steam for another 20-25 minutes. The rice should be light and fluffy and all the water should be absorbed.
Other Pigeon Pea Uses
While pigeon peas are healthy and delicious there are many other uses for them. Which is good- because as I said, once established they can spread prolifically.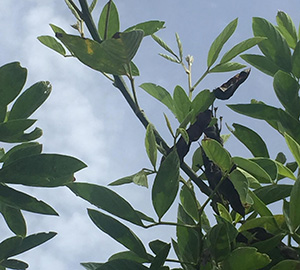 Pigeon peas are not only good for people to eat- they also make great animal fodder. If you have chickens, they will eat the whole plant. Leaves, flowers, stems, and seeds can be fed to your animals.
Not only do animals love pigeon pea bees do too. The flowers attract beneficial pollinators to your garden, that will help all your crops.
Pigeon peas can help your garden in other ways as well.
I mentioned you can plant pigeon pea even in your worst soil but it is even better than that- pigeon pea can help you rebuild your soil.
First, you will find that pigeon pea has a deep taproot that helps break up hard packed soil. But there is something even better than that.
Pigeon Pea, and other beans, belong to a class of plants that are often referred to as "nitrogen-fixing." This means they help trap nitrogen from the air back into your soil, where it can help feed your plants.
Related: Get An Unlimited Supply Of Beans Growing This Tree
To benefit from this, you need to chop your pigeon pea back before they flower. Otherwise, the nitrogen will go into those seed pods (which makes them super healthy for us).
If you chop more than your animals can eat, pigeon pea makes great mulch or green compost. It's just one more way pigeon pea can help improve your garden. You can also burn the wood as firewood.
Final Thoughts
Pigeon Pea is a great survival crop for anyone living in a warm climate.
Even on poor land, this plant can provide a bounty of food for you and your animals. And not only that, it helps improve your soil making it healthier for you to grow more food down the line.
And if you find yourself with too much, it's great for mulching and building compost. How much more can you ask from one plant?
You may also like: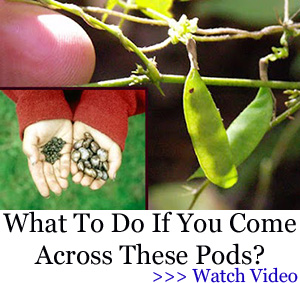 How Much Ground Can You Cover Each Day Walking with Your BOB?
What Happens If You Put Onions In Honey (Video)
Meal in a Bag: Chili with Beef and Beans
8 Myths That Make Preppers Look "Crazy"
How to Keep Eggs Fresh for a Year