One of the biggest concerns people have with home security is what is going to happen when the power goes down? When the grid is out what are my options? Simply put not only do you have a lot of options you probably already have most of them with your home security system. You just need to have your mind right and a plan in order so you can figure out what to do when you power is gone.
When I was in West Africa, we lost power hourly and it was a problem. However we were never defenseless or without options. The end user at home should be in no different of a situation at all. All you need is to know your options and how to better plan for them. That is all security is essentially, is learning your options and how to apply them.
So, here are a few conventional and unconventional options that you may not have considered for when the grid is gone.
Related: 5 Things You Need to Do When There'll Be No Rule of Law
Your Dog is Your First Line of Security
Without a doubt the best first line in home defense requires no electricity. They do require attention, feeding, and water. Sometimes they like a bed to lay on or at least a house to live in to protect. I am of course talking about an animal and more specific a dog. You do not need to have a big bad looking dog, even a small lap dog can bark. You see criminals operate in a world of avoiding drawing attention to themselves. So, a dog yapping in the middle of the night is generally something they want to avoid.
Naturally, criminals are only deterred if what they want is less valuable than being caught. So, if you are trying to protect something of extreme and high value having a little dog is not going to do much to shy away a criminal. So scale your needs and the needs/wants of your family to reflect that when you get a dog. They are great companions as well and truly do serve their master as a great first line of security.
Related: 14 Dog Breeds for Preppers
A Backup Setup to a Battery Source is Essential
Your traditional home security network most likely has a backup set up to a battery source. If you do not have this ability then you need to upgrade to this ability and get it done. Even if for some reason the phone lines are down, when your alarm goes out it is LOUD and people notice loud things. Again criminals like to avoid drawing attention to themselves. So they will most likely flee in the event of an alarm. Even with the power down, an alarm going off draws lots of attention and it will be the knee jerk reaction for the criminals to believe the police will be there soon to thwart them.
Related: The Battery That Can Power Your Home Completely Off The Grid
One of my personal favorite options is to implement the use of a game camera designed for hunting. Now this of course will not deter anyone but it will aid in their capture should they do something on your property. You can find them for a fairly cheap cost and they operate on a long battery life. So you can set up a good little network of hidden cameras that will capture video and pictures of criminals caught in the act. Even when the grid is up and working these cameras are a great means to help add to a case for homeowners insurance and the police love having pictures catching criminals. So later they can show them how caught they truly are. They are easy to hide, the cameras, and they can withstand all weather conditions.
Traditional Tripwire Security Systems
Of course another option is the old fashioned tripwires. Now I am not talking about setting up an interlocking field of fire with trip wire mines to initiate an ambush. I am talking about tripwires set to trigger alarms. There is a whole host of methods out there that operate on either light or a physical wire being tripped resulting in a loud alarm going off. This of course sends most fleeing and can serve as a means to alert the authorities. Which is something else to consider. Just because there is no power does not mean the phones are gone. You still have options!
The phones work without power and most systems are hard wired to a land line. So just because the power is down, does not mean the security grid has to be down. You see phone lines work regardless of power, and can be operated by most systems even without power being available. So, you could in theory have tripwires set up, or your normal alarm system (which operates in some ways like tripwires) and once triggered the alarm can send an alert to a company who in turn informs the police of an entry. So, its possible that even without power you still have some means to get police on scene and fast.
Related: Spider Hole Tactics to Defend Against Looters
There are a lot of options and steps one can take to ensure their home is safe even if there is now power present. Natural disasters, heat waves, cold snaps, you name it…the grid goes downs sometimes but that does not mean we are without means and without resources. Plan ahead because failure to plan is planning to fail and our security plan, cannot fail. You need to make sure you have some unconventional methods in your back pocket like the game cameras and the pooch.
You also need to consider your options within the realm of more traditional methods like tripwire security systems. The idea here is to come up with a way to draw attention to your home. A clear signal that something is not right and that will send most would be criminals running. This will give you peace of mind while you sleep, are out of town or simply are away when the power is down. You have options, just plan for them!
You may also like: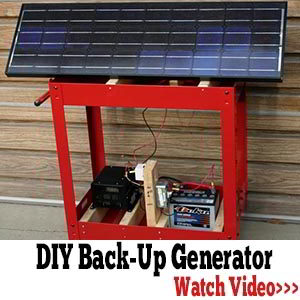 Home Security Tips From an Ex-Burglar
What Happens When You Bury a Shipping Container (video)
When Is It Okay to Open Fire on Intruders?
6 Reliable 'Pocket' Revolvers For Off-grid Defense