By now we can probably all say that we would easily survive in the wild with the tools we have at our disposal and with the preparations we have in place. But one thing we often forget to consider is how well we would do when in the wild, with nothing at hand.
This scenario can seem daunting, but we believe anyone can overcome the challenges that raw nature has to offer with the right know-how.
While finding food and water might seem the obvious focus, many forget that there are some prerequisites that they should meet before attempting to find either.
One of these prerequisites is finding the right materials to use so that you can craft a weapon. The idea here is to create something with multiple purposes, such as hunting, self-defense, cooking, building a shelter, and more.
So, let us look at some of the raw materials you can expect to find in the wild and how you can turn them into a reliable tool for survival.
Understanding the Idea of Weapons from the Wild
Before we get into what kind of weapons you can make, you should have a clear understanding of one thing: the weapons you will make using raw materials from the wild will be primitive.
You cannot expect these weapons to deliver the same performance as your hunting rifle, and you will have to practice making and using them.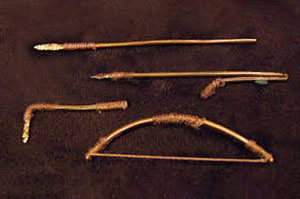 The easiest way to understand it is to think of the weapons cavemen had to use. They had to analyze anything and everything around them.
They had to look high and low and had to spend time crafting these survival tools to better their odds of staying alive in the wild.
When the time comes for you to do the same, you want to be ready. You want to already understand which weapons you can make with which materials because you might not have the time to learn from scratch.
Related: How To Make A Rope Out Of Common Plants
Start with the Most Important Weapons from the Wild
Arguably the most important tool or weapon to craft when you are out in the wild, is a knife. Having a knife means you have something to defend yourself with, hunt with, cut other materials up with, and is relatively durable.
While you can certainly craft a knife with bone or wood, you will find that stone – without a doubt – lasts the longest and delivers the best results.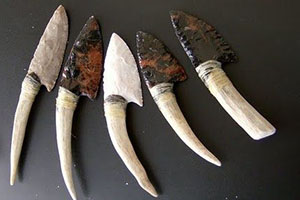 To make a knife from stone, you will need the following three things first:
Your 'core' rock: This is the rock that will ultimately become the knife. You want your core rock to have a large, flat face on one side since this will allow for faster shaping.
Your hammering stone: This is the rock you will use to carefully shape the core rock into a knife. You will use it to chip away at the pieces of unwanted rock on your core rock until it holds the shape you desire.
Your refiner rock: This rock will naturally have a somewhat sharp edge that you will use to refine the blade edges on your core rock after you have shaped it with your hammering stone.
With time, you will become more adept at turning stones into knives of increasing quality. Just keep practicing until you feel that you have the hang of it. You never know when you might need to have this skill.
Related: How to Make Your Knife as Sharp as the Devil Himself
Note: a quick way to make a simple knife is to smash animal bones. Smashing them will usually yield some sharp fragments that you can use.
While these bone knives will not be able to do much cutting, they will certainly work for piercing. They will not last for as long as stone knives, however.
Other Survival Essentials from the Heart of the Wild
Here are some quick breakdowns of other essential tools you can craft using natural materials:
A stone hammer: all you need is a weighted stone, a sturdy stick, and some rope – or sturdy plant fiber.
First, wrap the plant fiber about a third of a way around the length of the stick.
Then, split open the stick up until the fiber wrapping.
Now, place the stone into the split open stick before securing the top of the split stick again with more fiber wrappings. The more you wrap it, the sturdier the hammer will become.
Stone arrows: You will use a similar process to make a stone knife, only you will make the arrowheads much smaller in size.
Once you have shaped and sharpened an arrowhead, you can use plant fiber to secure it to a straight, sturdy stick. Remember to cut the stick as straight as possible with your stone knife to lessen any air resistance.
A bow: You can make a bow using a strong, but pliable branch. Make sure it has a decent length. Around four feet should be enough. It is worth noting that you will need rawhide for the string.
After whittling down the wood to its natural curvature, add notches at the top and bottom and tie your rawhide string from one onto another. As a bonus tip, you can carve out slits on the back of your arrows, so they better remain on the string.
With these tools, you should have enough to further your survivability in the wild. You can use the hammer to build or shape other materials, you can use the bow for hunting, and you can use the knife to cut things where necessary.
Other Useful Pieces of Information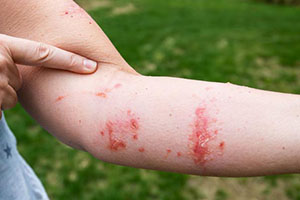 While making tools in the wild is arguably one of the most important steps to survival, you should always explore unorthodox solutions as well.
Take, for example, dangerous plants.
The common advice would be to stay away from dangerous plants or to remove them entirely.
But did you know that you could easily turn some of them into a weapon or additional layer of security?
You can explore our articles on edible plants and their poisonous lookalikes, backyard plants that can kill you, and plants you should best not touch to learn more about which common plants have poisonous properties.
Simple ways to use them include covering your perimeter defenses – such as barbed wire – in a poisonous plant to add to its security.
You could also use the poisonous parts of the different plants on your arrowheads or knives to create a poisonous coating.
Related: The Most Common Biological Weapons (and Antidotes)
You should note, however, that we advise using these plants for defense as opposed to hunting.
The reason for this is simply because ingesting meat from an animal killed with poison could still prove dangerous to you unless you know what you're doing.
Remember, preparation is key, and part of preparation is reading up and keeping yourself knowledgeable about which dangers are out there, how to overcome them, and how you can keep on surviving.
You may also like: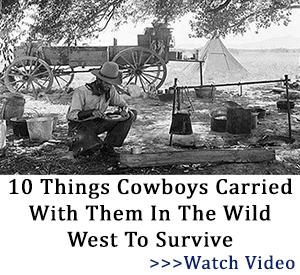 5 Wilderness Survival "Rules" That Are Actually Myths
The Medicinal Toilet Paper Used By Our Forefathers Daily (Video)
How to Make a Natural Remedy for Food Poisoning
The Ultimate Meat Processing Charts for Preppers
DIY Rattle-Can Camo for Weapons and Other Gear