So if there's a nuclear attack, and you have to leave your home, what are the things you should stop to pack?
You probably have a list of what to take for less dramatic emergencies – in fact you probably have a decent loadout already packed and ready to go – but it's hard to imagine any situation more urgent and frightening than the threat of a nuclear weapon.
The first question to ask is, should you be leaving at all? Most of the time the answer to that is going to be a definite no. Even if you haven't prepared your home for the attack, it's still going to be the safest place to be in most situations. If at all possible you should stay there.
You have shelter, from the elements as well as the radioactive fallout that's the biggest threat after the immediate destruction of the explosion itself, and access to all your stored supplies – especially water, which is going to be a problem everywhere.
However, sometimes leaving is going to be the only option. If your home has been seriously damaged, for example, or if it's on fire and you can't put it out, staying there isn't a realistic option. If there's a burning nuclear power station a mile upwind then you're probably going to want to get out as fast as you can. You might even decide you're at risk from a follow-up strike. If someone hit the air force base a mile down the road, and all your windows are blown in but the base is still operational, the chances are they'll hit it again with a bigger weapon. You probably don't want to be around when that happens, so a quick exit is your best option.
What are the dangers?
After a nuclear strike society is going to collapse fast. The weapons will destroy a lot of infrastructure; EMP will disable much of what's left. There will be widespread panic, millions of people fleeing the cities and all the other chaos that goes with social disintegration. So you'll face all the hazards that come with any major breakdown. Of course, you're probably prepared for that as well as you can be, so although it might be a bit worse than you'd expected it isn't totally out of the ordinary.
Social collapse is bad enough, but there will be nuclear fallout to deal with on top of it. Highly radioactive fallout will start coming down within minutes of the explosion as heavier particles settle out, and can keep falling for several hours – up to a day from a very large explosion. Then there will be a relatively clear period for several days, before smaller dust and smoke particles that have been blown right up into the stratosphere start to descend. This can keep falling for weeks or months, and will be carried huge distances by high-altitude winds, so even if you were hundreds of miles from the nearest explosion it's still a hazard.
The radioactivity of fallout decays over time, and two weeks after the attack it will be down to 0.1% of its initial levels, so the key to surviving fallout is to be as sheltered as possible in the 14 after the blast – and the first wave of fallout is the most dangerous of all. To have any chance you need to get upwind of the explosion as quickly as possible, which means a quick departure. Every minute you hang around after the bang you're increasing the risk when you do leave. What you need to do is hit the right balance between getting out of there and being as safe as possible when you do.
Related: The Best Way to Prepare Your Home for A Nuclear Attack
What to take
Firstly, grab your bugout bag. You'll need all the stuff in there, so it's a sensible place to start. Even if you don't have time to collect anything else, it's worth having. The chances are it doesn't contain anything that's going to protect against fallout, though, so there's some other gear you should prioritize.
Fallout emits alpha and beta radiation. This isn't electromagnetic radiation like the gamma and hard X-rays released by the explosion itself; they're particles. Alpha particles don't penetrate well; in fact they're stopped by normal clothing, a sheet of paper or even the layer of dead cells on top of your skin. On the other hand, if they do make it into your body they're incredibly damaging. If you inhale fallout, or get it in an open would or burn, the alpha radiation can attack your body.
Protective clothing
If you're moving around once fallout starts coming down, but before its radiation has had time to decay, some kind of mask is absolutely essential. A military grade gas mask is the best; a spray painting mask, or even a simple dust mask, will also keep the fallout from being inhaled. An improvised activated charcoal mask will work very well. Remember that after you've been using it the mask – or filter canister, if it uses them – will be radioactive, so as soon as you're in whatever shelter you end up in get rid of it. Throw it, and its radiation, outside.
If you have goggles, take them with you. Wear them any time you're exposed to fallout to keep the particles out of your eyes – they can cause a lot of damage there. If they're ventilated seal the vents with tape.
The other danger from fallout is beta particles. These can penetrate almost an inch of aluminum plate, so your clothes won't stop them. However, the further away you can keep the fallout from your body the fewer particles will hit you, so you need to keep it off your skin. Wet weather gear is ideal for this. Fine dust, like fallout, that lands on normal clothing can work its way through the weave and end up next to your skin. Waterproof fabric will also keep dust out, so it makes an ideal top layer. Any fallout that does get on it tends to fall off, too, and that helps minimize your radiation exposure. Fallout that stays on your clothing will do more damage, so if you have a waterproof coat and rain pants that's what you should wear.
A disposable rain poncho or plastic sheet over the top will give even more protection – and it's worth wearing one even if you don't have anything else. Pack some in your bugout bag. If you have rain boots wear those, for the same reason. Otherwise consider wrapping your feet in trash bags; again, you can throw these away when you get to shelter. Put gloves on and either put your hood up or wear a hat.
Food and water
Fallout will contaminate water supplies, and boiling is no help at all against radioactivity, so take as much drinkable water with you as you can carry (and if you have a running vehicle, fill it with as many containers as you can; municipal or well water should be safe for at least an hour after the attack).
Boiling won't remove fallout from water, but filtering will. The water itself won't become radioactive, so if you can get rid of the dust it will be safe. Pack any water filtration gear you have, so you can make any water you collect safe to drink. If you don't have anything else several layers of tightly-woven cloth will remove a lot of the fallout, and that's much better than nothing. You need a water filter to do a proper job, though. Homemade activated charcoal filters are ideal, because they're cheap and you're going to have to dispose of filters well before their useful life is up – they'll become radioactive as soon as you start running fallout-contaminated water through them, and the more you use them the higher the levels will get.
The same goes for food. Sealed cans or packets should be relatively safe, but fresh produce or bread can potentially be contaminated – and eating anything with fallout on it is a very bad idea. In fact any crops that are harvested within a couple of months of the attack are suspect, because they'll have picked up radioactive chemicals from the soil. Rely on sealed, processed food for as long as possible – and take as much as you can with you when you leave.
If it's at all possible, stay in your home after a nuclear strike and don't leave your fallout room for at least two weeks. But, if you do have to move, taking the right gear with you will give you a much better chance of getting through the aftermath.
You may also like: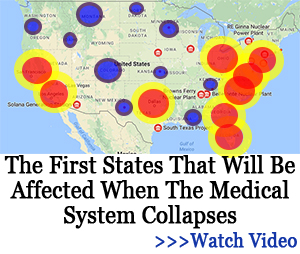 Why is Pentagon in a Hurry to Move back to the Nuclear Base under the Cheyenne Mountain?
Experts Warn: Next War Will Start With An EMP (Video)
The First Counties To Be Relieved By The Government After SHTF