If you're on this site it's a pretty fair bet you think prepping is the smart thing to do. Of course, you're right.
Anything you can do that increases your readiness for a crisis is a good idea. The problem is the people who make the laws don't always agree.
It seems incredible, but many of the common-sense things you might want to prepare are actually illegal in parts of the USA.
Unfortunately there's a patchwork of federal, state and local laws that can get in the way of your prepping. Let's have a look at some of the most awkward examples.
Zoning Laws And Livestock
Even on your own property, laws restrict what you can and can't do – and those laws vary widely, depending on where you live. State, county and even HOA rules can get in the way of your preparations.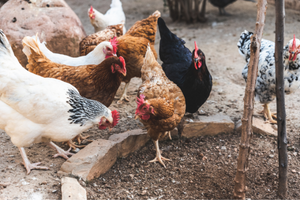 Most homes are in areas zoned for residential use, and local zoning codes could ban you from farming land over a certain area, building structures to house animals, or even building a big storage shed. Before you buy a new home investigate the local zoning codes and check there aren't any restrictions that could stop you doing anything you plan.
If you buy a property then try to get the code changed your chances are pretty low – and if you build something not allowed by the code you could face heavy fines.
Farming is probably the most common zoning issue facing preppers. Some communities have "right to farm" laws, which allow you to farm on any land you own, however it's zoned.
Related: How Growing Your Own Vegetables Can Get You Arrested
State right to farm laws usually only protect farmers and ranchers on land zoned for agricultural use. There are usually strict limits on who qualifies.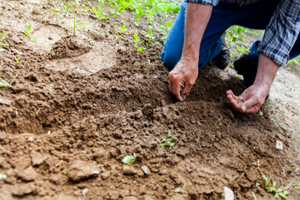 In Nebraska, for example, the right to farm only applies to lots that are at least ten acres.
California's law protects any "agricultural activity" that's been in operation for over three years – before that, it can be declared a nuisance. The more urban your area, the tighter the restrictions.
In many cities and large towns, it's illegal to keep any livestock – even a handful of chickens – in a residential area.
As well as zoning codes, check any covenants attached to your property. These can order you not to do some things on your property, and keeping livestock is illegal most of the times.
Zoning Laws and Unconventional Homes
Another issue with zoning codes is that they can dictate what kind of home you're allowed to live in. You might want to live in a trailer, RV or nuclear bunker – but you need to check if your local codes allow that.
Related: What's The Closest Natural Nuclear Bunker to Your Home?
If they don't, it makes no difference that you own the land; you could be ordered to demolish your home and replace it with one that meets the code.
Off Grid Electricity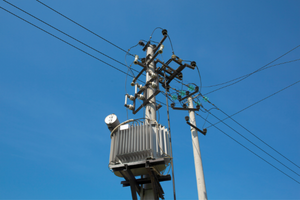 No state will actually stop you from installing solar panels, and many will even give you tax breaks to do it.
On the other hand, it isn't always possible to totally unplug yourself from the electrical grid. In several states there are fees to disconnect, even temporarily, from the grid – in Nevada this is $400.
In many municipalities, it's illegal to completely disconnect from the electrical supply. Even if you're generating all your own power you're required to stay connected and often pay a connection fee.
There's an upside to this, which is that you might be able to sell surplus electricity you generate to the power company.
Unfortunately, there's also a massive downside. Because you're still connected to the power grid, any event that destroys the grid – for example, an EMP attack or coronal mass ejection from the sun – has a way to surge into your home.
That could wreck anything you have connected to your own system.
Water Rights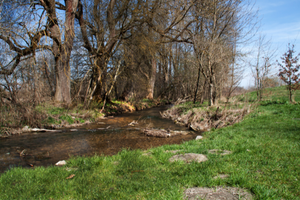 Water is one of the most vital survival resources, and for preppers, it's a real bonus if there's a water source on your land. If there's a stream crossing your yard you have a supply of water right there on your doorstep.
The problem is there are probably serious restrictions on using it.
There are two water use doctrines in the USA. In the eastern states the main one is the Riparian Doctrine. This originates from English common law, and it says any landowner whose land adjoins a body of water can make reasonable use of it.
Related: 10 Off-Grid Water Systems You Should Have On Your Property
The thing is, "reasonable use" restricts what you can do. The main restrictions are that you can't obstruct, divert or pollute the flow of water. If you plan to use that river to irrigate a field, you could run into trouble with people downstream.
In the western states water rights usually rely on the Prior Appropriation Doctrine. That's based on who was using the water first, and in most cases the courts now give priority to Native Americans.
In a Prior Appropriation state, you don't have the right to use water flowing across your land unless the local water department authorizes it.
Collecting Rainwater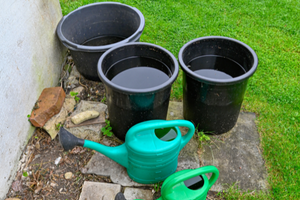 OK, so you can't divert a stream into your vegetable patch because either the people downstream or the local Indian tribe will complain, but what about rainwater? Surely you can collect that? Well, it depends.
Related: Is Harvesting Rain Water Illegal in Your State?
It's usually legal to collect rainwater for personal use. If you have a water barrel to collect rain that lands on your roof, nobody is going to complain.
Then again there was Gary Harrington of Oregon, who was jailed for refusing to dismantle his water collection setup. Harrington had stockpiled 13 million gallons of water in three "ponds" on his property.
He said they were reserve water supplies for fighting wildfires. One of them had boat docks and was stocked with bass.
Harrington's real offense was that his land was a major part of the watershed that feeds the town of Medford, and he was collecting so much that the town – which had Prior Appropriation rights – was running short.
You can legally collect rainwater, but if you collect so much that streams start drying up you could face problems.
Gun Laws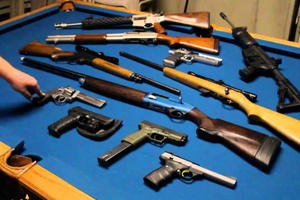 Almost every prepper owns at least one gun. Firearms are hugely valuable for hunting and defense, and without one your chances of surviving a crisis go way down. The trouble is gun rights in the USA are under constant pressure, and many of the most popular survival guns are restricted by state or local laws.
In California, it is illegal to own most popular semi-automatic rifles unless they're heavily modified to comply with a ridiculous "assault weapon" ban (although in June 2021 a federal court ruled the law unconstitutional).
Related: Self-Defense Weapons That Are Illegal In Your State. Do You Have One Of Them?
You also can't have any magazine that holds more than ten rounds unless you owned it before January 1, 2000.
If you're moving it's vital to check your guns are legal at your new home. Even crossing jurisdictions inside the same state can make a huge difference to gun laws, and penalties can be heavy.
Of course, in a country with as many sets of laws as the USA there are a lot of things you're not allowed to do. Lawmakers can pass just about any law they can get enough votes for, and they regularly do.
In Arizona you need a permit to feed garbage to pigs. In California it's illegal to eat a frog that dies during a jumping competition (you'll all remember what a huge problem that was a few years ago…. right?).
There's a $1,000 fine for holding a dwarf-tossing contest in Florida. Louisiana has a modern, strict hygiene code for any food prepared for public consumption – except jambalaya, which is exempt.
Related: 15 Modern Laws That Would Get Our Grandfathers Arrested
Fortune telling is illegal in Maryland and nobody can say when that will change (because that would be illegal.). In Utah it's legal to throw things at a bus – but only if you're a cop. In Wisconsin it's a crime to sell cheese that isn't "highly pleasing".
We have some weird laws, and while some of them are funny others can be a real pain for preppers. Before you buy a property check codes and covenants to see what's allowed there. Look up right to farm laws and find out what rights are covered.
Make sure your guns are all legal – and, before you start a project, make sure there isn't some crazy law that gets in the way.
It's frustrating and annoying when our freedom to prepare is blocked by badly designed or oppressive laws, but breaking them can put you in a cell. It's hard to survive there.
You may also like: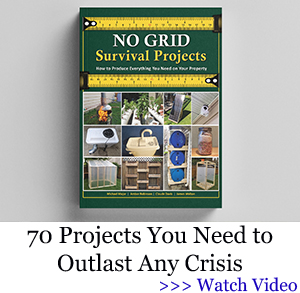 How To Spot Fake Law Enforcement When SHTF
The Berry That Is Illegal To Grow (In Some States), But Perfectly Fine To Forage (Video)
7 Things You Should Never Store In The Attic
How To Stockpile Lard, The Calorie Rich Survival Food Of The Great Depression