It may be difficult to comprehend, but in many states, harvesting rain water, whatever the method, is highly regulated. It seems a little crazy that something that will literally fall on your head and soak into the ground couldn't be gathered and used as you see fit, but there are several reasons for the rain water regulations that so many states have put into place.
Why Is Rain Water Harvesting Regulated?
For the most part, regulations surrounding rain water collection weren't put into place because the average Joe was gathering a little rain off his roof using a guttering system and a rain barrel. The regulations are often more to protect the environment from large-scale rain water collection operations. However, it doesn't mean that rain water collection is any more legal for individuals in some states.
When large amounts of rain water are diverted from where they would naturally flow, it can cause a lot of problems for the environment and for the people that rely on and have rights to those natural waterways. For instance, if large amounts of rain water are collected that would have run into a river that allows a farmer to water his crops and or a rancher to provide adequate water supplies for his cattle, issues can arise. Especially in places that frequently experience drought and problems with the water supply, these changes can wreak havoc.
History of Rain Water Regulation
The history of some rain water regulation laws in the United States goes back until at least the 1800s. Though large-scale collection wasn't really feasible then, the idea that someone might cause ill effect on someone else by harvesting rain water was still an idea that was controversial in some places.
States with Rain Water Harvesting Laws
It's important to note that, in many places where there are laws that regulate rain water collection, the degree to which the laws would affect the average homeowner vary a great deal. Some laws state that commercial collection is unacceptable, or that you can collect only so much rain water per year, or regulate the way you use collected rain water. Just because a state has laws regulating rain water collection doesn't mean that it's wholly illegal. Beyond state regulations, some cities also have specific rain water regulations in place, so be sure to check those out as well.
With that being said, here are the states that have rain water collection laws on their books with a short explanation for what those laws are like in each place.
Colorado
A few years back, harvesting rain water in Colorado was simply illegal in any capacity, but thanks to new laws passed in 2016, harvesting rain water for personal use is okay in most areas. People are allowed two barrels with a capacity under 110 gallons. Collected water can be used for non-potable purposes, like watering gardens.
California
California has a mass amount of regulation surrounding rain water collection due to severe droughts in much of the state, but home rain water collection is mostly legal.
Related: This Might Be the Only Solution to Californian Drought
Oregon
There was a big story that got a lot of attention on the internet a few years ago about a man that was arrested for illegally harvesting rain water in Oregon, leading people to assume that it was totally illegal there, but that's not the case. The man in question was harvesting rain water illegally, but not all rain water collection is illegal. You need a permit in the state of Oregon to collect rain water on a large scale, but there's also a regulation that states that it's perfectly okay to collect rain water from surfaces like roofs or parking lots.
Texas
There are some regulations on the books surrounding rain water collection in Texas, but the practice as a whole is generally encouraged. The regulations merely cover some safety standards for harvested rain water. There are actually laws on the books protecting rain water collection in Texas.
Oklahoma
Oklahoma house bill 3055 established a committee to look into more efficient practices for water use and concluded that some potential rain water harvesting projects may be grant eligible.
Illinois
This is another state with a ton of regulation surrounding rain water harvesting, and the regulations are pretty prohibitive when it comes to a lot of rain water harvesting. However, there are allowances that mean rain barrels are okay and don't need a permit under most circumstances so long as there is no component inside of a dwelling and it doesn't need permits under any other regulations.
Ohio
There are laws regulating what harvested rain water can be used for in Ohio, but collecting rain water here is actually encouraged and grants may be provided to set up rain water collection systems. So long as you're not trying to consume collected rain water, you've got nothing to worry about in Ohio!
Arizona
While there are regulations regarding commercial rain water harvesting in Arizona, there's nothing on their books that pertains to residential collection.
North Carolina
The laws on the books in this state are actually to promote the harvesting of rain water, not deter people from it. There are grants available for projects, like rain water collection systems, that help make the best use of the state's natural water resources.
Related: How to Make Your Own Distiller at Home To Filter And Desalinate Water
Rhode Island
Rhode Island's law rewards residents for rain water collection with a 10% tax credit for the cost of their rain water collection system. Homeowners can get a credit of up to $1,000 for putting in a cistern or replacing a cistern with a larger one if they have not already received the tax credit. No rain water collection ban there, though!
Utah
Though collecting rain water isn't totally illegal in Utah, it is still very regulated. Small systems that store under 100 gallons are allowed without registration. If you're planning to collect rain water for personal use with more than 100 gallons of storage capacity, you'll need to register your system, which includes letting the government know how much water you can store. You're only allowed up to 2,500 gallons, and you may only use the water on the parcel of land where it was collected.
Washington
Though there is some regulation in Washington, it should be no problem, legally speaking, for the average citizen to collect rain water for their personal use.
Virginia
Virginia does have some usage regulations to make sure collected rain water is being used safely, but overall, rain water collection is encouraged in the state of Virginia.
The Final Word on the Legalities of Rain Water Harvesting
Though there is a lot of regulation surrounding rain water collection in many states, it's not really outright illegal on a small scale anywhere. Do your due diligence and make sure you follow any regulations in your state, county, or city and you'll be just fine.
You may also like: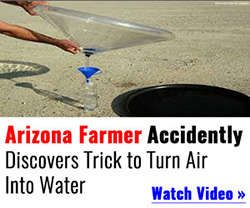 How to Build a Water Purification System in 10 Minutes
Easy to Build Root Cellar in Your Own Back Yard (Video)
Disinfect Huge Amounts Of Water With This Common Household Item
Is it Safe to Drink Old Stored Water?