The world is an unpredictable place, making it difficult to always be prepared for what could happen next. However, there are steps you can take for preparing for some emergencies, such as a nuclear threat…or worse, an actual nuclear attack.
Do you know what to do, if a nuclear attack occurred? Knowing where to go and having an emergency preparedness kit is a great start. But, what should you do first? And, are you prepared for that first step?
Your First Thought Should Focus on a Tiny Pill
If a nuclear attack should occur, reaching for a certain tiny pill should be on your short list of things to do, and as quickly as possible. But, not just any tiny pill. It's called iOSAT, which is potassium iodide. It might be tiny in stature, but it's a powerful tool in aiding in a person's survival after a nuclear attack or accident, and just might save your life someday.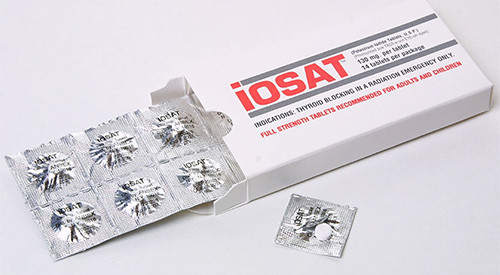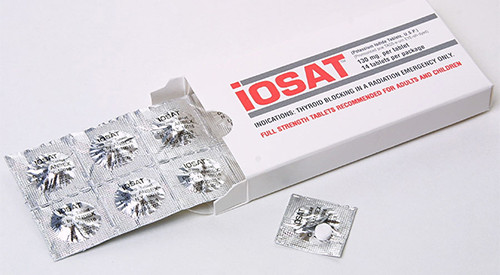 It goes to work by protecting your thyroid gland against thyroid cancer, especially if the recommended regimen is started within 3 hours of the attack. That's not a lot of time.
Unfortunately, if you don't already have it on hand, the odds you will be able to find iOSAT in time after exposure, are slim. So, it's best to prepare ahead of time by having this pill available in an emergency preparedness kit.
Related: Potassium Permanganate: Why You Need It in Your Survival Kit?
Will It be Available Through the Government?
Yes, and no. The good news is that the government has been doing some hoarding with the iOSAT pill. So, they do have it available. However, there is bad news, and even more bad news when it comes to obtaining this pill through the government.
The bad news is, the government only makes it available for people who reside within a 10-mile radius of a nuclear plant or facility. If you happen to live 11 miles away or more, you're on your own. The "even more bad news" is that you won't automatically receive it even if you live within the 10-mile radius. In order to receive the pill they allow, you will have to ask for it. Even then, it's no guarantee you will be able to get your hands on it. Not to mention, if an attack occurs, where do you go to ask?
Related: Find Out What Areas Would Be Targeted by FEMA When SHTF (they'll take your supplies)
The U.S. Nuclear Regulatory Commission most likely will not be out and about delivering them to homes. No, you will still be responsible for getting your hands on iOSAT, and the clock would be ticking.
Then again, if you are a prepper, you are probably already accustomed to taking necessary steps to plan ahead and be prepared.
An Important Tool for a Prepper
As a prepper knows, it's wise to have an emergency preparedness kit on hand. In it, there will be many tools for all types of emergencies that can happen, with or without warning. In preparing for a possible nuclear attack, the iOSAT pill should be included. And, since a prescription is not needed, it's not too difficult to obtain.
The iOSAT is available in packs consisting of a two-week supply (14 pills) of iOSAT pills, which is enough for one person. However, some preppers are preparing with at least 2 packs per person, just in case they will need to take them longer than 14 days. If you live outside 10 miles of a nuclear facility and can't get your packets from the local Office of Emergency Management, you can order them.
Keep in mind, they have a shelf life of about 5-7 years. So, when that time nears, you will want to replace them.
Related: 10 Health Benefits of Cinnamon That Surprised Even Us
The Importance of Protecting the Thyroid
As discovered after the Chernobyl and Fukushima disasters, radioactive iodine has the ability to transport over hundreds of miles, especially downwind. When released in the air that you are breathing, radioactive iodine will get into your system. It could also be digested through food and drink that has been contaminated.
The only part of the body that will absorb iodine is the thyroid. However, by ingesting the FDA approved amount of potassium iodide prior to being exposed to the radioactive iodine, the thyroid gland becomes saturated with a stable and safe iodine. This prevents the thyroid from absorbing additional iodine, including radioactive iodine.
Unfortunately, those who do not have the opportunity to saturate their thyroid ahead of exposure to the radioactive iodine, will most likely develop thyroid cancer.
This is why iOSAT is so important for survival, because the potassium iodide works well to saturate the thyroid. It works long enough for the body to rid itself of any digested or inhaled radioactive iodine, by passing safely through the kidneys. But again, it only works if the thyroid is saturated with safe iodine before exposure to the radioactive iodine.
It's important to note that iOSAT will only protect the thyroid, not the rest of the body. But, that is where the radioactive iodine is absorbed.
How to Use iOSAT Appropriately
Each packet comes with instructions on how to use iOSAT to help prevent thyroid cancer, if you are exposed to radioactive iodine as a result of a nuclear attack or accident. It is recommended that you take 1 pill per day, until the package is gone, or until you get notice from the authorities that you can stop taking them.
For children or adults who have difficulty swallowing pills, each pill can be crushed. Lessons have been learned from the Chernobyl incident, which show that children are at even a higher risk of the dangers associated to exposure. But, you should check with your pediatrician for their recommended dosing.
Related: 16 Remedies for Radiation Exposure
Another vital tidbit of information to know is that if you take too much of iOSAT, it can also become toxic. So, make sure to read and follow the directions carefully.
Does it Matter Which Iodide or Iodine Work for Protection?
Yes, it does. Only use a Potassium Iodide pill created for protection from exposure to a radiation attack or accident, such as iOSAT. As mentioned before, the first pill should be taken within 3 hours of the first exposure for best results, then 1 a day (24 hours apart) for at least 14 days, or until the authorities send out a notice that you can stop taking them.
Some people are under the impression that iodized salt or supplements containing iodine, can be used instead of the potassium iodide and get comparable results. This is not true. Nor will iodine water purification tabs work. Simply put, the ingredients are not the same. Only potassium iodide will protect your thyroid gland from radioactive iodine.
What About Side Effects of Taking iOSAT?
 Fortunately, side effects from taking iOSAT are rare, and most people do quite well when taking the pills. However, it's possible that a person might develop a rash, or upset stomach. Although, when weighing the risks of potential side effects stemming from the pill, compared to what will happen without taking them, it really doesn't compare.
Why iOSAT Over the Other Options?
 As a pioneer of this type of product, iOSAT was the first of its kind to be produced. In addition, it's the only product of its type to be authorized for purchasing by local, state, and federal governments.
iOSAT, a tiny but mighty pill, could save lives when taken properly. It can also be purchased at a reasonable cost, and without a prescription. It's a must, for any prepper's emergency preparedness kit, or any household, in case of a nuclear attack or accident.
You may also like: 
US Nuclear Target Map. Do You Live in The Danger Zone? (Video)
Is It Safe to Drink Old Stored Water?
The Best Way to Prepare Your Home for A Nuclear Attack
USAF Developed A New Bomb that Creates General Darkness: "CHAMP"