During the Great War, trench cakes, like the one I'll show you how to make, were made from a family's rations to be sent out to the front lines for their soldiers. While making trench cake is a wonderful, heartfelt act of remembrance for the lives lost in WW1, there's a little more we can learn from the way these soldier's loved ones used their meager stores to help support the men on the front lines.
Related: My Famine Food Storage Menu
They Were Resourceful
Despite war time rations that meant that sometimes families went to bed hungry and luxury food items being tough to lay hands on, British women came up with a way to make a tasty cake from what was available to them. Eggs were precious and not regularly available, so vinegar was substituted instead. Fats were issued in small quantities, so dried fruits were used to help the cake stay moist for a while. Flour was rationed, so the cake was created to be small and compact. These factors made these cakes perfect for shipping from Britain to France because they were little, dense, and they were still tasty a week later.
It's likely that many ingredients were substituted based on what was available at the time. For instance, the brown sugar in this recipe was likely hard for most families to come by, even though it is a small amount. Governments suggested that people substituted sugar syrups like molasses and honey in lieu of granulated sugar because it was so rare and needed for the war effort.
They Understood the Importance of Morale
Can you imagine how wonderful a homemade cake would be after eating mostly canned food, stale bread, and super-processed beef for a long period of time? Even if it wasn't a luxurious cake by any means, a little dessert plus the fact that a treat like this could help remind soldiers that their loved ones were well and that they were missed and appreciated would go a long way in helping soldiers keep up the fight on the dreariest of days in the trenches.
Related:10 Long Shelf-Life Canned Foods Every Prepper Should Consider Stockpiling
They Understood that To Make Do Was a Virtue
Because rationing was necessary to ensure there was enough food and other supplies available to the troops fighting for their safety, people were forced to get by with less. They carried on, though, finding ways to make what was available to them stretch far enough to feed their families, warm their homes, and so on. Using less was a patriotic thing to do, which is hard to imagine in a country such as ours, where capitalism means that the it's more patriotic to buy more than it is to do without.
Related:11 Food Storage Lessons Learned from WWI
How to Make Trench Cake
Chances are, you have most if not all the ingredients you need already at home to make one of these cakes. They were simply made, put together like many other basic cake recipes out there, then wrapped in brown paper and shipped off to the troops.
Ingredients
These ingredients have been translated over from original British trench cake recipes to American units of measurement to help save you some time.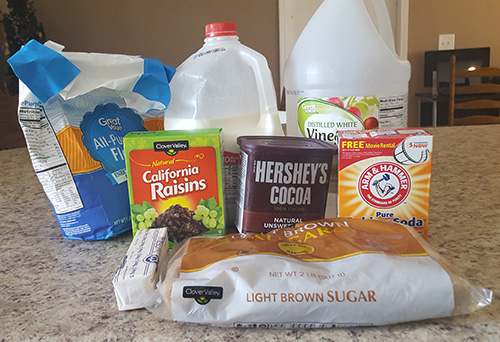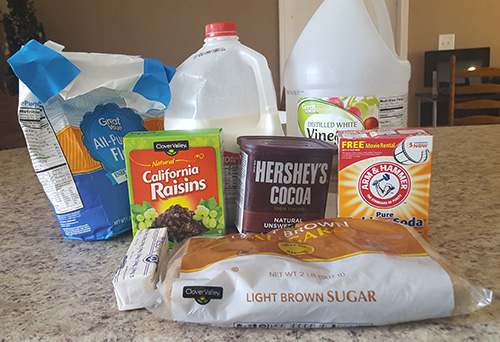 1 C all-purpose flour
2 tsp cocoa powder
½ tsp baking soda
½ C margarine
1 tsp vinegar (I used white vinegar, but you could substitute ACV if you please)
½ C milk
1/3 C + 1 TBSP brown sugar
1/3 C + 1 TBSP currants (I substituted raisins because currants are hard to come by in the States)
Spices (They used whatever they had on hand, but nutmeg, lemon zest, ginger, and cinnamon are commonly used in trench cakes)
Directions
Preheat oven to 350F.
Mix flour and cocoa together in a medium bowl.
Incorporate margarine into the dry mixture from step 2 using a pastry cutter or simply a fork will do.
Add in vinegar, baking soda, and milk together and mix quickly into the margarine/dry ingredients mixture.
Mix in sugar and your dried fruit.
Pour batter into a well-greased small cake pan. I used a springform pan that is even smaller than a normal 8 in. round cake pan because the recipe makes such a small cake. I didn't want it to be to thin and therefore dry out even quicker. This baby is supposed to be baked to last, remember?
Bake for 1 hour (maybe even less, check it as you go). The original recipe says up to two hours, but that seemed like an awful long time to leave such a small cake in the oven, so I went ahead and pulled it out after an hour since it was done well based on the toothpick test. Perhaps the extra oven time was meant to make it super tough so it traveled better?
This is how the baked cake looked like:     
Making one of these cakes is a great way to help children understand the sacrifices people made in war and to always remember those who lost their lives in all the wars in our country's history. Looking back at times gone by has the potential to keep us from repeating the mistakes of our past. The British government actually suggested to parents and educators several years ago that they make these cakes with kids to help their students understand and remember the sacrifices made.
What can preppers or survivalists learn from old timey recipes like this one for trench cake, you might be asking yourself. First off, becoming familiar with recipes like this one, which has no real fresh ingredients at all, can help you learn to live out of your preps. It can teach you to substitute the foods you eat now for foods you'd be able to make out of your pantry alone.
It can help you to see that small indulgences are worth including in your preps. You may take away from making trench cake, so long as you've kept in mind the original intent of these cakes, that morale boosters are a crucial part of your preps. Living with less is really hard to do when you don't have much to live for at all.
Conclusion
All lessons aside, this cake is pretty delicious for the limited ingredients that it uses. My family really enjoyed not only learning about the history of trench cake, but also enjoyed eating it after we finished baking it together.
You may also like: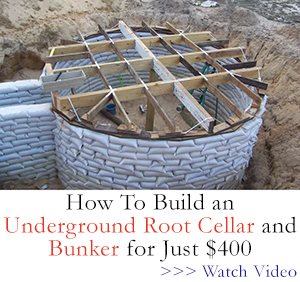 How To Store Six Months of Food When You Only Have Space for One
10 Long-lasting Pioneer Foods That You Didn't Know About (video)
23 Things a Prepper Should Never Throw Away. Why?