Road accidents claim the lives of thousands of animals.
We see them decomposing next to the side of the road, but hardly give them a second thought. Bugs and other scavengers eat them. So why not humans?
But before loading the next deer you hit onto the back of your truck, read our recommendations for evaluating the suitability of your kill. We will guide you through food safety considerations and mention some ethical and legal issues.
But what about the prepper perspective?
Prepping is about surviving, and survival is based on the number of calories and protein you consume. Being picky about what you eat could just as readily kill you as eating everything will.
Meat is a good, nutrient-dense, food. So why not take advantage of the fact that roadkill, however unappealing it may sound, could still provide a nutritious meal.
Food Safety First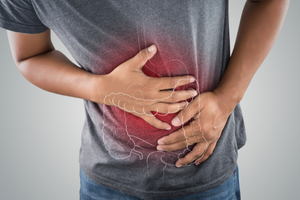 But, not all roadkill is edible. As with everything, you need to be aware of the potential risks and signs about which roadkill should be avoided.
Since you cannot afford to get sick in a post SHTF world, taking precautions will ensure that you only consume food that will not cause illness.
Bacteria or toxins that are consumed can lead to diarrhea, which in turn can cause dehydration or prolonged illness that taps heavily into your bodies stored resources.
Waste Not, Want Not
It is prudent never to waste. And ignoring roadkill is tantamount to waste.
I have always maintained that I eat anything that doesn't eat me first or will kill me later. Roadkill will not eat me first, since it's already lying dead next to the road. But it could kill me later, so I need to be sure that it's safe to eat.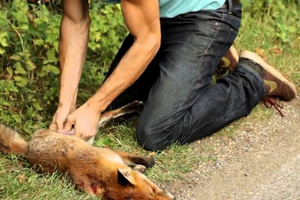 Broad outline for evaluating roadkill:
soiling and contamination
bone fragments and pulverization
bacteria and parasitic infestations
organ rupture
standard precautions
Accidents Happen
If you are travelling at a high speed and hit an animal you have no control over what happens next. It could land in a drainage pipe, sewage runoff, contaminated water puddle or stream, etc. You get the picture.
Consideration must also be given to the fact that ripped skin can let contaminants directly into the meat and bloodstream. Scan the general area where the animal comes to rest and if you don't like what you see, move on.
Don't eat anything you can't trust.
Ingesting Dangerous Objects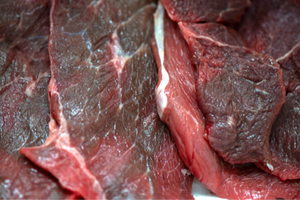 An animal struck by a fast-moving vehicle may have a few shattered bones that can deposit sharp bone fragments into the meat.
You may even come across glass shards from a broken windscreen inside your steak. Stones and gravel may also find their way into their flesh.
Breaking a tooth on a stone or getting glass shards or bone fragments in your stomach could be catastrophic for your health. Check the meat for foreign objects.
Related: 11 Meat Processing Mistakes You Are Probably Making Right Now
Impact wounds cause pulverized flesh to take on a dark color as the broken cells mingle with blood and other fluids. Avoid these completely.
Bugs and Germs
Bacterial growth and insect spoilage are climate dependent. The hotter the weather, the faster you need to act. Meat can spoil very fast, even at relatively low temperatures. I have lost meat while working with it, particularly in large animals like cattle or bison. Once spoilage has reached a certain critical level, bacterial growth occurs too fast to be stopped.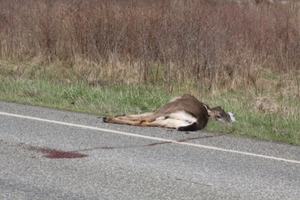 Dead animals attract flies and blowflies real fast. These unwelcome visitors will start laying eggs at open wounds within minutes. Within hours there may be maggots crawling around your roadkill.
The quicker you act, the better chance you have of saving the meat for later consumption.
Dead animals that have spent prolonged periods in hot and humid conditions shouldn't be consumed.
Bacterial contamination can result from environmental factors or could have been present on or in the animal at the time of death. Trust your nose and eyes. Don't eat meat that smells bad, looks discolored or is slimy.
Burst Intestines
Organs could rupture due to the impact, spilling fluids into the intestinal cavity and also into wounds. This could contaminate the meat with faecal matter or urine.
You could clean the meat, but remember that these fluids can also deposit germs into the muscle fibers. Avoid meat after exposure to these fluids.
Standard Precautions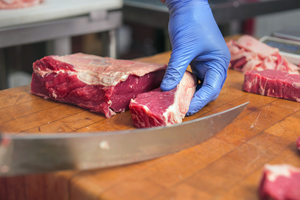 Like slaughtering farm animals or when you are hunting, always look for signs of parasites.
Some brain parasites can cause animals to lose their fear of humans or become blind and wander into traffic.
Evaluate roadkill the same way as you would any other meat.
Ethics and Laws
The ethics of wasting perfectly edible food are obviously in favor of eating roadkill, provided the roadkill was accidental and not on purpose. Killing for food using a vehicle is strange, but I guess in post-SHTF, any weapon will do. Just don't do it now, as I am sure it's illegal everywhere, or should be.
It's also worth mentioning that these principles don't only apply to a post-SHTF environment. You can apply them right now to any roadkill you come across or accidentally cause.
In a post SHTF world, laws and state regulations will not apply. But, if you are considering roadkill before SHTF, keep in mind that many states in the US have laws regarding the handling of roadkill. Contact your local sheriff of hunters association, should you require any information regarding those laws.
The Golden Rule – Only eat meat you can trust.
You may also like: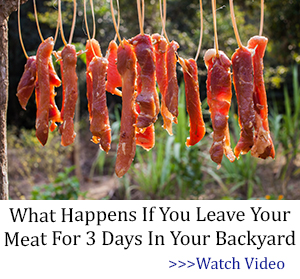 This 3500-Year-Old Powerful & Natural Cure Found in The Bible Treats So Many Diseases

The Only Food That Grows Almost Faster Than You Can Eat It (Video)
Why You Should Get A Drone For When SHTF
How To Properly Store Over-The-Counter Drugs And Medical Supplies