Editor's Note: Keeping quiet when SHTF and not giving away your position to bloodthirsty looters can prove vital. And a silencer is the tool you need to do it. That being said, the Askaprepper team must warn everybody reading this article that in times of peace making or owning a silencer is mostly illegal. And it carries a hefty penalty and possible jail time.
Investing in a good firearm suppressor will give any prepper a tactical advantage. The problem with suppressors is the cost and legal stuff – rather, the National Firearms Act (NFA) of 1934. The NFA made it incredibly difficult to buy a suppressor. You must get fingerprints taken, meet with your local sheriff, submit to an enhanced background check, fill out loads of paperwork, pay a $200 tax stamp, and wait up to one year just to get the green light to buy one.
None of that'll be possible when disaster strikes, and most of us preppers and gun owners won't bother with this legalese, anyway. But that doesn't mean you can't enjoy the benefits of a suppressor when it really counts. This guide's going to show you the top improved suppressors, so you can keep quiet when SHTF.
Quick legal disclaimer: We love to inform, but we're not lawyers. Nothing in this guide should be taken as legal advice. Any information in this guide is for educational purposes only. You should consult with an attorney before buying or building a firearm suppressor.
Related: Best & Worst States for Gun Owners
How Suppressors Really Work
We think it's important to first talk about how suppressors actually work. First, even using one of the best suppressors on the market isn't going to turn your supersonic rifle into a whisper-quiet shooter like James Bond's Walther.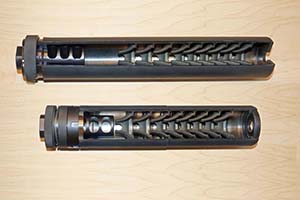 Suppressors work by trapping all the supersonic hot gasses exiting the muzzle of the barrel as a round is fired. The suppressor slows down the speed of the gas and allows it to expand more slowly, before exiting the muzzle and suppressor. This creates a lot of heat but it also reduces the sound of the reported gunshot.
The average firearm suppressor reduces the sound of gunfire by about 30 decibels. Independent tests say that's roughly the equivalent to putting on a good pair of ear protection while firing.
If you're shooting supersonic rounds (like a 5.56 or .308 rifle round), you're still going to get that telltale crack when the bullet breaks the sound barrier. Only by firing subsonic ammo (usually handgun ammo) will you get your gun firing quiet enough that someone in the next room might not hear it.
Related: Ammo Storage Tips Every Prepper Should Know
Best Improved Suppressors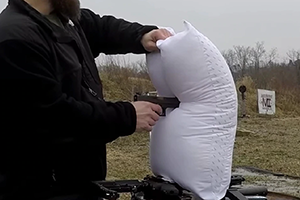 #1. The Bedroom Pillow
Sure, it sounds silly. Hollywood made it silly with all those mob and hitman films. But surprisingly, the standard fluffy pillow really does work as a great firearm suppressor. In fact, a few shooters put the pillow suppressor to the test on video, with pleasantly surprising results.
Using a quality, down pillow will reduce the reported gunfire enough that ear protection may not be required – just like a real suppressor. The only drawbacks to this improved can are that it's usually one-time-use and it requires you to shove the barrel into the pillow. That obviously means accuracy goes out the window. But in a close-quarters pinch, the pillow suppressor works wonderfully.
#2. The Oil Filter Adapter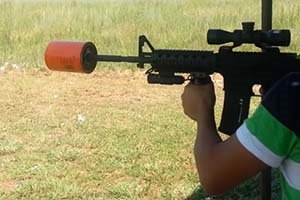 Commercial suppressors are made from aluminum, they have threaded fittings, and they're filled with paper and metal media. Oil filters are amazing improved suppressors. A used oil filter will work even better!
To make this suppressor work, you just need to buy the right threaded adaptor. All you need to do is figure out the threads on your muzzle (usually ½" x 28 to ¾" x 16), and the threads on the filter in question. Many of these adaptors can be bought online, and they're only a few bucks.
An oil filter suppressor needs no special modification or extra work – just thread it on and send some rounds downrange. Most oil filters are good for at least a few rounds before the media inside goes to waste.
Accuracy won't suffer with one of these bad boys, either. And if SHTF happened, finding more "suppressors" means lifting a few filters off some abandoned vehicles. Simple!
Related: Emergency Care For Gunshot Wounds
#3. The Solvent Trap Kit
Technically, this "improvised suppressor" approaches a real suppressor in form and function so much that it really should be called one. But officially, the solvent trap kit is a firearm accessory that is designed – at least, makers claim they're designed – to trap the cleaning chemicals in your barrel while you swab the bore.
Solvent trap kits are long, suppressor-sized tubes with threaded fittings already sized up for your muzzle. Inside, these tubes also have "solvent filters". Really, these filters are designed and built to look and perform exactly like the baffles in a real suppressor.
To legally get away with selling these kits, most solvent trap makers cap one end of the tube, so it's technically not functional. Inside, even the "filter" baffles are drilled out for the appropriate caliber. All you need to do is center and drill a small hole in the end cap, and voila. You've got a real suppressor that'll last for hundreds of rounds. Basically, the solvent trap kit is to the suppressor what the 80 percent lower receiver is to the AR-15 market: A "blank" that can't be legally defined because it's not complete.
Solvent trap kits can be purchased with everything you need (tube, baffles, end caps, and all but one hole drilled), but you can also piece together your own kit for fun. Most shooters stick with Wix filters, either the 4003 or the 24744, which can be bought on Amazon. With the tube purchased, one simply needs to find the right "filter" (baffle setup) and threaded end caps for the tube.
Make It Legal
Many shooters choose to build their own, official suppressors using solvent trap kits because they're so well-designed. These kits are perfect for preppers because you only need to drill that end cap to make it functional. Doing so does make your kit a suppressor in the eyes of the law. If you do drill the end cap and use your kit as a suppressor, you need to first file for an NFA tax stamp and pay the $200 fee.
If you're prepping and SHTF, however, you don't need to drill that end cap until the time comes. Read between the lines here.
Related: What Do You Think About These 5 States' New Gun Control Bills?
(Dis)honorable Mention: The Potato
Yes, you've probably heard of the famed "potato suppressor". We want to stress something: Shoving a gun barrel into random objects is not safe. The improvised suppressors we discussed here work safely because they're not at risk of, well, exploding.
Pillows, oil filters, and solvent kits have cavities and empty space that allow those hot gasses from the muzzle to expand safely. A potato is a solid object and trying to use one as a suppressor will result in said potato exploding.
You could also damage your weapon or seriously injure yourself by shoving the barrel into a potato and pulling the trigger. A plugged up obstruction at the muzzle could cause the barrel, chamber, or receiver to crack or explode.
You may also like: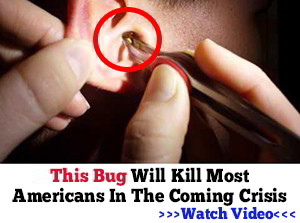 Firearms for Emergency and SHTF Situations
Davy Crockett's "Make It and Forget It" Food Of the Wild Frontier (Video)
How To Correctly Choose Your Survival Knife
How To Make Bulletproof Body Armor Plate