I hate to think how much food I have wasted because of mold. My mother taught me well: "When in doubt, throw it out." In many cases that is a good motto to live by. However, when it comes to moldy foods, it does not always apply. According to a report published by the USDA, many moldy foods are safe to eat, after removing the mold, of course.
Some people are very sensitive to molds. And molds can cause allergic reactions and respiratory issues, even in healthy people. Some molds produce mycotoxins that can make you very sick. However, others are beneficial, adding flavor to cheese and producing penicillin. So how can we know the difference? When is mold safe and when is it toxic?
What is Mold?
Mold is a type of fungi that reproduce by spores. The spores are transported by air, water, and insects and are difficult to kill. The spores spread the mold to new surfaces quickly or can remain dormant until a suitable growing surface appears.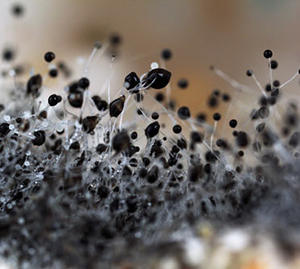 Mold that grows only on the surface of foods seems like an easy problem to fix, simply cut the mold away and eat the remaining foods. However, this is not as safe as it seems. Molds grow in threadlike branches and roots that can spread and penetrate deep into the food. Imagine the veins of mold growing throughout a block of blue cheese. While the blue cheese molds are beneficial and visible, this is not true for most molds.
You cannot always see mold that has spread throughout a loaf of bread or other food. On the surface, the mold is colored by the spores it produces, but deep in the loaf the roots are microscopic in size and are not seen by the naked eye until they are found in high numbers.
Where Does Mold Grow?
Molds love warm, humid conditions, but they can grow anywhere that enough moisture is found, including in the refrigerator.  They are found both indoors and outside.
Additionally, molds are more tolerant of salt and sugar than bacteria and other food contaminants. They can grow on refrigerated jams and jellies, salty meats, and even acidic foods like tomatoes and catsup.
Why are Molds Dangerous?
In addition to their role in respiratory illnesses and allergies, some molds produce poisonous substances called mycotoxins. Mycotoxins are found mostly in grains, nuts, and some vegetables. One of the most widespread mycotoxins produced is called aflatoxin. Aflatoxin is a mycotoxin produced by a specific mold growing on food crops, especially peanuts and field corn. Aflatoxin causes cancer and has been linked to other serious diseases in humans and animals.
Related: 7 Deadly Canning Mistakes Even Smart People Make
When to Throw Out Moldy Foods

Soft foods and moist foods that have even a tiny spec of mold are not safe to eat. Molds can easily grow roots down into and throughout soft foods and moist foods. Do not smell the food. Remember, molds can cause respiratory problems. Soft or moist foods that have become moldy should be thrown away, including:
Bread
Soft fruits and vegetables like strawberries, peaches, cucumbers, and tomatoes
Leftover casseroles
Meats, bacon, and processed meats like hotdogs and lunch meat
Cooked rice, pasta, and other grains
Condiments like catsup, jams, and jellies
Yogurt, and sour cream
Any soft or moist food that is moldy should be discarded.
Soft cheeses that contain any mold other than the mold required to make them.
Foods that Can Be Trimmed and Eaten
Hard foods will only grow mold on the surface and can be eaten once the mold is removed. For these foods it is safe to trim away the mold and a wide margin of unaffected food. Do not let the knife touch the moldy part while trimming. The USDA recommends cutting away at least an inch of the food around and below the mold.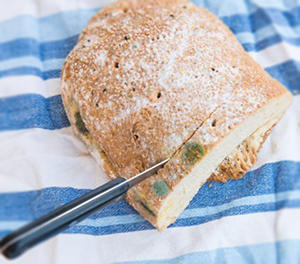 For mold growing on the outside of hard salamis and dry cured country hams, you can safely wash the mold off the surface and use the meat.
You can safely trim and eat these foods:
Hard cheeses
Firm vegetables with low moisture levels such as carrots, cabbage, bell peppers
Hard salami
Dry-cured salamis sometimes have a thin, white coating of mold, which is safe to eat. They should have no other molds on them.
How to Prevent Mold from Growing on Your Foods
Keeping your kitchen and food storage areas clean and mold free is the best deterrent to mold. Molds are easily spread from one food to another, and mold spores can quickly build up in your refrigerator, bread box, and cleaning utensils.
When you discover moldy food, wrap the piece or the trimmings in plastic or place it in a small paper bag and discard it. Remove it from your kitchen as soon as possible to prevent more mold spores from being released.
Next, clean the area where it was stored to prevent spreading the mold. Additionally, clean the entire inside of the refrigerator monthly with one tablespoon of baking soda dissolved in a quart of water. Scrub visible mold off gaskets and crevices using a tablespoon of bleach in a quart of water. Rinse with clean water and dry the surface.
Keep your dishcloths, towels, sponges, and other cleaning items fresh and hang them to dry. A musty sponge or mop is spreading mold spores wherever you use it. Whenever possible, keep the humidity in the house below 40% to discourage mold growth.
Keep perishable foods covered to prevent exposure to mold spores. Cover foods with plastic wrap or keep them in storage containers. Refrigerate foods promptly and do no leave them out of the refrigerator for more than two hours.
Purchase foods in quantities that you are likely to use within a few days so that mold doesn't have a chance to grow.
Play It Safe
If you follow the guidelines I have presented here, you will be safe. If you are not sure about a food, you could follow my mother's advice, or you could remember what the FDA is telling us about how mold grows. On hard, dry foods, the mold cannot penetrate the food and trimming is all that is needed. However, moist foods or soft foods are easily invaded by the roots of the mold and can quickly be contaminated throughout the entire piece. Moist or soft foods should always be discarded. These rules will help you and your family avoid the dangers of moldy foods without wasting foods unnecessarily.
You may also like: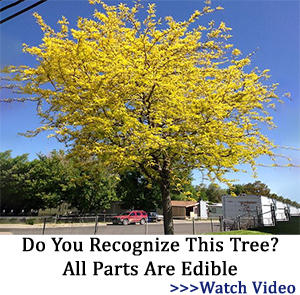 14 Must-Have Canned Foods You Didn't Know Existed
10 Things Cowboys Carried With Them In The Wild West To Survive (Video)
How to Keep Eggs Fresh for a Year with Isinglass
7 Super Cheap Foods To Stockpile That People Usually Throw Away
Top 10 Foods to Grow for Survival