Building a food pantry with enough of the right foods can be an overwhelming undertaking. Knowing what to stock requires research and planning. Keeping track of it all is another task entirely.  But don't let yourself become discouraged, we are here to make it easier. While we won't be giving you a specific list of foods to store, our goal is to provide you with strategies and ways to think about your food storage so that you have everything you need when the time comes.
If the whole idea leaves you stressed out and frustrated, start slowly. Prepare and pack away a 3-day emergency food supply. Then move up to a 2-week or 1- month supply. Gradually grow your storage as your time and funds permit. No matter how long your emergency supply, follow these rules to build a successful food storage pantry.
Buy the foods your family eats on a regular basis. Food calculators that recommend hundreds of pounds of grains per person will help you stock up quickly, and whole grains store for long periods. But when hard times hit, will you know how to cook and consume hard red wheat in its natural form? No matter which foods you choose to store, make them part of your daily diet. You must know how to use the foods you store.
Another possibility is to store foods in a form that you use regularly. Buy rice, pasta, oats, and other grains thatyou know how to cook and enjoy eating.  One strategy is to develop a food storage alternative to the foods you eat regularly. For example, you might store 12 lbs. of pasta and 12 jars of pasta sauce for 12 pasta meals. Store 30 menus this way and you have a year's supply of lunches or dinners.
Consider nutritional content when planning your food storage. The pasta meal mentioned has plenty of carbs and a serving or two of vegetables, depending on your pasta sauce, but it may be seriously deficient in protein and possibly fat. Even meat pasta sauces are often low in protein. Make sure you store adequate amounts of carbohydrates, protein, fruits and vegetables, and healthy fats.
In a survival situation, you will be stressed. Your body needs a full range of nutrients to keep you healthy. Also, consider adding multi-vitamins or supplements to your food storage.
Plan for increased caloric needs. You will be working hard and need energy. Plan for a minimum of

2000 calories per person each day,

and possibly more. Many of the commercial food storage companies sell all-in-one types of food storage that is deficient in calories. If you are considering purchasing one of these plans, consider it a basis to work from, but add fruits, protein, and fats to increase the nutrition and caloric values.
Stock adequate Protein. Most low-cost food storage plans recommend storing lots of beans. Legumes and beans are a good choice, they are high in protein and fiber and are hearth Since they are cheap, you get a lot of food for your money with beans and legumes.
However, if no one in your family will touch a bean dish, they may not be a good choice for you. Instead, store canned or freeze-dried meats, or try textured vegetable protein (TVP). Whichever you choose, serve them regularly, so your family is accustomed to the flavor and texture.
Use and rotate your food stocks regularly. Treat your storage pantry as a back-up supply. Use the foods and resupply the pantry on a regular basis. Follow a "First In, First Out" or FIFO strategy. The foods you buy this week go to the back of the pantry, with older items rotating to the front. Use the older supplies first. (You can ignore this advice if you have purchased a 15- or 20-year storage plan. However, you still need to rotate as expiration dates approach.)
Once your pantry is established, you'll be able to save money on groceries by shopping sales and stocking up when prices are low. For example, when pasta is on sale, look over your pantry as you make your shopping list. Buy enough to replenish the used pasta and supply your daily needs until the next sale. If you are building a 3-month pantry, you might buy a 6 month supply on the first sale (3 month's supply for storage and 3 month's supply to use until next sale), then replace what is used with subsequent sales.
Don't ignore basic cooking and baking needs. When planning your menus, make sure you store everything needed to make the meal. A 50-pound bag of flour is almost useless if you forget to stock yeast, baking soda, or baking powder. You'll be stuck making tortillas for every meal – assuming you remembered to stock lard. Store everything that you normally keep in your pantry for everyday use.
Don't forget spices and condiments. This is another category that often gets ignored or understocked. Basic spices and condiments can make a big difference in flavor. That soup recipe that uses bouillon cubes or canned chicken stock will not be as tasty when prepared with water. Yes, the nutrition is still there, but you won't enjoy it nearly as much. Stock all the basic herbs, spices, and condiments that you normally use.
Store some easily prepared foods. In a survival situation, there will be days when you are too exhausted to spend long hours cooking. For these days, a supply of quick cooking meals, freeze-dried meals, or even a peanut butter sandwich can make all the difference. This is especially important if your food supply contains mostly long cooking proteins like beans.
Store high-energy snacks that can double as a meal when time is short. Snacks like trail mix, granola bars, peanut butter crackers, nuts, or dehydrated fruit can substitute for a quick meal when necessary and keep your energy up during demanding tasks.
Plan for a well-balanced and hearty breakfast. Oatmeal with fruit, eggs with hash browns, or other breakfast menus that will give you a protein and energy boost to start the day. When you are working hard, a good breakfast is a must.
Don't forget vegetables and fruits. Your plan may include a garden which will supply your fruits and vegetables. However, you need enough fruit and vegetable stores to last until the garden comes in. If you already supply all your fruits and vegetables from the garden, then you probably dehydrate, can, or freeze your excess to use in the winter. Your food storage plan should include enough fruits and vegetables to get you through the winter as a minimum.
Store alternatives for refrigerated items. Store powdered milk, powdered or freeze-dried cheese and sour cream,

powdered eggs

, etc. Store everything you need to make your recipes. Assume that you may not have refrigeration during a survival event and plan accordingly.
Plan a variety of meals. Many food storage plans make use of the same basic foods over and over. There may be plenty of food available, but you may experience a loss of appetite when you eat the same foods all the time. Instead, store a large variety of foods so that you have choices at all times.
Plan reasonable serving sizes. A standard serving of rice is ½ to 1 cup, depending on your food plan. Likewise, a serving of beans is ½ to 1 cup in a normal daily food plan. But these serving sizes assume that they are being served as side dishes. In a situation where beans and rice are the main dish or the entire meal, you will want a larger serving.
Keep track of expiration dates. While an expiration date is not a firm deadline, you want to make sure the food in your pantry is fresh. Using the FIFO method of food storage will make sure your food is fresh. Once a year, inventory your pantry and look for expiring foods. Many foods keep much longer than their expiration dates, but move expiring or expired foods to the front for use shortly. If you are not using the food often enough to keep the supply fresh, then perhaps it doesn't need to be in your storage pantry.
Keeping a "deep pantry" doesn't need to be stressful. If you are reasonably organized, you'll have a successful experience. But even an unorganized person can successfully keep a deep pantry using the FIFO method and rotation.
I hope these rules make your food storage decisions easier and less stressful. If you follow them and consistently add to your pantry, you'll build up an ample food supply over time and have what you need in an emergency.
You may also like: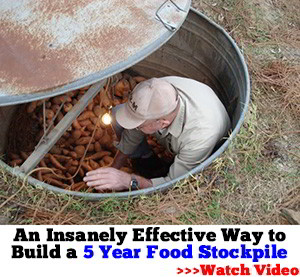 The 5 Seeds That You Need to Stockpile in Your Pantry
7 Actions to Take Immediately Following an EMP Strike (Video)
How to Use Acorns as Survival Food
How Cherokees Used Trees of Southern Appalachia for Food, Medicine, and Craft