Bed bugs are a tiny insect that is about the size of an apple seed. They are reddish-brown in color and can be flat, or more like a little brown balloon if they have recently fed. The bed bug doesn't discriminate and can be picked up about anywhere. A guest can bring them into your home, or a stay in a hotel. Even a visit to the movies can cause an unwanted infestation. It doesn't matter how clean you are; the bed bugs don't care.
The bed bug is hard to see as it hides very well in soft places, and can fit into tiny cracks and crevices. Bed bugs are active at night, making it even harder to see because you are generally  sleeping. The bugs tend to hide in the seams of your mattress or in your furniture. They can also fit through cracks in your walls, making it easy to go from one room to another.
Bed bugs feed on human and animal blood. When they bite, you the hollow tube used to pierce your skin and suck your blood contains a painkiller so you won't even feel being bitten until morning when you wake up and are itching. The bed bug will bite you over and over in a straight line, as that is the way it travels up your legs or arms.
A sure sign of an infestation, besides actually spotting bugs, is being bitten and finding blood smears from you on the bed. You will also notice little droppings on your bed or furniture, as with all living things they must use the bathroom. The feces look like a dark pencil point where they have been. A female bed bug lays anywhere from one to five eggs a day, and the eggs are usually found clustered together. They look like a grain of uncooked rice, as they are long and white to semi-transparent in color.
There are ways to get rid of this pest on your own at home. These home remedies are much more cost effective than hiring a pest control company. You need to be diligent in your treatments to be sure that your work is successful.
In a SHTF situation bed bugs will become a horrible problem. The amount they can multiply will be astonishing. In the means of treatment you will only have home remedies to fall on, as there will be no easy "call an exterminator" solution. It is a good idea to always have a stockpile of some home remedies to get rid of an infestation.
Preparing The Rooms
Before you start your treatment, there are steps that you will need to take to make the treatment easier and more efficient. You will need to prepare the rooms that need treated, including any room that shares a wall with the one that is infested. This needs done because bed bugs can easily escape into the next room by a crack in the wall.
Remove any of the items from the room that cannot be treated.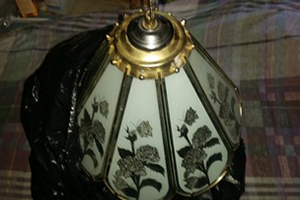 Cover those items in plastic to keep from spreading bed bugs to another room. Remove any pictures or decor from walls. Be sure to check the items thoroughly for any hidden bugs. This lamp can be sprayed with alcohol and wiped down. Due to it having so many little hiding spots, it is best to put the lamp in a plastic bag and store it while you are battling the bed bugs.
Steam Treatment
High heat kills bed bugs and their eggs. The heat from the hot steam treatment will kill any that it comes in direct contact with it. You can easily steam your mattress set, furniture and carpets to kill the bugs.
Slowly move the steamer over the areas that you are treating. You should steam treat before you cover with plastic or bed bug protection covers. Temperatures exceeding 140 degrees Fahrenheit will kill the bugs and their eggs.
Washing and Drying
When treating a bed bug infestation it is best to wash all items that you can in hot water. If the items cannot go into the washer, then you can still do a thorough washing with very hot water. Tumble dry on high heat in your dryer what you can.
You will want to be sure to wash and dry all of your clothing and any bedding that has come into contact with the bed bugs. Items that can't be dried in the dryer can be blasted with the heat from your hair dryer to aid in killing them.
Vacuuming
Using a powerful sweeper and hose attachment you can suck up the bugs. You will want to be sure to vacuum everything; from the floors, furniture, and any cracks or crevices in the area.
Bed bugs will even hide out in your electrical outlets and even in electronics. It is a good idea to give it all a good sweeping. Start at one point and slowly vacuum the entire area or room. You can also run a stiff brush along any seams to knock loose any clinging bugs. By doing so, you will be able to vacuum them up.
Once you are finished, take the vacuum outside and remove the bag or empty the canister into a double bag and discard it into the trash outside of the home. You need to stay on top of the vacuuming and do so everyday or at least every other day.
Make sure to get in between all of the cushions and in the crevices to vacuum any bugs that may be hiding.
Rubbing Alcohol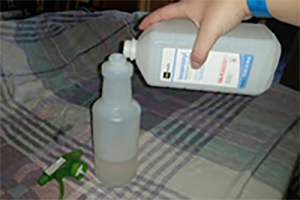 Pour rubbing alcohol into a spray bottle and spritz everywhere. You need to spray the items directly using 91% isopropyl alcohol.
The alcohol will kill the bed bugs on contact by dissolving the cells of the bugs. It is also a drying agent, so it will dry out the eggs of the bed bugs preventing them from hatching.
Be sure to spray into all of the cracks and crevices to kill any that are in deep hiding.
Silica Packets or Baking Soda
The use of either one of these items absorbs moisture. The silica packets are what you find in your shoe boxes or purses to help keep the contents dry. Open the packet and grind or crush the little beads. Now take the powder from the crushed beads and spread it around any of the infested areas. Inhaling the silica can be harmful to kids and pets, so you may want to consider this before use.
Another powder that you can use is baking soda. It serves the same purpose, you just sprinkle it around and let it do its work. Vacuum the powder and reapply every few days to be sure that it is effective.
Essential Oils
The smell or flavor of certain oils tend to repel bed bugs.
Tea tree oil is a cleaning agent and it kills bacteria and fungi. It works on the bed bugs by suffocating them with the oil being on them.
You can also use lavender oil . It is said that the smell of lavender makes a bed bug nauseated. Humans tend to like the smell of lavender. You can wash your clothes and bedding with it, and you can diffuse the oils making your home smell nice and ridding the bugs at the same time.
Peppermint is said to do the same as lavender. You can even spread mint or lavender leaves around your place to deter the bugs. Be sure to sweep up the leaves after a few days and redisperse as you like.
Related: Plants You Should Grow Around Your House To Repel Insects And Bugs (Including Termites)
Diatomaceous Earth
All types of bugs tend to dislike this product. Diatomaceous earth is made from naturally occurring rocks that has crumbled into a fine powder. The powder has tiny shards that kill insects.
Simply spread the powder all around and be sure to put it in all of the cracks and crevices. It can take up to ten days to kill the bugs, but it is a natural way to kill the bugs.
Do not put it on your mattress as the little shards can be inhaled and cause damage to your lungs.
Double Sided Tape
Take some double sided tape and place it on the posts of your bed, at the seams of the mattress and on the floor along the bed. The tape will catch the bugs as they come out at night to feed on your blood.
Be careful to not drag your blankets or clothes along the floor as the bugs can skip the tape and get a ride up onto the bed to bite you.
Mattress Covers
After you have treated your mattress, it is recommended that you purchase a bed bug mattress protector. By doing so, you keep the bed bugs from reinfesting, or from escaping the mattress in case there were any missed. You should put covers on all of your mattresses as a precaution.
Another idea to keep in mind is once you have washed and dried your stuffed toys and any extra bedding, you can place them in plastic bags and put into storage for a while.  This way you will make sure the bugs have died. They must feed on human blood to survive, and if they aren't near any humans they will starve; that is if they survived the treatment beforehand.
When treating your items be sure to read labels and to follow directions, so that you do not ruin or destroy them. Bed bugs are hard to get rid of. The best way to get rid of them is to catch the infestation early, so that they do not have time to reproduce. If you have a bad infestation you will need to stay on top of the treatments, to be sure to kill them and keep them gone. It takes one missed bug to restart the whole infestation over again.
Some of the methods listed above will kill the bugs immediately, while others will make them flee the area or even discourage them from moving in. It is always a good idea to take the extra precaution and pack your luggage with some of these items. Even vacuuming your items on return from any stays or visits to prevent an infestation from happening is always a good idea. It is always better to be safe than sorry.
You may also like: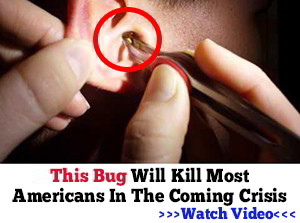 How to Make Cabbage Bandages to Treat Inflammation and Joint Pain
10 Things Cowboys Carried With Them in the Wild West to Survive (Video)
Homesteading After 60 What You Need To Know