As preppers we usually focus on practical steps that will give us a better chance of surviving whatever crisis comes down the road. We talk about what kind of food to store and how much of it, where our water is going to come from, and the best weapons to have available. These are all important points, and if we don't get them right life will be a lot harder post-SHTF. But is there something else, maybe just as important, that we're all overlooking?
Being prepared is about being ready to survive in a world that's radically different from the one we live in now. Most of us are pretty well equipped to deal with the physical differences – not being able to go to the store for food, or the mains power going out – but what about the moral differences?
The moral standards we use in everyday life are going to be stretched to the limit, and far beyond, if the SHTF. Our standards of right and wrong developed in a safe, organized society where most essentials are easily available. How well are they going to cope in the chaos of social collapse? Probably not very well – and that means we all need to think about our personal moral values, what limits they put on our actions, and how we might have to adapt them when the situation changes.
Most people's moral code says "don't steal". It says "help people who're in trouble". Unless you're a psychopath it says "Don't shoot at anyone except in self-defense". It probably includes beliefs about marriage, relationships and what's acceptable in those areas. You can probably think of a list of other rules you live by. Have you thought about how those rules will work in a crisis situation?
Obviously some of them will still work just fine. Don't rape; don't kill for the fun of it; don't abuse the weak and helpless. All of these things are simply wrong, in any situation. Other things fall into more of a gray area though. You'll have to be a lot more willing to use violence than you'd usually be comfortable with. Other people's property rights will often take a lower priority compared to what you and your loved ones need to survive. Helping others has to be balanced against the impact it will have on you – if you give a starving child a meal, you can't just head down to Walmart to replace the food you gave them.
Madly Murderous
Modern society has strong taboos against killing unnecessarily, and that's basically what murder is – killing someone without legal sanction. Soldiers on operations are legally sanctioned to kill within their ROEs; a homeowner faced with an intruder is legally sanctioned to kill under self-defense laws. But if you kill someone because they took the parking space you wanted at Safeway, or because you saw them grab an ear of corn from your field, there's no legal justification for that and it's murder.
But what happens if law and order have collapsed? In a serious crisis there won't be any legal sanction, because who's enforcing the law and making that kind of decision? In that situation you have to look beyond your personal morals and consider what knock-on effects there will be.
Shooting someone for taking a parking space is still wrong; just because it's the end of the world doesn't mean you can't walk an extra ten feet. Shooting someone for taking a single ear of corn is probably also wrong – if they're taking a single ear. But what if they're systematically harvesting your crop?
A lot of preppers grow their own food in normal times, and like anything valuable sometimes crops get robbed. Usually, unless they threatened you with a weapon, you wouldn't be justified in killing someone for stealing your crop. They're committing a crime, but you can replace the lost food from the grocery store. In a crisis it's different. Let them take that food and, come winter, you and your family could be starving to death. Will your personal morality let you shoot to keep hold of that food? It's something you need to consider.
Are you going to make a moral judgment based on who is taking your food? A lot of us would feel justified in opening fire on a group of armed looters, but might be more hesitant to pull the trigger on a starving woman with kids in tow. Are you willing to face a bit of personal hardship to keep someone else alive?
Fair Shares? Forget it!
Most of us do what we can to help the less fortunate. Whether it's handing some spare change to a homeless person or volunteering for a local shelter, we generally do what we can for others. That's fine when only a minority of people need help, and the majority can carry them without much of a sacrifice. It's totally different when only a few are prepared for a crisis and almost everyone else is looking for a share of their supplies.
With the best will in the world, you can't help all your unprepared neighbors. You just don't have enough food, fuel and medicine to keep them going for more than a couple of days, and in the process you'll wipe out your own supplies.
Recently we looked at your options for what to do if someone asks for food during a crisis. That decision has moral dimensions too. You might find it morally unacceptable to leave others hungry when you have food – but is that a realistic approach? Simple – no it isn't. To survive you're going to have to adapt your morals to the situation.
Finders, Keepers?
If I find lost property, I do everything I reasonably can to return it to its owner. It's theirs, not mine, and I don't have any right to keep it. I never steal, either; property rights are the foundation of any decent society. But when the SHTF I'm going to have to evaluate my positions on that.
In a crisis there's going to be a lot of lost stuff lying around. When refugees start leaving urban areas, expect their path to be littered with things they got fed up carrying. A lot of these things will be useful to you, and it's obviously impractical to collect them and return them to their rightful owners. It makes no sense to leave them lying around, either, so I'd say it's morally acceptable to scavenge them and take anything that improves your own chances.
Stealing, on the other hand, is still wrong. If someone else has something you want, that's tough; it's theirs, not yours. If you think you're justified in taking it from them by force you're not a prepper; you're just a bandit.
I've looked at three of the biggest moral issues that we're likely to face in a major crisis, but there are many more. For example a lot of us have religious beliefs that disapprove of sex outside marriage. What happens if a collapse is permanent and there's nobody left to register marriages? Are you going to let humanity die out because there isn't a pastor handy? You might think alcohol is immoral – but will you have the same opinion when you need a broken arm reset and a bottle of rum is the only effective painkiller you have left?
The end of the world as we know it will throw a lot of challenges at us. Surviving them is going to take work. Don't put yourself in a place where that work becomes harder, and you and your loved ones are put in unnecessary danger, because of moral values that don't fit the situation. You need to look at where you can redraw the limits to survive the crisis and still be a decent person at the end of it.
You may also like:
How To Become Invisible In A Crisis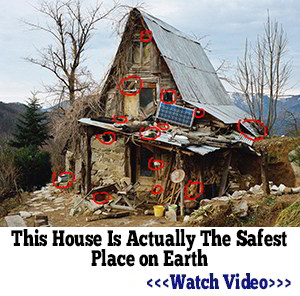 This Bug Will Kill Most Americans During The Next Crisis (Video)
Top 30 Over-the-Counter Meds to Stockpile
How to Make Your Knife as Sharp as the Devil Himself