The 1929 stock market crash led the country (and the world) into economic catastrophe. For more than a decade, people worldwide struggled to put food on the table and acquire the necessities of life.
Throughout North America, families were forced to survive on next to nothing, and they had to get creative with their meals.
Although we made it out of these dark and depressing times and have learned a lot since the 1930s, knowledge is not always power. As we have seen, history often repeats itself. Will you be prepared?
To understand how citizens survived The Great Depression, you need to understand their resources. During this time, staples like meat, eggs, and milk were hard to acquire, and people often had to make a little go a long way.
Here is a list of 10 depression-era meals we will be eating again if things don't change.
Vinegar Pie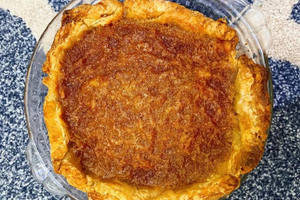 When fruits like lemons or apples were hard to come by, vinegar provided tartness to create a delicious dessert. Vinegar pie is so easy to make that anyone can do it.
Within an hour, you will have a pie that is both sweet and tart, despite its lack of fruit.
Related: How To Stockpile Lard, The Calorie Rich Survival Food Of The Great Depression
Fans of vinegar pie often add spices such as cinnamon or nutmeg, and others add things like maple, brown sugar, or raisins to their creations.
The point of vinegar pie was to use what you had on hand to create a sweet treat the family would love.
Ingredients: All you need to make vinegar pie is 2 cups of sugar, 3 tbsp. of flour, 1/2 tsp. nutmeg, 1/2 cup butter, 2/3 cup vinegar, and a quart of hot water, along with a pie crust or the pastry to create one.
Directions: Preheat the oven to 450° and whisk the dry ingredients together. Cut the pie crust into strips and layer them with butter and the sugar mixture.
Add the vinegar to the hot water and pour this over the layered pie interior, leaving space where it can bubble up. Bake for about an hour, or until golden brown.
Meat And Potato Patties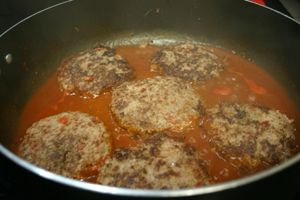 During the war, meat was often rationed, and each family was allotted a certain amount they would purchase using tokens. Meat and potato patties were an excellent solution to make your meat rations last.
Creating a meat and potato patty is much like making a hamburger.
However, potatoes are a starchy glue in this recipe that holds the mix together. This method uses less meat than a traditional hamburger, allowing a little to go a long way.
This is a fantastic recipe for meat and potato patties that may come in handy given our current economic climate.
Ingredients: To make meat and potato patties, you will need a pound lean ground beef, 3/4 cup shredded potatoes, 1/4 cup chopped onion, 2 tbsp. chopped green pepper, 1 egg, 1 cup tomato juice, 1 tbsp. flour, and 1/4 cup water.
Directions: Combine all the ingredients, except for the tomato juice, and shape into patties; pressing lightly to flatten. Heat oil in a skillet and cook each patty over medium heat until brown.
Once they are all browned, add the tomato juice to the pan and let the patties simmer for approximately 25 minutes.
For a shelf-stable alternative, you can learn here how to can hamburger meat at home.
Potato Pancakes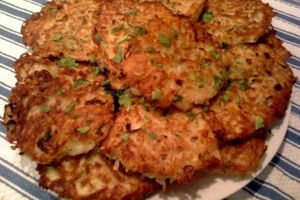 Potatoes were a staple during The Great Depression. The heavy, filling nature of the potato was the perfect answer to hungry bellies, and they could be easily grown in almost every climate.
Potato pancakes were one of the many recipes from this era that is still popular today.
Ingredients: You will need a few whole potatoes, and some salt and pepper. You can also add onions, garlic, cheese, or bacon if you want.
Directions: All you have to do is grate the potatoes mix them with the salt and pepper, as well as any other optional ingredients.
Related: How to Grow Potatoes in Shopping Bags for an Extended Harvest
Form this mixture into patties, and fry them in a non-stick pan, starting on high and reducing the heat when they begin to brown. Since the pancakes can be fragile, refrain from flipping them until the first side if fully cooked.
Cabbage Soup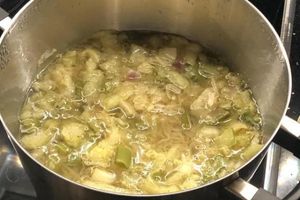 A good soup could go a long way toward filling hungry bellies during The Great Depression.
For this reason, hearty soups and stews were served to citizens at local soup kitchens, sometimes for every meal. One such soup that would often be served was cabbage soup.
Ingredients: For this recipe you will need 4 cups chopped cabbage, 1 cup diced potatoes, 3 cups water, 1 finely chopped onion, 1 tbsp. butter, 1 cup milk, 2 tbsp. cornstarch, salt and pepper.
Directions: Combine all ingredients except the milk and cornstarch, and cook until tender. Dissolve the cornstarch in the milk and add this to the soup, stirring to combine and cooking until it thickens.
Serve, and enjoy a full belly at a low cost.
Dandelion Salad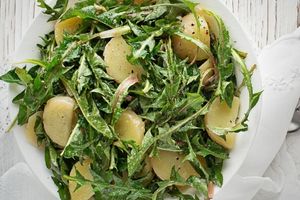 The creativity I mentioned at the start of this article can be seen here in this recipe for dandelion salad.
Dandelion salad is exactly what it sounds like, a salad that contains dandelions. Don't panic. These pesky weeds are thoroughly cleaned and cut while preparing this delicious meal.
The basic idea here is to use the dandelion greens as your lettuce and add any other vegetables you can acquire. This simple recipe requires you to clean the dandelions thoroughly to ensure they are free of pests and chemicals.
Depression-Era Peanut Butter Bread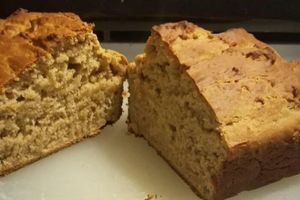 During the Great Depression, cooking was about being economical and stretching ingredients as much as possible.
Many items were scarce, and things like eggs or yeast may have been challenging or expensive to purchase regularly.
In light of this, folks would come up with some creative recipes that worked well without such ingredients.
Ingredients: For this recipe you will need 2 cups of all-purpose flour, 1/4 cup sugar, 1 tbsp. salt, 4 tsp. baking powder, 1 1/3 cups milk, 1/2 cup peanut butter.
Directions: Preheat the oven to 160ºC or 325ºF. Mix the dry ingredients. Add the milk, followed by the peanut butter and knead everything together. Pour the mix into a greased loaf tin and bake for 1 hour.
Navy Bean Soup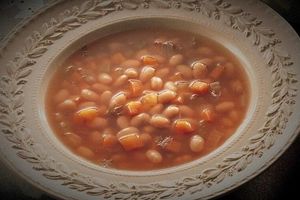 A typical meal that many families would enjoy, Navy bean soup was easy to make – utilizing whatever you had on hand – and full of flavor.
Packed full of protein in the form of beans and filled with flavorful root vegetables, this soup was hearty and affordable.
Ingredients: To make this soup, you will need 2 cups of beans, 1 chopped onion, 2 carrots, 1 celery stick, 2 cloves of garlic, any other vegetables you have available. You can also add ham.
Related: How to Dry Can Beans and Rice for 20+ Years Shelf Life
Directions: Prepare the beans you want to use according to their instructions. Cook the chopped onion and minced garlic in a pan until golden and fragrant.
Take your vegetables, such as carrots, celery, etc., and add them to a pan with the onion and garlic, cooking on low and adding in your choice of meat. Combine all the ingredients with the cooked beans, adding more water if required. Add salt and pepper to taste.
Granny's Midwest Goulash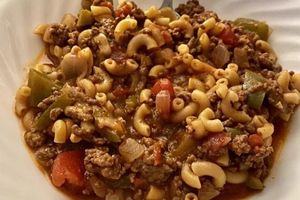 Goulash is a pretty standard meal in most American kitchens, even today. This macaroni dish is filled with ground beef and tomatoes and is a cheap, hearty meal that everyone will love.
It is easy to create goulash, and you can switch up the recipe depending on what's available.
Ingredients: For this recipes you will need 1 cup of macaroni, 1 pound of ground beef, 1 onion, 4 garlic cloves, 1 tbsp. tomato paste, 1 can diced tomatoes, 1 tsp. Worcestershire sauce, and any other available veggies.
Directions: Cook the macaroni, leaving it a little bit undercooked. Brown the ground beef and add onions, garlic, and other veggies if available.
Add Worcestershire sauce, tomato sauce, diced tomatoes, and anything else you want to use to the cooked mixture and combine with the cooked macaroni.
Season to taste, adjusting as needed. Put the mixture in a baking dish, top with grated cheese, and bake for 15-20 minutes.
Stuffed Peppers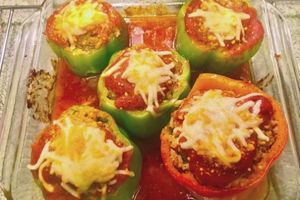 Stuffed peppers are the food of my dreams. I remember my mother making these once in a while when I was young, and the whole family would gobble them up.
This meal is super easy to make and very filling. It is definitely one of those recipes where a little goes a long way.
Ingredients: For this recipe you will need 1 pound of ground beef, a cup or two of cooked white rice, some tomato sauce, and a few bell peppers with the tops cut off and the inside cleared of seeds.
Fill each pepper with a mixture of rice, beef, and sauce. You may want to top it with cheese and extra sauce and add a small amount of water or sauce to the bottom of the dish. Place in a shallow baking dish and bake at 350° – 400° for 15-20 minutes.
This simple and affordable meal will indeed become a family favorite.
Hoover Stew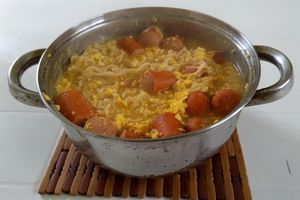 Alternatively, a recipe labeled Hoover Stew was named after the 31st President of the United States.
His term overlapped the stock market crash of 1929 and who was often blamed for the desperate state of the period.
Related: Canning $5 Amish Stew
While recipes varied, the general idea of Hoover Stew was to combine cooked macaroni with hot dogs, canned tomatoes, and corn to create a cheap yet filling stew that could be served to the masses.
Many different kinds of soups and stews were popular during the time, and many variations of 1930s depression soup recipes can be found across the internet.
Not Just Surviving, But Thriving During The Great Depression.
Life during The Great Depression was challenging for many families, but thanks to their resilience and creativity, most will tell you that they rarely went hungry.
The truth is, with the cost of groceries today constantly rising, these depression-era recipes may be the answer to our modern struggles.
If your grandparents could survive and thrive during The Great Depression, you can also make it through these tough times.
Have you ever tried any of these Depression-Era recipes? Were any of these typical meals in your house?
I love to hear about your experiences with The Great Depression and read about your ideas for frugal meals in the comments.
You may also like: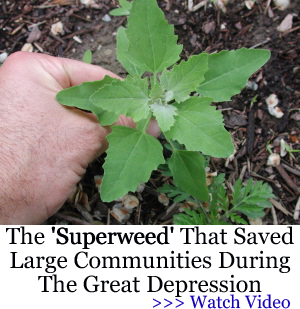 6 Essential Differences Between the Greatest Generation and The Ones That Followed
The Long-Lasting Food That Amish Pioneers Turned To In Dark Times (Video)
Worst States To Live In If You Have To Defend Your Property
The 6 Golden Rules of Surviving Martial Law