Americans are mobile people. We move around the country for family or work reasons, and even when we settle somewhere we still travel a lot.
The road trip is an American thing; other countries just don't do it. We love our cars – suburbs, and even whole cities, are often close to impossible to get around without driving. As a nation we love being able to just jump in our cars, start the engine and go.
Now imagine we're the target of an EMP attack. An event like this is going to be a disaster in so many ways it's hard to keep track. Our homes will go dark. The communications networks we've come to rely on so heavily will shut down instantly.
All our modern appliances will become useless. And, maybe worst of all, our cars will be immobilized as the surge of electromagnetic energy fries the chips in their engine management computers.
If you're moving on foot with all the gear you need to survive, you won't be travelling fast. Depending on the terrain and weather you might manage 20 miles a day – or you might manage ten. Even then there's a limit to how much you can carry.
In summer you can manage with light camping gear but in winter, when you need protection from the elements as well as food, water and weapons, the weight will mount up rapidly.
More weight, of course, means you can't move as quickly so your journey will take longer, which means you need more food, which means you're carrying more weight, which means you can't move as quickly…
You Need Transport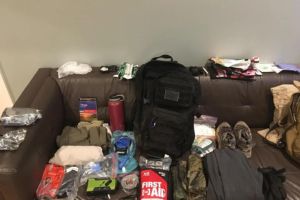 In a crisis, having a vehicle makes a huge difference to your chances of survival.
You can cover enough ground, fast enough, to get away from fires, contamination or bad weather. You can load up all the gear you need and head for a bug-out location.
Related: 12 Things You Need to Know Before Choosing Your Bug Out Location
Scavenging and foraging is a lot easier when you have a vehicle to transport your haul. But is it possible to have a vehicle that will keep running after an EMP attack?
Yes, it is. In fact even modern cars could survive an EMP without permanent damage; if a vehicle isn't running when the attack happens there's a good chance it won't be affected, although the more modern the vehicle, the lower that chance becomes.
Vehicles that are running when an EMP hits are much more likely to have their electronics fried – or, even worse, be written off in a crash when the electronics temporarily shut down. You're a lot safer in an older vehicle with simpler, more EMP-resistant systems.
What kind of vehicle should you look for? That's simple – you want a truck.
In a crisis any vehicle is better than nothing, but a good, reliable truck is the best option. Up front you get the comfort of a car, but the truck bed can haul a much bigger load than any car.
Whether you're heading for your BOL with all you can carry, collecting firewood or on a foraging trip, that extra cargo capacity can make a huge difference. Trucks also tend to be tougher and simpler to maintain, and usually have better off-road capability than a car – all reasons why they're ideal survival vehicles.
Choosing An EMP-Proof Truck
You don't want just any truck, though. For EMP resistance, older is better.
Modern trucks have modern engines, complete with engine management computers that make them vulnerable to EMP. In short, they're just as likely to be immobilized by the pulse as a normal car.
They might survive just fine – but do you want to stake your own survival on that?
Related: 11 Things You Believe About EMPs and Faraday Cages That Are Actually Wrong
In general, the older the truck you have the more likely it is to keep running after an EMP. How old do you have to go? The good news is that you don't need to go that far back before you start finding vehicles that should be pretty reliable in an EMP environment.
In 2001 the USA set up an EMP Commission to investigate the threat. A year later the Commission ran a test of 50 vehicles manufactured between 1987 and 2002. All the vehicles were exposed to a series of EMPs with an intensity of up to 50kV/m.
For comparison, the 1962 Starfish Prime EMP test knocked out streetlamps in Hawaii 900 miles away; the pulse that hit Hawaii was about 5.6kV/m.
The same 1.6-megaton weapon detonated over the continental US would have produced a 22-30kV/m pulse, so those vehicles were exposed to almost double the pulse that would be created by a very large EMP warhead. What happened to them?
Mostly nothing.
Out of the 50 vehicles, 47 kept running when the 50kV/m pulse hit them. Of the other three, two restarted right away. Only one was completely disabled.
That doesn't mean the others were completely unharmed; many of them suffered "nuisance" problems, like malfunctioning warning lights and damaged radios, but they did keep running.
What this means is that if you get a truck built before 2002 it's probably going to cope just fine with an EMP attack. It turns out that a vehicle's metal bodywork is enough of a Faraday cage to protect most of the electronics inside.
Of course older is better when it comes to EMP resistance.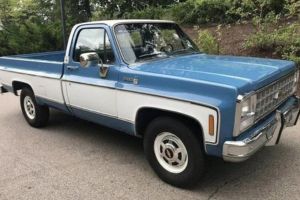 Most of the vehicles in the 2002 tests had fuel-injected, computer-managed engines.
Those turned out to be pretty EMP-resistant, but if you can find a truck with a carbureted engine – which includes most pre-1987 models – there's no chance of an EMP disabling the engine.
On the flip side, with some older vehicles the increased chance of it surviving an EMP is outweighed by the higher odds of it breaking down for some other reason. It's only worth getting a pre-1987 vehicle if it's very well maintained and in great condition.
Improving EMP Resistance
Even if a pre-2002 vehicle is pretty resistant to EMP already, there's still a risk of it suffering damage short of actually being immobilized – especially those "nuisance" problems that can actually be quite serious.
If you're driving cross-country in the dark, for example, you'd probably quite like it if your lights were working. The good news is there are various ways to protect your truck and its systems against the effects of the pulse.
You can protect individual systems, like rear screen heaters – which are important in winter – by adding a gas surge tube (also known as a gas discharge tube) across the circuit.
When the system is running normally, the surge tube doesn't do anything; if an EMP hits, though, the extra current it generates is diverted through the tube and dissipated harmlessly, instead of burning out your truck's systems.
You can also get a specialized EMP-proof cloth that will protect all your vehicle's systems, or even your home's. This cloth was developed after years of extensive research by top U.S. scientists and it provides 98% military-grade protection against electromagnetic waves.
Finally, don't forget the most vulnerable part of any vehicle – gas stations. Your 2001 truck might survive an EMP, but the pumps at a gas station probably won't. If they're not destroyed themselves, the power to run them will probably be out anyway.
If you're planning on running a vehicle after an EMP attack you need to have a good stockpile of safely stored fuel for it.
If you go for a diesel truck you can also run it on cooking oil, so that's worth considering, but you should also think about fitting your truck with a small pump and some hose. Along with a pry bar, that should let you access fuel from a gas station's storage tanks even if the pumps are out.
At the end of the day, any vehicle is better than nothing – but a truck that can be relied on to survive an EMP attack is definitely the best bet.
Look for the oldest truck you can find that's in good condition, build up a stock of spare parts for it and keep it well maintained; then, when all the modern electronics get wiped out, you'll still be able to get around.
You may also like: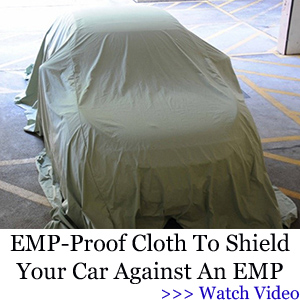 Expensive Items That Used To Be Cheap
The 7 Actions To Take Immediately Following An EMP Strike (Video)
How to Keep Your Money Safe for When SHTF
One Month $0 A Day Prepping Ideas
Things You Throw Away That You Should Add To Your Stockpile Instead