We all enjoy all the convenience and utility that electronics provide for us.
But, unfortunately, there is a constant threat that could take these devices away from us. It is an unseen enemy that will overload our power grid and fry electronic devices without warning.
I'm talking about an Electromagnetic Pulse (EMP) or a Coronal Mass Ejection (CME). While EMP's are generally going to be the work of unfriendly governments, a CME comes from the Sun, and there is nothing that we can do to stop it.
What Are CMEs and EMPs?
Coronal Mass Ejections are eruptions of magnetized plasma from the Sun. While these events occur several times a day, they are rarely strong enough to affect our systems here on Earth.
However, occasionally, a CME can be launched directly at our planet and be strong enough to cause problems. When a CME reaches our atmosphere, a geomagnetic storm disrupts the magnetosphere, releasing a lot of energy towards the surface.
The scale of damage will likely only affect radio communications, satellites, and our power grid. Still, there is the possibility that complex electronics could be affected by a CME as well. So while the probability of a CME frying your radios and computers is very low, you should still consider placing some electronics that you would want to have after such an event in a Faraday cage for safekeeping.
Related: The First Steps You Should Take Immediately After a CME
An Electromagnetic Pulse is when charged particles undergo rapid acceleration, which results in a sudden burst of electromagnetic energy. There are many potential causes of an EMP, one such common cause is lightning strikes, but the primary source of concern for these events is high altitude nuclear detonations.
After the United States military discovered that high-altitude nuclear detonations could produce a highly destructive EMP, many tests were conducted to develop the EMP as an effective weapon against an enemy population. However, in the present time, multiple countries have weaponized EMP and can launch direct attacks on enemy countries.
In the unlikely event of an EMP attack, the effects would be similar to a CME, with the notable inclusion of destruction of electronic devices. An EMP destroys electronics because it induces a high voltage and current within them, overloading the circuits, causing failure.
Related: 7 Actions to Take Immediately Following an EMP Strike
What Is a Faraday Cage?
In its basic form, a Faraday cage is an enclosure coated in a conductive material. This material could be copper, aluminum, steel, etc. the only requirement is that it readily conduct electricity. In some cases, wire mesh is used as the conductor, explaining why we refer to these enclosures as cages.
As long as the devices we place inside the cage do not contact the conductor, and the cage's exterior is sealed and electrically conductive, the items inside should be effectively shielded from EMP and CME.
Many of us have a Faraday cage in our pockets in the form of an RFID-blocking wallet. Another great example of the use of Faraday cages is in MRI rooms where the walls are lined with copper to shield the equipment from interference.
How Does a Faraday Cage Work?
When we use a Faraday cage during an EMP or CME event, the electromagnetic energy follows the conductor our cage is covered in, dissipating its effects. This dissipation of energy renders the devices within the enclosure immune to the impact of the electromagnetic energy.
The key point to note is that the body of the cage and the lid must be connected electrically so that the electromagnetic radiation has no gaps to slip through.
Related: 15 Things You Think You Know About Faraday Cages But You Don't
What to Put in a Faraday Cage
Inside a Faraday cage, we will put any electronics that may be affected by an EMP or CME, and we would like to have them available for our use after such an event or attack.
A few examples are:
Amateur radios
Flashlights and headlamps
Shortwave receivers
Power banks
Rechargeable Batteries and Chargers
Poor Man's Faraday Cage
There are many ways to build a cheap but effective Faraday cage using materials easily obtained through online retailers or local home improvement stores.
There is, however, a simple but effective Faraday cage that you can build with materials that you undoubtedly have laying around your home right now.
Materials
Shoebox or another cardboard box of an appropriate size
Heavy aluminum foil (make sure that it is the heaviest duty foil that you can find)
Metal tape
Instructions
1. Open your cardboard box and confirm that the interior is of sufficient size.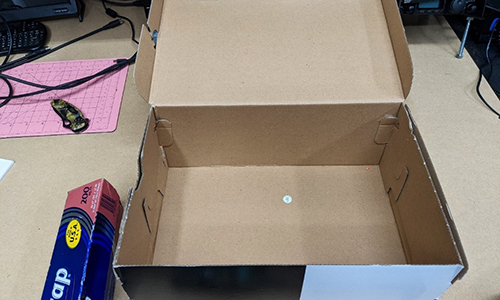 2. Wrap the outside of the box in aluminum foil. Make sure that no aluminum foil is on the inside of the box.
A Faraday cage only works when the items inside the cage are insulated from the conductive exterior.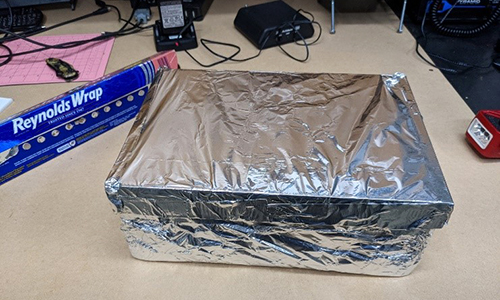 3. Tape all of the seams with metal tape to ensure that the exterior has no gaps in its conductivity.
4. Load your poor man's Faraday cage with the electronics you want to protect.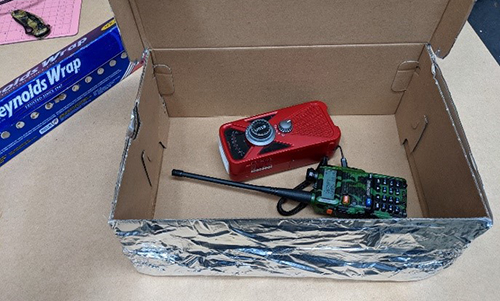 5. Close the lid, and seal the box with metal tape. When you are done taping, there should be no gaps in the foil shield.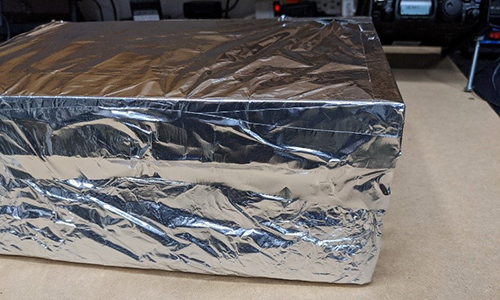 Testing the Poor Man's Faraday Cage
To test the cage, place an AM radio tuned to a local station in the box along with a cell phone and a VHF handheld transceiver (if you have one).
Make sure the AM radio volume is set loud enough that you can hear it through the box and that the cell phone and VHF transceiver are on and ready to receive.
**Tune the VHF transceiver to a local repeater because this will mean that the radio waves will be coming to the radio through the repeater rather than the second handheld radio that is probably right next to the box.**
When you seal the Poor Man's Faraday cage with metal tape, you should hear the AM radio lose the signal and going silent. Next, try to call the cellphone, and if it goes to voicemail, you know the cage is blocking the signal.
Lastly, send a transmission on the repeater that the VHF radio in the Faraday cage is tuned to and listen to see if you can hear it through the box. If these tests are successful, you have a functioning, poor man's Faraday cage. If not, then you may need to add layers of foil to the outside of the box.
Final Words
Experiencing a destructive EMP or CME is highly unlikely, but they are scenarios that we should all be prepared to face.
One of the essential EMP preps is to have and use several Faraday cages to house the electronics that would make a post SHTF life far more survivable.
You may also like: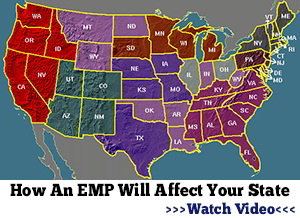 Emergency Bag to Keep in Your Car in Case of an EMP
What Really Happens When You Bury A Shipping Container (Video)
Making Butter at Home, Like Our Grandparents