One of the major tenets of prepping is the repurposing of items that would normally be discarded after use. Soda cans are one of these items that hold a significant amount of uses beyond holding our favorite beverage. Converting your average soda can into a functional and even decorative candle lantern is very easy to do and involves only a few tools and materials.
This instructional article covers the construction of two styles of soda can candle lantern. These are two that I have constructed and used in the past but your imagination is free to add your style to your creation.
Safety
Two major safety issues must be addressed before continuing.
First is that the aluminum these cans are made from is very thin and easy to cut. This poses two issues. One is that when piercing the can's skin with a knife, the blade may slip through a lot more easily than expected which can result in serious injury if your hand happens to be in the path of the blade. The other is that the thin aluminum will be very sharp and will cut you if you are not cautious.
Wearing cut resistant gloves is a safety measure that you may want to consider.
Secondly, when these lanterns have a lit candle inside of them, the outside and top will become very hot and these lanterns should be kept away from any flammable materials. Do not handle these lanterns when lit as you may end up with very severe burns.
Related: How To Make Antiseptic Sugardine To Treat Wounds And Inflammation
Materials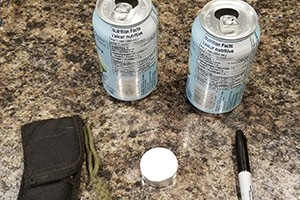 For this project you'll need to gather the following items:
Soda cans
Tea light candles
A knife or scissors
A sharpie or other marker
Instructions
Style One
The first style that I will outline here involves cutting what can best be described as doors on the side of the can. What this does is allows for a more directional light source.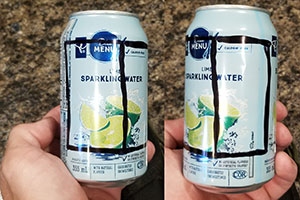 1. Draw a square or rectangle on the side of the can.
The size will determine how large the opening will be and thus how much light the lantern will produce.
You'll need to divide this in half with a vertical line through the middle.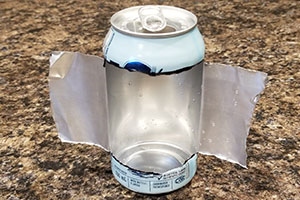 2. As the can is standing vertically make note that the outer vertical edges will not be cut. I like to make some marks on these lines to remind me not to cut them.
3. Using a knife or scissors carefully cut along the top, bottom, and center lines.
4. Fold these cut sections outwards along the lines that you did not cut.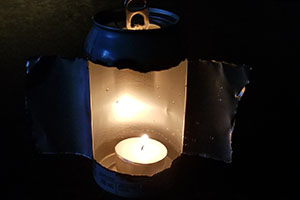 5. Place a tea light candle inside and light.
6. If you wish you can orient the pull tab to act as a hanger in case you wish to hang this lantern up.
Do not use anything other than wire to hang the lantern as the top will become very hot and could cause a fire.
Related: How To Make Survival Lamps With Used Cooking Oil and Mason Jars
Style Two
This style provides 360 degrees of lighting and has a more decorative look. There are a few extra steps involved but if you are looking for an eye-catching design this may the one for you.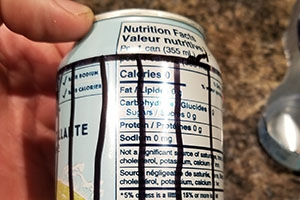 1. Draw two reference lines around the circumference of the can near the top and the bottom.
I used a stack of post-it notes about 3/4 of an inch tall to rest my Sharpie on. I then turned the can to draw a straight line around the can.
2. Join these two horizontal lines with vertical lines that are spaced about half an inch apart. The spacing is not critical and you can experiment and adjust it to suit your needs and style.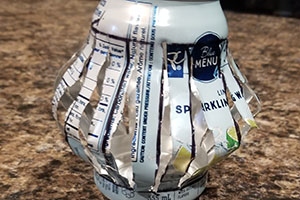 3. Cut the top out of the can very carefully. This is how you will insert the candle once the lantern is finished.
4. Cut along the vertical lines stopping at each of the two horizontal lines that you made in step one.
5. Once all the vertical lines are cut you can compress the two ends of the cans together.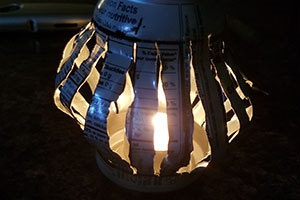 The goal is to have all these vertical slats bend outwards. You will probably have to help some of these slats to bend outwards evenly.
If you wish to hang the lantern you will need to drill some holes near the top end to run some wire through.
Tips and Tricks
If you want to remove the label from the can you do so with fine-grit sandpaper or an abrasive pad. If you do this before you open and drink the contents it will make it much easier to sand.
Use a knife to pierce the can but scissors to do the cutting. This will preserve the edge on your knife blade.
You can also make candle lanterns from other tin cans. Thicker metal will require other techniques such as using a drill in order to make holes that the light from the candle will pass through.
When cutting the top out of a soda can, consider using a file to smooth out the inside of the hole. This will prevent any possible injury from the sharp edge left by cutting.
The bottom of a soda can is not flat but has a dome shape which can cause the tea light candle to teeter and not sit flat. Filling the bottom of the can with sand will help to level it out and make the candle sit flat. This will also weigh down the lantern making it much more stable.
Any candle can be used in these lanterns, I use tea light candles because they fit inside the can nicely, and I have hundreds of them laying around.
This instructional guide has detailed two styles of soda can candle lanterns that I use and like. Style one is good for illuminating a specific area since the light from the candle shines outwards through the hole that you cut. The flaps that you have folded outwards can also be adjusted to control the amount of light and heat that escapes.
Style two is more decorative and illuminates 360 degrees with a soft and diffuse light. If some time is taken to remove the label the lantern can be painted in accordance with your personal style. These lanterns can look very nice and decorative and give the appearance of being store bought.
Soda cans are inexpensive and are usually cashed in for a nickel each so you can experiment with different styles and designs at a minimal cost.
You may also like: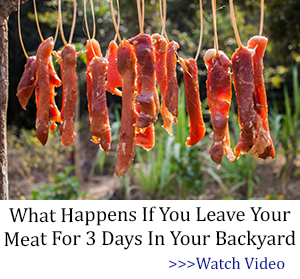 12 Things You Need to Know Before Choosing Your Bug Out Location
This Homemade Device Can Power Up Your Entire House 7 Days in a Row (Video)
Toilet Paper Pills – The Best Invention You Didn't Know Existed