It's that time of year again and we're all scratching our heads about what to get for our friends and family. Hopefully this guide will give you some ideas for your prepper friends and loved ones.
Big Gifts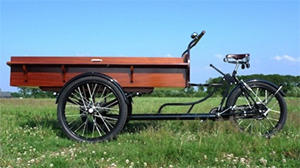 Cargo Bike
Cargo bikes are a useful thing to call upon when there's no oil and the generator has broken down. They usually have a trailer, or large bags, to let you haul heavy items using pedal power alone. One of the best known cargo bikes is the 'Workcycle', which comes with a trailer attachment, like this one from Clever Cycles. At $6,500 this is a Christmas present that Santa Claus only brings very good boys
Lever Action Rifle

The Henry Big Boy lever action rifle is a modern hunting rifle that any prepper would love to have. This is a high accuracy weapon with a 20 inch round barrel. They do a left handed version too. It's a sturdy gun available in three different calibers and at $850 will make the perfect big gift for a prepper.
Guerrilla Gardeners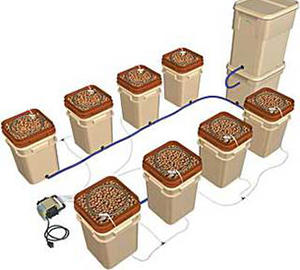 Hydroponic kit
A hydroponic kit is a great way for a prepper to experiment with growing plants without soil. Hydroponics uses, instead of soil, a nutrient rich water base to feed the growing pant.  It is a great method to grow plants whilst recycling water, so if you live in an arid region it is a good technique to know how to use. Complete kits range from $500 to several $000's but you can buy the individual parts separately too.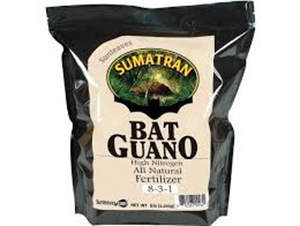 Heirloom seeds
Make up a gift box containing a selection of heirloom seeds. Heirloom seeds are non GMO, so genetically unmodified, so the perfect gift for preppers. If you put them into a metal box with a lid, they will potentially keep for years. Heirloom seeds can be bought online from a variety of stores including:
Each packet of seeds usually costs around $2-$5
Toys and Games
Preppers need recreation too and some great games to play are shown here:

 Conflicted: The Survival Card Game – a thought provoking card game that makes you think about the types of survival situations you may find yourself in and the type of responses you might have to those situations.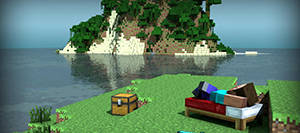 Minecraft: This may seem like a game for kids, but it has some really cool features, letting your prepper create their own doomsday world and navigate their way through, building bunkers and living off the Minecraft land.

Urban Survival Playing Cards: A game that could save your life. With lots of survival tips and advice for $17
Good Stuff to Have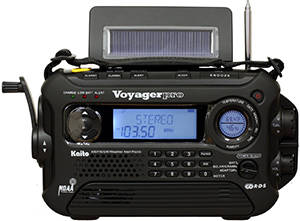 Windup / Solar Radio
If you've got no power, but you need to find out if the airwaves are still transmitting, you'll need one of these; a wind up radio which also has solar panels and a reading lamp. The Kaito Voyager Pro emergency radio supports AM/FM/LW, shortwave, NOAA and even has weather reports. It'll be the best $60 gift ever received.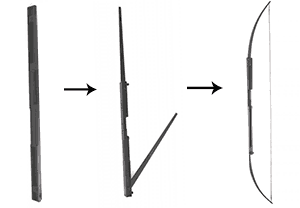 Compact Survival Bow
I love this bow because it folds up into a handy compact size that's easy to carry. This one, from Marlin Archery, is built to withstand the harshest of conditions. It is only 2.25 lbs. and made from super strong aluminum and fiberglass. It's a high quality bargain at $193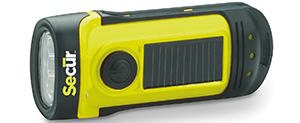 Emergency Flashlight
A flashlight is no good to anyone if it needs power you just don't have. Avoid your prepper trapped in the dark when they run out of batteries, by giving them the power of a hand crank/solar powered LED Flashlight, available here for under $20.
HyBeam Tactical Flashlight
When you hear a noise in the middle of the night and you need to get out of your bed to see what's happening or even clearing the entire house, this might come in handy. In the article: How to Safely Clear Your Home When You Think There's an Intruder Dave Spaulding will show you how to use a HyBeam Tactical Flashlight in conjunction with your gun.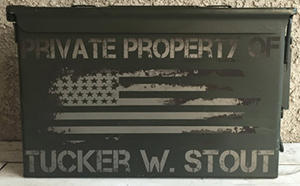 Personalized Ammo Kit
Always useful to have, but even better if you can put your prepper's name on it. Ammo kits are a great gift to get because they always come in useful for storing ammo safely and it's not like one can ever have too much ammo.
This one is a snip at $34 from Craft Up Your Life on Etsy.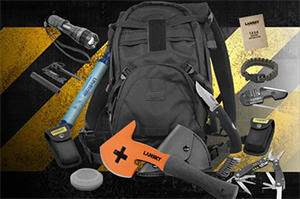 Lansky Apocalypse Survival kit
The T.A.S.K. or Tactical Apocalypse Survival Kit comes in a sturdy backpack and contains vital items that you'll need if there's a natural or man-made disaster. These include a multi-purpose axe, easy grip knife and water purification device. It costs $199.99 and is available from Lansky.
Prepper Books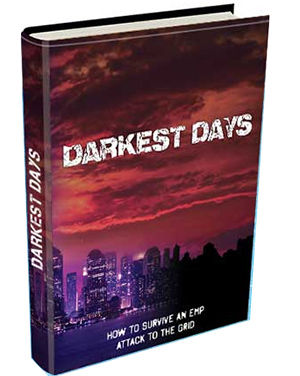 "Darkest Days – How To Survive An EMP Attack To The Grid" 
We all know that if you are prepared for an EMP then you are prepared for anything. So this is a very extensive survival guide with topics ranging from how to make sure that your car still runs…even though EMP fries car engine circuits, to secrets from the Amish on how to prevent your food and medicine from spoiling.
This book comes with two bonuses for $37 + shipping&handling.
But considering the ever more increasing threat of a terrorist EMP attack, this book might just be one of the best prepper gifts.
Related: 7 Actions to Take Immediately After an EMP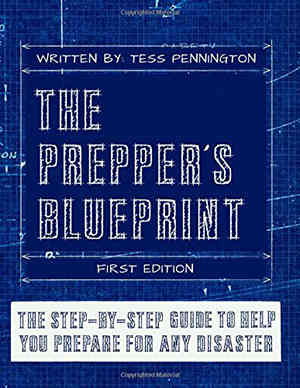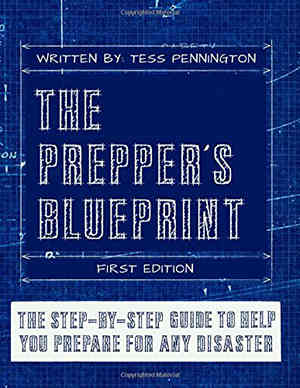 Prepper's Blueprint 
"A crisis rarely stops with a triggering event. The aftermath can spiral, having the capacity to cripple our normal ways of life. Because of this, it's important to have a well-rounded approach to our preparedness efforts. Due to the overwhelming nature of preparedness, the Prepper's Blueprint has been created to help get you and your family ready for life's unexpected emergencies.
The chapters are divided into layers of preparedness which makes it really easy to read an easy to follow.
On Amazon is sells for $19.80 + shipping
Prepper Stuff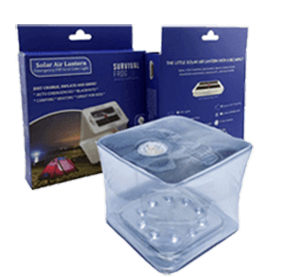 Survival Solar Air Lantern
The lantern has a solar charged so no batteries are needed. It lasts up to 12 hours on single charge so basically if you charge it all day long it provides light for the whole night. It stores easily because it is only 1″ tall when deflated. The design is pretty cool so I'm pretty sure it can be a nice prepper gift.
It's a good thing to have in your car, boat or RV. It's also waterproof and it floats.
It goes for $19.97 and free shipping.
Related: H2O Dynamo – The Awesome Device That Turns Air Into Water (Video)
Firestarter Blowpipe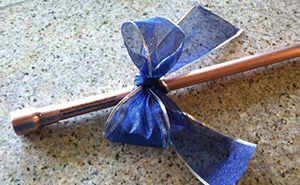 If you've ever tried to start your own fire you'll know how frustrating that can be. You need to get the oxygen mix right to get the fire to start and this blow pipe, advertised as even working with wet wood, is a great gift that may save someone's life – or at least help them keep warm. From California's Better than Bellows and priced at $20.
Pocket Knife
The ever popular and useful pocket knife is a gift that will always be on hand to help with all sorts of tasks. This one, priced at $18.99 from Lazer Designs, can even be personalized and is the perfect stocking filler. If you want a little more expensive knife, at $58 try this custom, handmade, Damascus steel folding knife, which is made from ultra-hard steel, has a bone handle and a leather sheaf for protection.
2-Way Hand Crank Walkie Talkie Set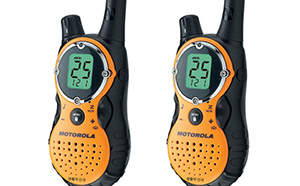 A walkie talkie set is not just useful, it's fun. We all wanted one of these as kids, but as grown up walkie talkies are really useful to have, especially in a situation where there is no other form of remote communication. If the SHTF then a hand crank version of the walkie talkie will let you communicate with others without the fear of batteries going dead. Check out this set for around $42 at DH Gate.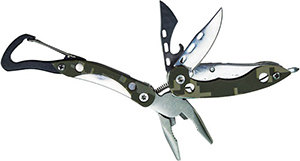 EDT Mini Multi Tool
This is a pocket sized product so it may as well be included in one's Every Day Carry. It has a mini "multi-plier" that instantly folds out and multiplies the strength in your hands so you never need to struggle to tighten something or snip a wire again; a super sharp "surgical blade", a Mini Phillips head screwdriver and a can opener.
Price: $4.95 (shipping and handling)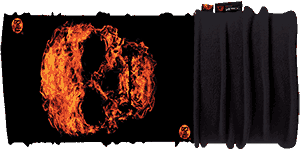 Neck Gaiter / Warmer         
Scarfs aren't just great presents for your mother or wife, they are really useful pieces of gear for your prepper. Buff USA has a large collection of polar neck warmers for around $32 that will keep your prepper warm.
You may also like:
How Much Does it Cost to Bulletproof Your Car?
How Much Does a Nuclear Bunker Cost?
7 Primitive Cooking Methods You Still Need to Know Today
This Common Driveway Weed is One of Nature's Most Powerful Survival Plants
How to Get a Cheap Survival Shelter and Bug Out Location (Under $5000)