I refuse to believe that I'm the only one who's been in this situation. Fortunately, so far there have only been false alarms, like my wife forgetting the front door unlocked, an open window, or the lights left on before leaving.
But you never know, so I'm thinking it's better to be cautious and safe than rash and sorry.
In fact, although we live in a fairly decent neighborhood, the house next door was broken into two times last year—probably because they live there only three to four months a year. I guess someone has been watching them. Well…since then, I've always cleared my house when I come home from holidays or short trips.
Of course, there are some things that you can do around your house to prevent thieves from breaking into your home when you are gone, but even so…you would want to carefully clear your house if you find a dubious sign.
Dave Spaulding, from Ruger Tactical Tips, made a really great guide about how to clear your house from any intruders. Before you watch the video below, keep in mind that you should use stealth to your advantage. If they know you are coming, then you might be dead no matter how good your techniques are. This is why clearing a house is usually a team job; otherwise, you'll get in some critical situations (see picture two paragraphs below).
As a general rule, stay close to the wall on one side of the hallway, and avoid walking down the middle so that you can minimize your outline and make yourself less of a target.
Once you've opened the door, it's time to "slice the pie." This is a method used to clear corners and doorway entrances, where you clear each area in small slices. Here is the illustration:
The "Slice the Pie" Method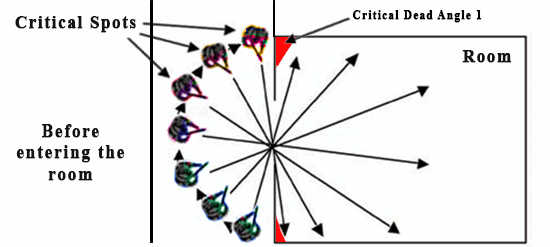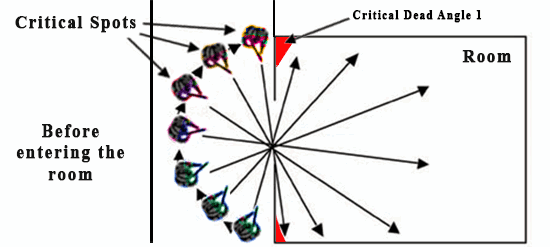 This process has to be done with maximum attention and—most importantly—PATIENCE!
If someone is waiting for you, your best chance is to make yourself less of a target and possibly elude his ambush and the element of surprise.
Even so, the slice of pie method will not guarantee full coverage, and although it's kind of dangerous, it is still your best option if you are alone.
[responsive_youtube https://www.youtube.com/watch?v=dy2VfUABMLs]
Another Common Situation…
…is when you hear a noise in the middle of the night and you need to get out of your bed to see what's happening or even clearing the entire house.
Of course, there's no need to say that you need to have your gun as close to your bed as possible. Right next to your gun should be your tactical flashlight (assuming that you don't have night vision goggles).
In the video below, Dave Spaulding will show you how to use your flashlight in conjunction with your gun. In the video, you'll discover five conjunction techniques that you can use depending on the situation:
The FBI Technique
The Harries Technique
The Syringe Technique
The Combat Ring Technique
The Pucket Technique
[responsive_youtube https://www.youtube.com/watch?v=mb1QMqk_wmU]
You may also like:
What a Prepper Should Do Around The House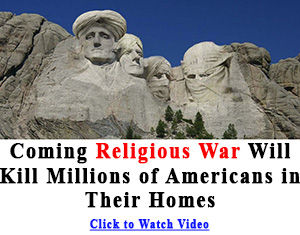 Do You Make These Fatal Mistakes In A Crisis? (Video)
The Last Round You'll Ever Need
An insanely effective way to build a 5 year food stockpile (Video)
H2O Dynamo – The Device That Turns Air Into Fresh Water! (Video)