We all know that the expiration date on food is more of a guideline than a rule that has to be followed strictly – but what about antibiotics? Every medicine sold in the USA comes with an expiration date marked on the package, but a lot of us don't take these too seriously. Medicines seem like they should last a lot better than food. Leave a Tylenol caplet and an apple on the counter and see which one rots first. No prizes for getting that one right.
Sadly it isn't that simple, though. Medicines might not visibly spoil like food, but their active ingredients can break down over time. Sometimes that means they won't work as well as they should. Sometimes they can become toxic. There are a lot of medicines you can safely use years after the date stamped on the box, but you need to know what ones they are – and what ones to avoid.
What Do The Expiration Dates Mean?
In 1979 the FDA passed a law requiring all drug manufacturers to put an expiration date on their products. Officially, that date tells you how long the drug can be relied on to have the desired effect as long as it's been properly stored. In reality manufacturers, wary of being sued by someone who's taken drugs that have become ineffective or toxic, are pretty conservative with the dates they use.
They pick a date that they're confident is well within the limit, then build in a little more slack to allow for poor storage. Effectively, the expiration date is one the company is happy to stand by in court. Pharma companies tell people to dispose of expired drugs. Yes, they want you to buy another pack of their product. Actually, the main reason is that when lawyers come knocking because someone got sick from taking expired tablets, they can point at their advice and say "We told you not to do that."
The reality is that most medicines will stay safe and potent long after the expiration date on the package. This isn't just a guess, either. We know for a fact that plenty of medicines will work just fine ten, 20, even 40 years after they officially expire.
Related: How to Make the Most Powerful Natural Antibiotic
DoD
The DoD is one of the USA's largest buyers of medicines. Every military post has a medical center. Field hospitals and ambulance units hold large stocks of medicines in their deployment stores, and because they never know where they'll be going and what they'll have to treat, they have to keep a wide range of drugs. A lot of the drugs the DoD buys never get used. They're bought, stored in a container ready to be loaded on a plane and flown somewhere dusty, then ten years later they're taken out, incinerated and the whole process starts again.
In the mid-1980s the DoD started to get fed up paying for medicines that were just going to be incinerated someday, and launched the Shelf Life Extension Program to see if they could hold on to their stockpiles a little longer. Results from that program have been coming in for a few years now, and in general they're pretty good news.
SLEP
SLEP results published in 2009 found that of 122 medicines tested in one study, 88% of them were still safe and acceptably effective at least one year after they expired – and many were good for much longer than that. In fact the average extension time for all drugs in military storage was 6.5 years. Current DoD policy is not to extend shelf life for more than ten years, but at least one drug was found to be safe and effective 23 years after it expired.
Many medications are based on a few common ingredients, and SLEP has only found two that have lost a lot of their potency a year after expiration – aspirin and amphetamine. Insulin and epinephrine (EpiPens) are two other medications that should never be taken after they've expired. They lose effectiveness rapidly outside their planned shelf life.
However, acetaminophen (Tylenol), caffeine, codeine, methaqualone, butalbital, phenobarbital, pentobarbital, secobarbital, meprobamate, hydrocodone and chlorpheniramine are among many common ingredients that stay safe and potent after the expiry date.
What About Antibiotics?
Probably not many preppers are holding a stock of amphetamines, and most people can use Tylenol as a substitute for aspirin, but one type of medication preppers do worry about is antibiotics. These have saved millions of lives since the 1940s, and they'll be essential after the SHTF. Who wants to survive the EMP apocalypse, then die because a cut finger got infected? So there are good reasons why preppers talk about ways to get their hands on off-prescription antibiotics. But, once you've got them, how long can you store them for?
Some antibiotics need to be disposed of when they reach their expiry date. Tetracycline, a popular broad-spectrum antibiotic, is one of them. Using expired tetracycline can cause fatal kidney damage.
Amoxicillin is used for many common infections and is often supplied as a liquid suspension. This shouldn't be stored for more than 14 days after it was mixed, as it can be infected with resistant bacteria.
Tablets or capsules of amoxicillin are stable, though – the problem only affects liquid forms. Other liquid antibiotics, including eye drops, are also potentially dangerous when they get old, and should never be used after the expiration date. A key point here is that any bacteria in them have already evolved antibiotic resistance, and you really don't want them getting into your body if you can help it.
Related: Emergency Bag to Keep In Your Car In Case Of An EMP
Other antibiotics can be used well after their expiration dates. These include ciprofloxacin, which is used to treat diarrhea, respiratory infections and typhoid as well as many other diseases. It's a very useful one to store.
Captopril tablets, flucloxacillin capsules and theophylline tablets will also last for at least 18 months past the expiration date if they've been stored properly. Between them these antibiotics will handle most bacterial infections. Overall, if you stick with antibiotics that come in tablet or capsule form they should stay effective for anywhere between two and 15 years after their expiry date.
Unfortunately there are too many examples of medicines that are and aren't safe after expiry. There's no space to list them here. If you notice that medicines in your stockpile are close to expiring, and they aren't mentioned here, the best thing to do is check online if they can still be safely used. The FDA has a page on SLEP that lists some of the drugs that have extended shelf lives. It's worth a look.
In a real emergency, unless a drug is known to become dangerous past its expiry date, is in liquid form or is obviously spoiled (Excedrin tablets with a vinegary smell, for example) you might as well try any expired medicines you have. They probably won't hurt, and according to the DoD there's an 88% chance they'll help. If you have the option it's always better to use unexpired medicines, but prepping is all about staying alive when options are scarce. If expired – but probably still effective – medicines are all you have available, it's usually better to take the chance than do nothing.
You may also like: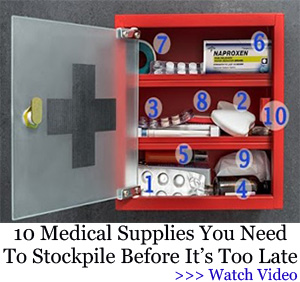 9 Items To Stock Up On Before Hyperinflation Hits
The Only 4 Remedies You'll Need When SHTF (Video)
How To Make Your Chickens Lay More Eggs
Why You Should Put A Coin In A Cup Of Frozen Water In Your Freezer