Imagine, after years of preparing, you find yourself in the middle of an SHTF situation. You are resting easily because you and your family have food, water, and supplies to see yourselves to the other side of the catastrophe.
The problem is, what do you do about the people around you that have not bothered to prepare? Should you be a good neighbor and share your supplies? Or be a good prepper, exercise robust operational security (OPSEC), and keep your preps hidden?
This is a serious question we must all consider and have an answer for before we are faced with hungry and desperate families knocking at the door.
Related: How To Deal With Neighbors And Friends That Come Begging For Food At Your Door In A Crisis
As with most questions like these, there is no clear-cut answer, and how you prepare to deal with this scenario will be very personal.
Being A Good Prepper But A Bad Neighbor
When you spend a great deal of time, energy, and money preparing for emergencies, there is nothing wrong with keeping these supplies for your family and not sharing them with others.
If this is the route you decide to go, you must keep all your preparations a secret because once starving and desperate neighbors discover that you've been holding out on them, they will likely respond violently.
Being A Good Prepper And A Good Neighbor
I firmly believe that part of preparedness is to be ready to assist others in addition to ourselves. There are a few ways we can implement being a good neighbor into our preparedness.
Exercise Robust OPSEC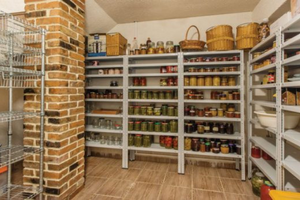 If your neighbors know the true extent of your preps, their incentive to prepare for emergencies is much lower.
It is ok to let your neighbors know that you are a prepper but instead of telling them that you are prepared for months or years, tell them that you are preparing for three days or a week.
This way, your neighbors will be less likely to try and entice you to part with your food and water. However, if they know you have many months of supplies, they will be more inclined to come asking for help.
Help Your Neighbors Before SHTF
The best way to be a good neighbor after SHTF is to be a good neighbor well before SHTF. This is as simple as getting to know the families around you and introducing them to simple measures they can take to prepare for emergencies.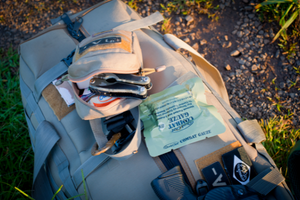 For example, if you live in an earthquake zone, you can talk to your neighbors about getting together a 72-hour kit.
If you live in an area prone to wildfires or flooding, talking to them about bugout bags and evacuation plans will get them thinking about taking steps to prepare themselves.
The critical aspect is to keep it simple and help them to understand that they can start with small, easily attainable steps which will lead them on a path to preparedness.
Seek Out Like-Minded Neighbors
It is possible that you may have neighbors who are preppers or preparedness-minded.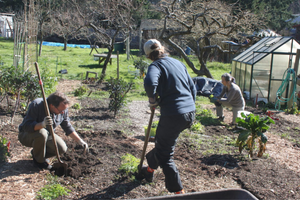 In this case, it is still important to exercise good OPSEC, but since they are like-minded, you can pool resources with them and join forces.
Getting together with like-minded neighbors can also encourage the less prepared in your community to gather supplies and become better prepared.
Once you have a couple of families on board with the concept of being ready for emergencies, you will have some mutual support after SHTF, which will benefit the entire neighborhood.
Find Services Which You Can Provide After SHTF
There are ways that you can help your neighbors without violating your OPSEC and creating problems for yourselves. Think of the skills you have that would be invaluable after SHTF and make the necessary preparations to provide these skills for those around you.
For example, suppose you are a ham radio operator. In that case, you can provide communication services for your neighbors who will be desperate to communicate with loved ones and be starving for information about the situation outside the immediate area.
Related: How to Use a Ham Radio When SHTF (With Pictures)
If you have advanced medical training, you could prepare an adequate stockpile of medical supplies to render aid to those around you.
If you have a backup power source, you can provide the ability for people to charge phones, devices, or batteries.
Or, if you have a generator, you could allow your neighbors to use it for a few hours a day to keep their freezers and refrigerators cold. You could provide this service for free or ask for a donation of gas to run the generator.
If you have a trades background or have a lot of DIY skills, you can use them to help people repair damage or set up DIY off-grid survival projects to assist them in securing the necessities.
If you work in childcare or education, you could provide classes or activities for the children in the neighborhood.
Set Aside Supplies To Distribute After SHTF
One thing we can all do is to keep some supplies on hand to distribute to people in need after SHTF. I like to keep several flats of bottled water on hand to hand out after SHTF.
Regarding food supplies, you should make a realistic assessment of how much you could give away without risking your family's food security.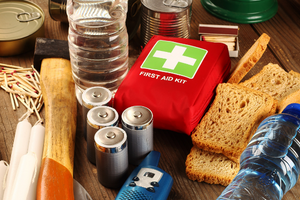 Other items such as batteries, medical supplies, blankets, fuel, flashlights or headlamps, firewood, etc. can be stockpiled in such a way that you have extra on hand to give to those around you in need.
Related: 7 Prepping Items To Look For At The Amish Store
Have A Set Criteria
Regardless of how generous you are, you can not help everyone. When your neighbors are in need, you will have to develop a set of criteria to determine who gets your supplies and who you will turn away.
If your plan is to help as many people as possible, maintaining a strict set of criteria that must be met before you hand out aid is essential.
With this, you will also need a plan for dealing with those who will not take no for an answer. You will need to carefully consider what actions you will take because the consequences will rest on your shoulders alone.
Whether or not you plan on helping those around you after SHTF is a personal decision and one that can not be taken lightly. Developing a plan for this is also a critical element of prepping; the real issue is that there is no one size fits all solution and no right or wrong answers.