When considering recipes that could be good for preppers, taking a close look at the Amish world makes sense. They have long been known for living off the grid and have done quite well.
Also, the Amish are known to make wonderful foods, as often found in restaurants, stores, and roadside stands. Yum!
So, I wanted to share a few recipes from the Amish that could be considered long-lasting, if stored properly.
Amish Peanut Butter
Who doesn't like peanut butter? Sometimes this version of peanut butter is known as "Church Spread", but it's a popular treat no matter what you choose to call it.
2 cups brown sugar
1 cup water
2 cups + 2 heaping tablespoons peanut butter
7 oz marshmallow cream
2 tablespoons light corn syrup
1 teaspoon vanilla (or maple) flavoring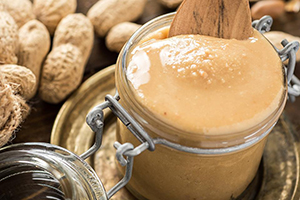 Combine the sugar and water in a saucepan, and bring it to a boil. Continue to boil for 2 minutes, but stirring to prevent scorching. Stir in the peanut butter, marshmallow cream, corn syrup, and flavoring. After that, mix it together, then let it sit to cool down before putting it into jars. Makes about 5-6 7oz jars.
Further, store in a cool dry place, for 6-12 months. This is a wonderful treat on bread or crackers, or with apples. And, speaking of apples…
Amish Apple Butter
Have an abundance of apples on hand? So, make this apple butter, which is a great alternative to just spreading butter on toast or biscuits.
5-6 lbs apples, for instance, peeled and finely chopped
4 cups sugar
2 teaspoons cinnamon
¼ teaspoon (ground) cloves
¼ teaspoon salt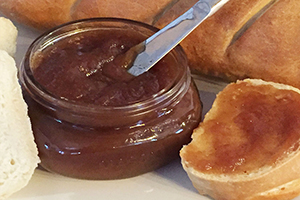 Mix the sugar, cinnamon, cloves, and salt together. Add the apples, then place the apples into a slow cooker. Cover, and cook on high for 1 hour. Turn the slow cooker down to low, then cook for another 9-11 hours, occasionally stirring the apples. The mix should thicken and turn dark brown towards the end of this step.
Uncover the pot, and continue to cook for another hour. Use a whisk, if you want a smoother consistency. Spoon the apple mix into containers that have been sterilized.
Finally, cover them, and store in a cool dry place for up to 2 years.
Related: How To Make Apple Butter With 2 Years Shelf-Life
Cucumber Pickles
Also, this is an easy recipe for tasty pickles.
24 cucumbers, peeled
1 quart of onions, sliced
one cup Salt
1-pint olive oil
1/4 pound of ground mustard
3 tablespoons of black pepper
3 pints of apple cider vinegar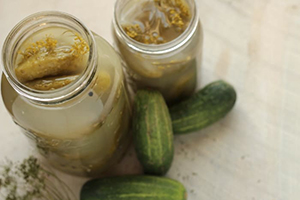 First, slice the cucumbers (very thin), then add the sliced onions and cover them with the salt. Let it stand overnight in a covered container.
Drain this mix well, and add the olive oil, pepper, and ground mustard, stirring it all slowly.
Next, add the vinegar and stir thoroughly. Once it's mixed well, pour it into air-tight jars.
Let stand for 6 weeks unopened, and stored in a cool dry place. The unopened jars of pickles should last up to a year.
Mustard Pickles
To be honest, I'm not sure why these are labeled as "pickles", because it has so many other items in it. But, a colorful and unique treat regardless.
2 quarts green tomatoes, thinly sliced
2 qt. small sweet pickles
two quarts small white onions, peeled
1/2 dozen green peppers, thinly sliced
2 heads cauliflower
1 cup salt
3 quarts white wine vinegar
1 cup flour
1/2 cups sugar
1/4 pound ground mustard
1-ounce celery seed
1/2 ounce turmeric (for coloring)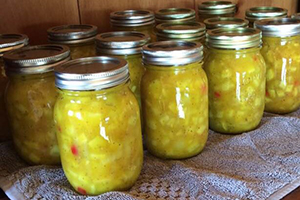 Separate the cauliflower into florets, then combine with onions, peppers, and tomatoes. Cover with the salt and let it stand overnight. Drain that mix, then cover with boiling water and cook the veggies until tender. Further, drain this mix. Mix the flour, sugar, mustard, celery seed, and turmeric.
Heat the vinegar, then pour over the dry mix, and stir well. Add the pickles to the cooked vegetables.
Next, pour the hot liquid over the pickles and vegetables, and cook for 10 minutes (or until the mixture thickens). Pour into sterilized jars and seal.
Related: 7 Deadly Canning Mistakes Even Smart People Make
This will last on the shelf for a couple years, as long as they haven't been opened. Once opened, store in the refrigerator.
Gingered Pears
How about a sweet treat with a little spice?
5 lbs. Pears (not too ripe or soft)
3 cups water
5 lbs. sugar
½ cup chopped ginger
Juice and rind (grated) of 3 lemons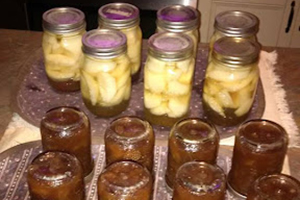 Peel and core the pears, then dice or cut them into thin slices. Add them to the water and cook until the pears are tender. Add the sugar, ginger, lemon juice and rind. Allow this mixture to simmer until it becomes thick, and the pears become transparent. Pour the pear mix into sterilized jars, and seal.
This recipe makes about 5 pints of gingered pears. Unopened, the pears should last a couple years.
Amish Canned Meat Loaf
20 lbs ground beef
5 eggs
45 crackers (saltine works great)
8 cups water
1 tablespoon seasoning salt (Lawrys, for example)
4 oz. salt
5 slices bread
1½ cups oatmeal
1½ teaspoon pepper
Firstly, mix all the above ingredients, then press into canning jars. Following, pressure cook the jars for 1 hour.
Related: Canning Meatloaf for Meals in a Jar
Canned meatloaf can last up to a year, without opening.
Chunky Chicken Soup
2 gallons water
6 quarts chicken broth
1/4 cup butter
2 quarts celery, chopped
2 quarts carrots, for example, chopped or sliced thinly
3 quarts peas
4 quarts potatoes, diced
8 pounds chicken, cooked and cut up
2 onions, diced
handful parsley
1/4 cup flour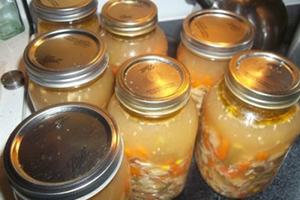 Cook all the veggies, then drain (but save the water to be part of the 2 gallons above). Heat the water and chicken broth and bring to a boil.
Meanwhile, make a paste with the flour, and add it to the boiling water/chicken broth mix. Then, add the chicken and veggies, stir well.
Pour into canning jars, and pressure can at 10 pounds for 40 minutes. Unopened, it should last at least a year.
Pork and Beans
Nothing like homemade comfort food that you can take off the shelf at any time, right? Pork and beans is a perfect example of a good homestyle addition to any meal, or the main attraction.
8 pounds navy beans
1½ pounds bacon
1/3 cup salt
4 quarts tomatoes, for instance peeled and chopped (or use canned)
2 cup water
1 pound white sugar
2/3 cup brown sugar
1/2 cup flour
1/2 teaspoon red pepper
1 teaspoon dry mustard
1 teaspoon cinnamon
1/2 cup Karo syrup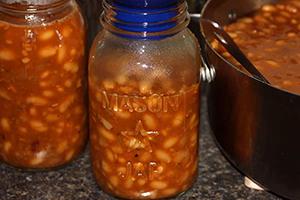 Soak the beans overnight. Cook the bacon, to a light crisp. Drain the grease. Cook the beans until they are almost done.
Then, add the salt, sugars, Karo syrup, spices, and tomatoes. Mix the flour and water to make a paste.
Bring the beans and tomato mix to a boil, then add the paste. Fill canning jars and cold-pack for 1.5 hours.
Amish Friendship Bread Starter
Above all, it really wouldn't be a complete article on Amish recipes, without one for Amish Friendship Bread Starter, would it?
It is the base to so many wonderful breads, and it can be shared with family and friends, hence the name.
Moreover, the starter can be kept indefinitely in the refrigerator, as long as you keep feeding it appropriately.
1 pack (2-1/4 teaspoons) active dry yeast
1/4 cup warm water (100° to 110°F)
3 cups all-purpose flour, divided into 1 cup each
3 c. whole milk, divided into 1 cup each
three cups sugar, divided into 1 cup each
Related: How To Cultivate Your Own Wild Yeast Starter
Directions
Day One: In a glass, glazed ceramic, or plastic container, dissolve the pack of yeast in warm water and let it stand for 10 minutes. Next, add 1 cup (each) of sugar, flour and milk. Stir it well, then cover it loosely with plastic wrap. Then set it aside at room temperature.
Days 2-5: Once a day, stir the starter, then recover.
Day 6: Feed the starter with 1 cup each of the remaining sugar, flour, and milk. Stir well, then cover.
Day 7-9: Stir the starter, and recover
Day 10: Feed the starter again, with the remaining sugar, flour, and milk.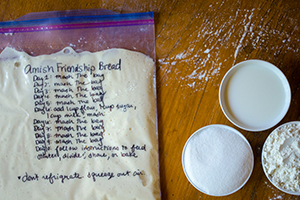 It takes 1 cup of the starter to make a loaf of bread, which can be used in many different recipes.
In addition, you can give 1 cup away to a friend, and keep one for yourself to have an active starter on hand at all times. Repeat the above cycle, to keep the starter alive.
You can look up several different recipes that the starter can be used in, such as this one for a cinnamon bread…
1 cup Amish Friendship Bread Starter
⅔ cup oil (vegetable)
3 eggs
2 cups all-purpose flour
1 cup sugar
1 teaspoon ground cinnamon
½ teaspoon salt
½ teaspoon baking soda
1 ¼ teaspoons baking powder
1 teaspoon vanilla extract
Preheat your oven to 350 F, and grease 2 bread loaf pans (9×5)
Combine all the ingredients in a large bowl, including the starter. Mix it well, then pour into the greased pans. Bake for 50-60 minutes.
Enjoy a slice with butter or any of the spreads above.
Finally
In conclusion, I hope you are able to enjoy at least one of the above recipes.
I have enjoyed Amish foods and goods for years and always get a little excited when I see an Amish store, restaurant, or stand.
The Amish know what they are doing when it comes to cooking and baking, in my humble opinion.
You may also like: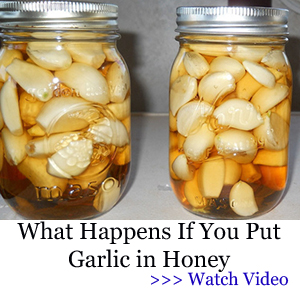 What Is The Closest Amish Market To Your Home
The Long-Lasting Food That Amish Pioneers Turned To In Dark Times (Video)
The Lost Art of Reading Nature's Signs
How To Make Survival Lamps With Used Cooking Oil and Mason Jars