As preppers, we assume that in a major crisis most people aren't going to be able to look after themselves. That's why we worry about securing our property, our supplies and even our lives against desperate mobs trying to get their hands on what they need to live. This is a reasonable thing to consider; the vast majority of Americans are completely unprepared for any form of major crisis, and if the complex society they depend on break down, they won't be able to cope.
It hasn't always been like this, though. For example, only a few generations ago most people were a lot more self-sufficient than the majority are today. The difference is fairly huge; it's estimated that during the Great Depression, one of the most severe crises in US history, around 55% of Americans were essentially self-sufficient. Today that figure is just 5% – and lack of self-sufficiency is just one of the reasons the USA is less able to survive an internal crisis than ever before.
The fragile nation
The USA's economic and military power has never been more dominant than it is today. America spends as much on defense as the next seven or eight countries combined; most of the world's leading corporations are US ones and the dollar is the most influential currency on the planet. American culture spreads worldwide – in every city on the planet, except maybe in North Korea, people drink Coke and listen to US bands. But this global dominance, which is greater than anything even the Roman or British empires could imagine, hides a country that's very vulnerable to an internal crisis. A hundred and fifty-three years after the end of the Civil War, the USA is a divided nation. Those divisions spell trouble if something goes wrong.
The key to the USA's economic strength in normal times is also a huge vulnerability if something goes wrong. Over the last few decades the way everything – including essentials like food – is supplied has changed out of recognition. Back then most people outside the big cities bought food from supply chains that were basically local. Grocery stores bought from local farmers, and people bought from the stores. Even cities were mostly fed by farms that surrounded them and sent in fresh produce every day.
Related: How Much Land Do You Need to Be Self-Sufficient?
Now it's totally different. Refrigerated transport has done a lot for food safety and adding variety to our diets, but it's also destroyed the local supply chains. Food – even fresh produce – probably comes from a different state or even a different country. Cities are often centers for food processing, so the farms that surround them are large, industrialized and geared at supplying the processing plants. In a crisis, it's going to be very hard for cities to get an adequate diet from the land around them. Delivering food is going to be down to the government, and as we all know, the government isn't so good at doing things. Eighty years ago, a crisis wouldn't have stopped the cities being fed. Now it would – and hungry people get desperate fast.
Any society is going to have some kind of conflict between different groups, but there's a point where this becomes serious enough that it makes that society much more vulnerable to a crisis. That point hadn't been reached during the Great Depression – but what about now?
Even back in the 1920s and 30s there were divides in America. Some of these were along racial lines, some between labor unions and employers. When the pressure was on, though, everyone tended to come together and put being an American first. People helped each other voluntarily, worked together and got through the crisis.
Now, the lines between groups have become too hostile to be bridged in any emergency. Who really thinks far-left extremists like Antifa or BLM are going to bury their differences with preppers and offer to work together? No chance – they'll just demand that our supplies are "redistributed" to their followers. The divisions between too many groups are now dipped in hatred – racial, religious, political and social tribes detest each other too much to ever have a common goal.
Law and Order
One of the most dramatic divides in society is between the police and ordinary people. A lot of us grew up with neighborhood beat cops as a familiar sight. We knew them, they knew us, and they were part of the community. Old-style policing helped maintain respect for other people and their property.
Now, there's a hostile gap between the two sides. The police are increasingly militarized, and many citizens dislike, distrust and fear them. The payoff has been increased rates of crime, with serious crimes turning into a plague and minor ones not even worth reporting anymore. That's promoted an anything goes culture that will explode during any crisis, as we've seen after disasters like Hurricane Katrina.
Links with the land
When the Great Depression began, almost one in two Americans lived in a small town or rural area. Now it's less than one in five. That makes a huge difference to the country's ability to survive a SHTF scenario.
Where people have easy access to land they can grow their own food, raise livestock and generally provide most of what they need themselves. Although the dustbowl took that ability away from many people in the 1930s, tens of millions of Americans were still able to feed themselves. That didn't just help their own situation; it also massively reduced the task of feeding everyone else.
Now, almost 81% of Americans live in large urban areas – in some states it's over 90%. When the grocery stores close or are looted these people have almost no ability to feed themselves, and the government doesn't have a hope of doing it for them. That opens the way to starvation on a huge scale, along with violence and looting as desperate, hungry people try to take what they need from the rest of us.
Standing on our own feet
Between the World Wars a large percentage of Americans – even town and city residents – grew at least a few vegetables, even if it was just a small urban garden to supplement what they bought. Most people were used to working with their hands and could fix most things around the home, or even take on large DIY projects with confidence. Most people across the nation cut their own firewood, mended or made their own clothes, and were generally good at taking care of themselves. That gave them valuable skills to fall back on when there was a crisis.
Now, that just isn't true anymore. Many rural people still cut wood and hunt for meat, but for most Americans those are things their grandparents did. Even in small towns a lot of people aren't only not self-sufficient; they can't be self-sufficient, because they just don't have the skills and tools. As for the cities, forget it. Urban residents depend on the whole complex economic system that will quickly fail in any crisis, and most of them wouldn't even know how to start looking out for themselves.
The USA is a much richer, more powerful nation than it was during the Great Depression. Despite that, it's also a less resilient one. If another crisis on that scale hits, will we see people pulling together to get through it? It doesn't seem likely. Instead the country is more likely to fracture into competing groups out to get what they can. That's why we need to be prepared to look after ourselves, because there's nobody else we can rely on.
You may also like:
8 Places to Avoid After the SHTF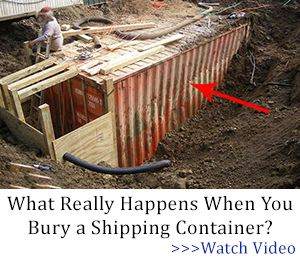 This Bug Will Kill Most Americans During The Next Crisis (Video)
The 6 Golden Rules of Surviving Martial Law
21 Wild Edibles You Can Find in Urban Areas
Survival Tips From Mountain Men