Well-organized stockpiles of food are our safety net during uncertain times. With an impending depression looming, it's time to take a look at our canned food stock and adjust as necessary.
If you need to add to your canned food collection, eat what you have, then head out to the store to buy some more. There is no telling what tomorrow can bring.
To keep your canned food storage optimal, you know there are quite a few steps involved. It's not as simple as buying out the clearance section of the canned food aisle and saving it for a rainy day. That's not prepping, it's just overbuying.
Here are some common mistakes you are making when buying canned foods for storage:
Disregarding Shelf Life
Expiration dates and best-buy dates are untrue when it comes to canned food, so what do you do?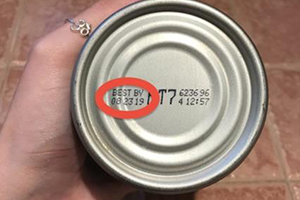 Use-by dates on canned foods are usually an arbitrary date set by the manufacturer and have little to do with the can's shelf life.
In an emergency, you can pop open an undamaged can of beans that expired 5 years ago to keep your family fed without harm.
The quality may be compromised, but the food is still safe to eat.
Related: How to Tell When Your Canned Foods Become Spoiled?
Shelf life has more to do with the freshness of taste and texture rather than spoilage in most cases. Canned foods sitting in water for too long, like corn or potatoes, can get mushy and lose consistency.
The canned food will be edible past the expiration date, but the flavor and texture may dissipate. Nutritional value also decreases.
Non-acidic foods have a fresh shelf life of up to 5 years before sacrificing quality. Acidic foods like canned tomatoes or mandarin oranges have about 18 months. The foods are still edible beyond that timeframe, but you may enjoy them less than usual.
Not Rotating Stocks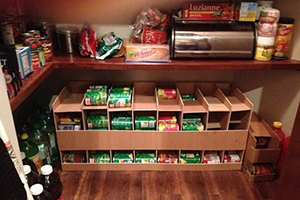 First in, first out, or FIFO is a tactic I use to rotate my stock.
Older items go in the front of the shelf, newer items are stored behind them. The newer items have a longer shelf life, so they can sit longer than previously purchased cans.
There are even FIFO shelves for purchase to track your stock rotation, which I use to make stocking and storing that much easier. Why not take all the help you can get?
Always keep your stock rotating forward, otherwise, you are sitting on uneaten food that goes bad, which is not saving money in the long run.
The continued rotation will also keep your stock fresh and nutritious. Not adding on top of, but rather replacing food stock sets you up for a survival situation.
Not Having an Organized List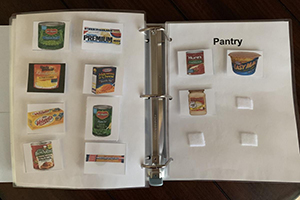 An organized, itemized list of all foods should be kept near your stock. This list should also include expiration dates for each food item.
This helps you keep in mind what needs to be eaten and replaced before the food loses freshness.
You are not going to want to go through each can's expiration date when you're desperate just because you can't bother to be organized.
Related: What Should You Do With Your Canned Foods After the Expiration Date?
Buying Big Cans Instead of Single Portions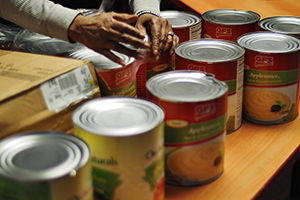 The biggest waste is buying a large can of something only to eat half of it before the food spoils. You may think large cans are more economical when grocery shopping, but that doesn't mean they are better. You have to be sure you will eat that whole can in one sitting before opening it up, no matter the size.
Make sure that each family member has their own 14-16 oz. can of their preferred fruit, vegetable, or prepared food. Any larger may go to waste, and wasting food in a time of survival is not okay.
Keeping Dented or Rusty Cans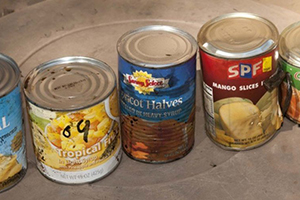 Canned foods typically do not spoil on their own. Usually, there is an outside force that has to do with spoiling. The can itself has either corroded or cracked. If you drop a can, a dent or crack can form on the can's surface. This is the perfect pathway for bacteria to get into the food and breed.
Do not keep rusty cans, either. Rust means moisture, and moisture is like a welcome mat for diseases and bacteria.
All food storage cans should be dent-free, rust-free, and moisture-free. You can't always tell by taste or smell if bacteria has made its way into the can, but rust or dents are a sign of potential harm inside the can.
Related: How to Make a Natural Remedy for Food Poisoning
Storing Food You Don't Like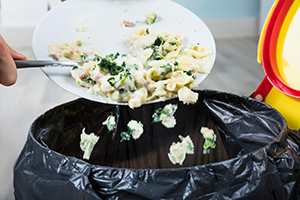 Sure, you might inherit some canned goods from grandma moving or a generous neighbor donation. However, only keep foods that you like to eat in your stock.
If you don't want to eat it now, you will not want to eat it later.
In a dire situation, you will not be happy with 50 cans of lima beans if you hate lime beans.
Storing food you don't like also takes up precious space on your shelves. It seems like I shouldn't have to tell you to not stock non preferable food, but you'd be surprised.
If you won't eat it, donate it to a food pantry instead and share the wealth.
Storing Food You Don't Know How to Prepare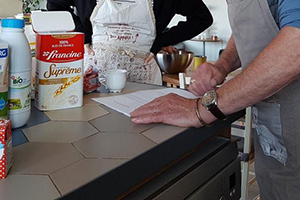 Again, you may have an inheritance of canned food, not knowing exactly how to prepare all of it. If desperate times come and all you have in your stock is food with confusing preparations, your family could go hungry. All food is not always good food, so be picky about what you keep.
Do not take up precious storage space with foods like MREs if you do not know how to prepare them.
The same goes for any preserved raw food that requires some type of cooking for safe eating. If you are unsure of preparation details, do not keep that item in your stock. It will be more trouble than it's worth.
Cleanliness and organization are the two most useful tools to avoid mistakes when buying canned foods.
Once you master that, use the FIFO method for first in, first out when rotating your food storage.
This way, nothing goes to waste and your stock stays full. Be sure to only stock foods that you and your family enjoy.
My motto is waste not, want not, so be smart about the impending depression and what it means for your canned food supply.
You may also like: 
5 Ingenious Ways To Refrigerate Your Food Without Electricity (Video)
Cheap Foods That You Can Buy At A Mormon Cannery
The Bug-Out Vehicle That Can Literally Take You Anywhere You Want