Surviving a crisis is a lot easier if you're appropriately armed. With the right weapons, you can protect yourself from attackers and hunt game to improve your diet. In the US we're lucky; even in the most restrictive states, it's still possible to buy guns that will cover most survival situations. But what if disaster strikes and you don't have any guns to hand?
There are ways that can happen – you could be away from home, for example. Sometimes you just have no choice but to go somewhere with no weapons. The problem is, when the world as we know it decides to end it's no respecter of the choices you've had to make. You can find yourself in a survival situation with no weapons, so you need to know what to do about it. Luckily there's an answer – make some.
There are a lot of weapons you can improvise from everyday objects and materials, if you know how to go about it. Sure, they're not as effective as a good firearm – but they're a lot better than nothing, and could make the difference between life and death.
Here are some of the most effective homemade weapons every prepper needs to know about:
Spears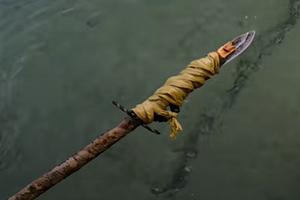 Forget all those sword-swinging movie heroes; before guns took over the battlefield, most soldiers carried a spear. Spears are excellent weapons for a whole bunch of reasons. They're cheap and simple to make. They give you a long reach and let you keep enemies at a distance – a well-handled spear will beat a knife every time.
With a bit of practice, you can throw spears a reasonable distance They double as walking sticks and carrying poles. They're a good way to tackle large but slow-moving animals. You can catch fish without getting wet. If you know how to make a spear, you can equip yourself with a reasonably effective weapon almost anywhere.
To make a spear, start with the shaft. You want a solid pole that's as straight as possible. You can make a small spear from a hardwood broom handle, but ideally you want a shaft at least six feet long and 1.5-2" thick. Straight-grained hardwood is best, but the main thing is it needs to be solid. A good spear has some weight behind it, too.
If necessary, you can simply sharpen the point of the spear then harden the tip in a fire. You can make a sharper and more durable point with a knife (the more symmetrical, the better). Don't use your primary knife as a spearhead – as well as the obvious risk of it getting lost or damaged, it's hard to use as a knife when it's tied to a six-foot pole. Find an old knife; a chef's knife will work well. Remove the handle, split the end of the pole, fit the knife's tang into the split then bind it up tightly.
Slingshots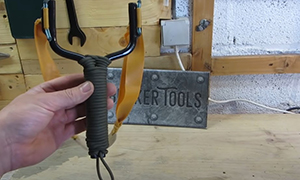 A slingshot isn't just a kid's toy. Well handled and with the right ammunition it's great for taking small game, and it can deter an unarmed attacker. They might laugh when they see it, but whack a half-inch BB off them and they'll start taking the danger seriously.
To make a slingshot, find a strong forked branch and cut it down into a Y shape. Find some strong rubber. You'll see sites that tell you to use the elastic out of your pants. Don't bother; it's nowhere near strong enough.
You need something like surgical rubber tubing or an old bicycle inner tube. Cut a pouch from leather – a three-inch section from a belt with do – and punch a hole in each end. Knot a length of rubber through each hole.
Related: 50 Prepper Items To Shop For At The Thrift Store or Yard Sale
Cut a groove round each upper end of the Y on your fork, and tie the rubber tightly to it. Then find some ball bearings, glass marbles or round stones, and start practicing. A slingshot can easily drop a rabbit, or knock birds and squirrels out of trees – and unlike a bow, there's no risk of nailing your quarry to a branch 50 feet up.
Self Bows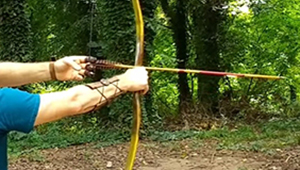 Bows definitely have their place, though. They're harder to make than slingshots, but much more powerful – with the right bow you can bring down any animal in North America. In fact there are tribes in Africa that hunt elephants with simple wooden self bows.
A self bow is a bow made from a single piece of wood. To make one, find a straight branch or trunk made from a rough, springy wood like osage orange, Pacific yew or red oak, split it into quarters along the grain, then shape one of the quarters down into a bow.
Use a tiller to gradually bend it further and further as you carve it, so you can check it bends smoothly with no weak or still spots. Then string it with strong cord and you have a powerful, easily maintained weapon.
PVC Bows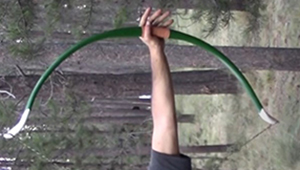 The hardest part of making a good bow is finding a good piece of wood to make it from. If you're struggling with that, don't worry – there's a modern alternative. Just find yourself a five-foot length of PVC pipe and you can make a powerful bow.
You can turn any PVC pipe from about ¾" to 1.5" diameter into a simple bow. What you have to do is mark out a 5" section in the center, then cut away one side of the pipe outside of that section to form the back of the bow.
Just like making a self bow, you can use a tiller to help get the curve right. Then file notches into the ends to take a string, and you have a bow. If you can, wrap the center section in cord or leather to give a better grip. If you have a heat gun you can even make a more sophisticated PVC recurve bow.
Pepper Spray
If you just want something to deter harassment and mugging, pepper spray is ideal – but in a crisis it could be hard to find unless you get to the store early.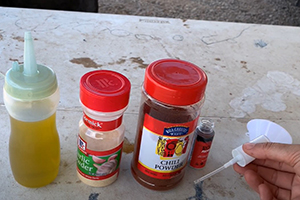 On the other hand, you can easily make your own.
Put 4 tablespoons of ground chili powder in a bowl. Pour in 100ml of rubbing alcohol and leave it for eight hours so the alcohol can soak up the capsaicin from the chili.
Mix in two tablespoons of olive oil to give the mixture more density and help it stick. Then filter it through cheesecloth or a fine wire strainer to remove the particles of chili, and load it into a small spray bottle.
Store it in a cool, dry place.
Taser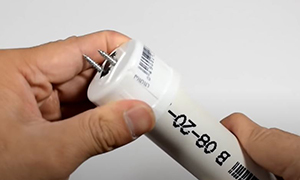 Want a more modern way to scare off attackers?
An electronic stun gun should do the trick! Police-style Taser pistols are expensive, and the ammunition for them can be hard to get, but you can easily build a simple hand-held stun gun.
All you need are two nails, a few cheap and simple electrical components and a plastic project box to fit all the parts in. You can find a detailed tutorial here.
Caltrops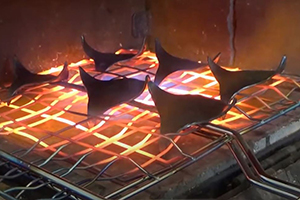 Caltrops were used in the Middle Ages as a sort of anti-cavalry minefield. You can make a caltrop from two metal rods, joined together into a cross and bent so one point is always facing upwards. Sharpen the points and you have a nasty little weapon that will injure any attacker who stands on one and make his friends slow down and go carefully.
If you have basic welding equipment you can easily make caltrops out of large nails. Place two nails so they cross at the centers, then simply weld them together. Bend them with heavy pliers or a vise and hammer so that, however they lie, one point sticks up. Then cut off the nail heads and grind into points.
A bag of caltrops scattered behind you can deter pursuers, or use them to booby-trap parts of your property that can't be seen from the house. Just remember where you put them!
There are plenty other improvised weapon designs on the internet, but I wouldn't want to trust my life to most of them. If you need an improvised weapon you need one that works. Stick to simple, proven designs like the ones here, and they won't let you down.
Even simpler weapons can be picked up as needed; a solid branch or table leg will make a good club, a baseball bat makes an even better one, and a well-thrown rock will put off many predators of both two- and four-legged varieties.
If you have more time, a spear should be your first priority – it's the easiest to make – followed by a good bow to give you some range.
Remember that so-called "primitive" weapons are still used every day by people whose whole life is a survival situation. One reason things like the spear and bow have stuck around so long is that they can be relied on to do the job.
You may also like: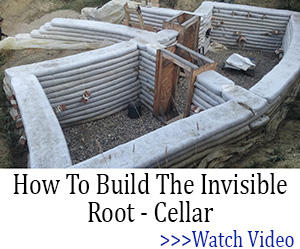 How to Keep Your Money Safe for When SHTF
This Homemade Device Can Power Up Your Entire House 7 Days In A Row (Video)
34 Wild Plants Every Prepper Should Know