Editor's note: This article was written by one of our readers, Ornela Freimane. The title of the article is How To Make A Year-Round Self-Sustaining Garden because it talks about the Aquaponic system and how this is a great way to grow hundreds of pounds of fish and fresh vegetables that your family needs without pesticides, herbicides or antibiotics, no weeds, no water wastage. Feed the fish daily and enjoy harvesting your own food.
Let me introduce you to aquaponic farming where fish and plants live in a combined ecosystem – mutually beneficial cycle, providing fresh local food that is free from pesticides and chemicals all year round.
It can be built in your back yard or indoors, hot or cold climate, even in the desert. Furthermore, with aquaponic farming, you can grow way more food with far less water wastage, less land, and less physical work as all job will be done by your fish.
But the most important thing is that you can build the aquaponics system yourself without spending a fortune as the system is easily replicated with whatever materials you have, and it will work just as well as any other.
First, let's look around and decide where we can build it:
As I have a garden, I decided to dedicate a larger part of it to the aquaponic system.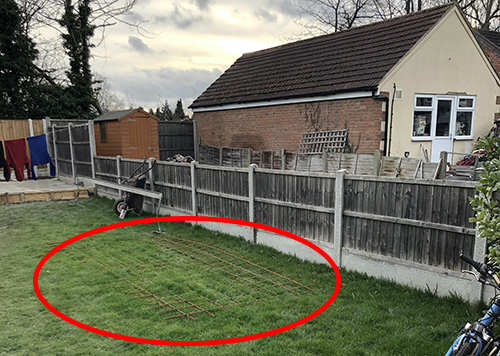 The weather is not ideal for crops to grow all year round in London (UK) so I had to build the system inside the greenhouse (8×20 feet) – the most convenient place for the necessary daylight and perfect place to control the temperature. You won't need it if you live in Florida or you want to shut down the system for the winter in a cold climate area.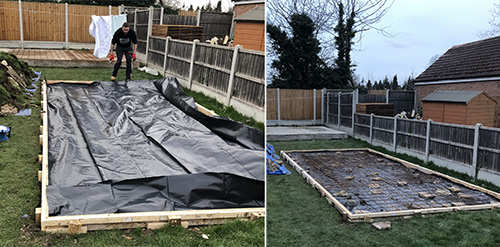 The system set up requires very careful planning so it could be for the long-term purpose. Choose the style you want but remember – the beds are heavy due to water and gravel.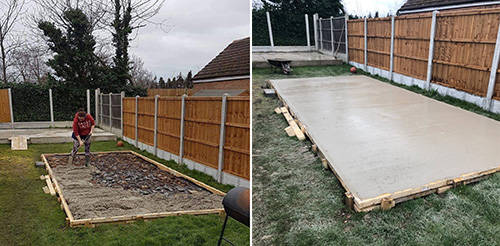 Make sure they are sturdy and withstands the weight, waterproof and deep enough for the roots (30 cm in depth is enough).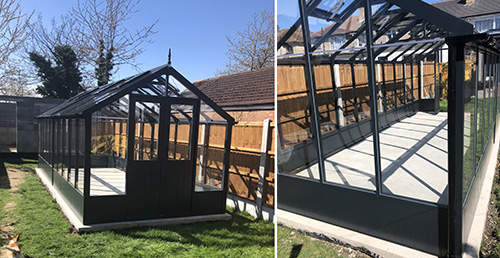 There are many types of aquaponic systems, but I chose to build two: flood and drain; and deep-water system.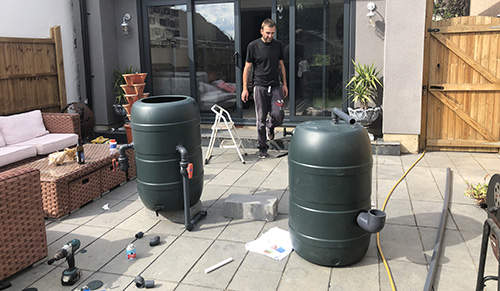 Related: How to Supplement Your Potable Water Supplies by Cheaply Harvesting Rainwater
It's enough to have only those two systems to feed a family of 4 all year round.  For this I needed:
Fish tank – I used a 1000 liter IBC container as it's cheap and easy to maintain (it cost approx. $20 on eBay)
Swirl filter and mineralization tanks. 200-liter barrels are ideal for it. ($10 each on eBay)
Raft bed – for the deep-water culture. This is probably the easiest bed to plant and harvest as it consists of polystyrene with holes cut into it. This bed requires additional aeration for plant roots. (We used timber to build the beds as we had so many leftovers from the previous projects)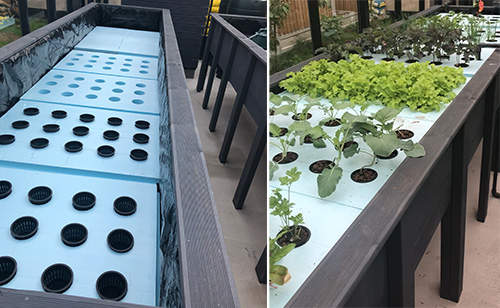 Flood and Drain bed also called Media bed. It's a perfect place for bacteria to convert nitrites to nitrates. This bed requires syphon and limestone free gravels.
Pump (it's always placed in the sump tank); Good pump will cost you approx. $150
Sump tanks for the water to drain from the media beds;( IBC containers can be used as sump tanks; just cut them in half)
Aeration stones for fish, roots, and mineralization tank; (those are cheap: $2-$5)
Air pump. The stronger the pump, the better. (I paid $65)
Plumbing to connect all the parts. Just make sure that every part is connected well to prevent any leakage. Various size and shape pipes, tubes, valves, and threads needed for the system (I spent around $200 for all new parts). When connecting parts, remember to create a cycle: fish tank – swirl filter – mineralization tank – sump tank – media and raft beds- fish tank. The US Department of Agriculture has a massive link that covers lots of aspects of aquaponic farming and design ideas. It will help you to understand the whole plumbing if you are new to it.
Siphon – can be made using slip caps, PVC pipes, and tubes. Or you can buy on eBay for $20 each
Water – The system circulates the same water so there is no wastage. Rainwater is ideal for your aquaponic.
Fish – I grow tilapia in summertime and trout in winter. Koi, perch, carp and catfish are also easy to grow in the system. Choose fish native to your area. (We have 30-40 tilapias in a 1000 liter tank)
Plants – All crop above ground grow well in the system: salads, tomatoes, broccoli, cucumbers, grapes, strawberries, even tropical fruit trees. Plants grow way faster in aquaponics as they get nutrients from the fish waste.
We chose to grow tomatoes, cucumbers, a different type of lettuce, spring onions, kale, Romanesco broccoli, rocket salads, even the watermelon.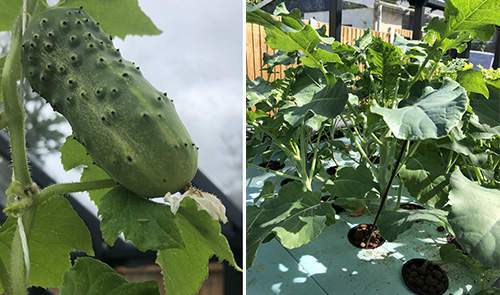 All beds and even the fish tank can be made from concrete, IBC containers, Fiberglass, wood or PVC. All components are common around the World and can be easily found at your local hardware or gardening stores. You can also buy them cheaper on eBay, Gumtree or any second-hand shop.
You may also like: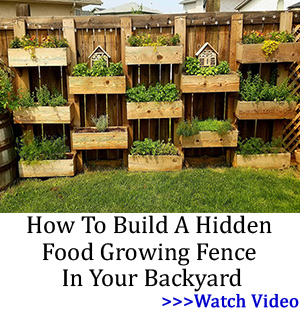 10 Beautiful Plants That Are Secretly Killing Your Garden
An Insanely Effective Way to Build a 5 Year Food Stockpile (Video)
Cheap But Useful Preps I Bought At The Yard Sale
24 Lost Gardening Tips from 100 Years Ago
Did You Pass On These Skills To Your Sons When They Were Young?