A while back I've shared with you a list of 24 movies about survival.
Since then, I've come to realize there are many other movies that serve the same purpose and can reveal an ingenious way to move forward after a natural or man-made disaster.
#50. The Most Dangerous Game (1932)
Five shipwrecked survivors wash up on a jungle island only to become prey to a wealthy hunter interested in pursuing a different game than the four-legged kind.
#49. My Side of the Mountain (1969)
Sure, it's a family-friendly movie, but do you constantly find news stories about little boys who survive being lost in the wilderness? I do, and it's because of the most important part of survival: keeping yourself in good spirits.
#48. Jeremiah Johnson (1972)
Mexican-American War vet Jeremiah hears the mountains calling after serving his duty, but quickly discovers there is a steep learning curve he must overcome in order to survive long enough to become a self-sufficient mountain man of the Rockies.
By escaping the horrors of civilization he only finds brutality in the wild, and must now contend with the cold, grizzly bears, and the hostile Crow Indian Nation.
There is a lot of practical mountain man knowledge and life hacks in this one, including an ingenious way of sleeping warm on the ground by burying hot coals underneath you.
#47. The Cay (1974)
An old man teaches a boy how to survive on a desert island after their passenger ship is torpedoed by the Nazis during WWII.
#46. Death Hunt (1981)
Charles Bronson stars as a survivalist trapsman on the run from Canadian Mounties in the harsh British Columbia wilderness.
#45. The Voyage of the Mimi (1984)
Highly practical with great production value, this mini-series was Ben Affleck's acting debut that they showed all kids (like me) in the state of Washington to teach surviving shipwreck.
#44. Dances With Wolves (1990)
A military officer keeps his post after discovering his duty station on the barren plains abandoned, only to fall in love with the simple, good natured Indian people it's there to dominate.
Related: Home Security Tips From A Military Expert
#43. Lord of the Flies (1990)
Stranded on an island, a group of schoolboys degenerate into savagery.
#42. A Cry in the Wild (1990)
A boy who is the lone survivor of a plane crash in the Yukon wilderness uses only a hatchet to survive.
#41. Alive (1993)
Uruguayan rugby team stranded in the snow swept Andes are forced to use desperate measures to survive after a plane crash.
#40. Legends of the Fall (1995)
WWI and tense rivalry break up a close-knit family living in the Montana wilderness, but they must re-unite to survive further troubles.
#39. Last of the Dogmen (1995)
A rugged bounty hunter discovers a lost tribe of Cheyenne Indians living in the present-day Montana Oxbow Quadrangle.
#38. The Edge (1997)
An intellectual billionaire and two lesser men struggle to band together and survive after getting stranded in the Alaskan wilderness with a blood-thirsty Kodiak Bear hunting them down.
#37. 7 Years In Tibet (1997)
A German mountaineer team attempts to summit Nanga Parbat in India in 1939, only to be arrested as enemy aliens as WWII begins to escalate across the globe.
They escape a POW camp and navigate the high plateau into Tibet, where they must evade detection during the invasion by The People's Liberation Army of China. Based on true events.
#36. The Endurance: Shackleton's Legendary Antarctic Expedition (2000)
Detailing the famous Shackleton expedition to the Antarctic, the ship Endurance is sunk, leaving the 29-man crew drifting on the ice for 10 months. All survived.
#35. Cast Away (2000)
A FedEx executive must transform himself physically and emotionally to survive a crash landing on a deserted island.
#34. As Far as My Feet Will Carry Me (2001)
At the end of WW2, a German POW doing hard labor in the Soviet Gulag escapes from his Siberian camp to return to Germany but he's pursued by a Soviet NKVD officer.
#33. Enemy at the Gates (2001)
A man uses the survival and hunting skills taught to him as a boy in the Ural Mountains to help defend Stalingrad during the German invasion of the Soviet Union.
#32. The Four Feathers (2002)
A British officer is branded a coward for not accompanying his regiment into Egypt during the Mahdist War. After shame awakes his courage, he treks the deserts of Africa to save some of his friends imprisoned in the Khalifa's prison.
#31. Rabbit-Proof Fence (2002)
In 1931, three aboriginal girls escape after being plucked from their homes to be trained as domestic staff and set off on a trek across the Outback.
#30. The Hunted (2003)
Tommy Lee Jones stars as an elite tracker who trains survival skills for the military, and is tasked to hunt down his best pupil.
#29. The Snow Walker (2003)
A bush pilot and a sick Inuk woman must survive the elements of the Northwest Territories after a plane crash.
#28. Alone in the Wilderness (2004)
Dick Proenneke documented his years-long experience in the Aleutian Peninsula in Alaska, during the 1960's, building a log cabin and living off the land.
#27. Flight of the Phoenix (2004)
Survivors of a plane crash in the Mongolian desert work together to build a new plane.
#26. Grizzly Man (2005)
I get it, he was a bit of a goofball who messed up, bad. But he still went out into the rugged Alaskan backcountry and documented great Grizzly bear photage, and with a smile on his face.
#25. Eight Below (2006)
Brutal cold forces two Antarctic explorers to leave their team of sled dogs behind as they fend for their survival.
#24. Rescue Dawn (2006)
A U.S. fighter pilot's epic struggle of survival after being shot down on a mission over Laos during the Vietnam War.
#23. Apocalypto (2006)
Much of the New World was unknown even to indegenous peoples.
As prisoners of a raided village are brought into the heart of the resplendent Mayan empire, one by one are marched up a pyramid for human sacrifice until a few overcome their terrifying awe and make a desperate escape back into the dense jungle, and make a stand against their pursuers on their own turf.
#22. No Country For Old Men (2007)
Pursued across Texas from the plains to the Mexican border by a psychotic hit man, a Vietnam veteran with stolen drug money must rely on his wits and balls before he can spend it.
Related: 5 Bad-ass Perimeter Defense Lessons From A Vietnam Vet
#21. Into the Wild (2007)
After graduating from Emory University, top student and athlete Christopher McCandless abandons his possessions, gives his entire $24,000 savings account to charity and hitchhikes to Alaska to live in the wilderness. Along the way, Christopher encounters a series of characters that shape his life.
#20. The Road (2009)
In an apocalyptic world, a father and son roam a desolate landscape for the means of survival. When every other of the few survivors they encounter have turned to scavenging and murder to live just another day without hope, he tries to raise his son in the image of the goodness that's dissappeared.
The water's toxic, and not even a blade of grass grows, this movie is scary in the way it shows what it would be like to depend on finding a can of beans nobody else has yet to live. It's also unfortunately but undoubtedly accurate of what your fellow man might do if he's hungry enough.
#19. Happy People: A Year In The Taiga (2010)
On the Yenisei river of Siberia, a small indigenous tribe thrive within a beautiful but vast and unforgiving wilderness. Documentary makers Dmitry Vasyukov and Werner Herzog follow the everyday lives in the village Bakhtia, where the people have found contentment and a meaningful commitment to their world apart.
An immigrant sable hunter who has learned their ways and earned their respect demonstrates a lot of bushcraft, from building canoes to homemade mosquito repellant.
#18. 127 Hours (2010)
An adventurous mountain climber becomes trapped under a boulder while canyoneering alone near Moab, Utah and resorts to desperate measures in order to survive.
#17. The Divide (2011)
Survivors of a nuclear attack are grouped together for days in the basement of their apartment building, where fear and dwindling supplies wear away at their dynamic.
#16. Wrecked (2011)
A man trapped in a car wreck at the bottom of a ravine must overcome incredible odds to survive.
#15. The Day (2011)
A group of five people working to stay alive in a post-apocalyptic future discover what they think is a safe, abandoned farmhouse, but they soon find themselves fighting to stay alive as a gang of bloodthirsty predators' attack.
#14. The Grey (2011)
After their plane crashes in Alaska, six oil workers are led by a skilled huntsman to survive. But a pack of merciless wolves haunts their every step.
#13. Into the White (2012)
Norway, WWII: A group of British and German soldiers find themselves stranded in the wilderness after an aircraft battle. Finding shelter in the same cabin, they realize the only way to survive the winter is to place the rules of war aside.
#12. The Hunger Games (2012)
Katniss Everdeen voluntarily takes her younger sister's place in The Hunger Games, a televised competition in which two teenagers from each of the twelve Districts of Panem are chosen at random to fight to the death.
#11. All Is Lost (2013)
A solo sea journey turns drastic when the mariner's boat sinks and he's left floating in a raft. Improvising his own solar still to make drinkable water is one of the many things he'll have to do to survive.
Related: How to Make Your Own Distiller To Filter And Desalinate Water
#10. Scenic Route (2013)
Tensions rise between lifelong friends Mitchell and Carter after their truck breaks down on an isolated desert road as they start to attack each other's life decisions with unwavering brutality.
#9. Unbroken (2014)
After a near-fatal plane crash in WWII, Olympian Louis Zamperini spends a harrowing 47 days in a raft with two fellow crewmen before he's caught by the Japanese navy and sent to a prisoner-of-war camp.
#8. The Revenant (2015)
A fur trapper is mauled by a grizzly in the uncharted wilderness of the American frontier and left for dead by his partners. But he's not dead, and even if he has to crawl out, he'll get revenge.
#7. The Martian (2015)
An astronaut becomes stranded on Mars after his team assume him dead, and must rely on his ingenuity to find a way to signal to Earth that he is alive.
#6. The Wave (2015)
Although anticipated, no one is really ready when the mountain pass above the scenic, narrow Norwegian fjord Geiranger, collapses and creates an 85-meter high violent tsunami. A geologist is one of those caught in the middle of it.
#5. 10 Cloverfield Lane (2016)
After getting in a car accident, a woman is held in a shelter with two men, who claim the outside world is affected by a widespread chemical attack.
#4. The Finest Hours (2016)
The Coast Guard makes a daring rescue attempt off the coast of Cape Cod after a pair of oil tankers are destroyed during a blizzard in 1952.
#3. The Survivalist (2017)
During a time of dwindling human population, a man lives efficiently alone in the woods. When two women show up searching for food, paranoia endangers their budding alliance.
#2. The Way Back (2020)
Siberian gulag escapees travel 4,000 miles by foot to freedom in India.
#1. The Mosquito Coast (2021)
Harrison Ford stars as a father fed up with American consumerism. So he moves his family to the jungles of Central America where he hopes his inventionism will improve the lives of local inhabitants.
Are other movies out there you think should have made this list? Let us know in the comments below!
You may also like: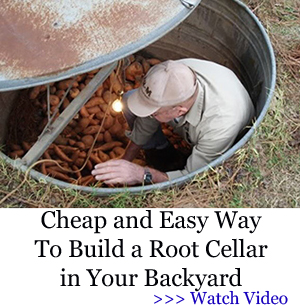 Classified FEMA Report Confirms Preppers' Worst Fears
The Berry That Is Illegal To Grow, But Perfectly Fine To Forage (Video)
How to Make a 55-Gallon Compost Tumbler Fast, Cheap and Easy
If You Don't Have These 7 Items, You Are Not Really Prepared
6 Practical Uses for Autumn-Falling Leaves