Part of the advice in these two videos is clearly questionable, but there are also some good points. Technically, in 25 minutes you can learn a lot of stuff just by watching the videos. Enjoy!
How to start a fire with your lighter when it runs out of gas (0:00)
Use an aluminum foil as a dry platform to start the fire in wet weather (0:10)
How to lower the light of your flashlight to operate in stealth mode (0:24)
How to find north and south using your watch and the sun (0:32)
How to easily find The North Star (0:52)
Having a guitar case as a B.O.B. (1:20)
Homemade ballistic protection – stops a 22 long rifle bullet (I wouldn't count on this though) (1:36)
Purify water with bleach (ratio in the video) (1:57)
Use toothpaste to treat insect bites or stings; (2:03)
If you put tent pegs laid across 2 logs you have a shift grill; (2:13)
Make your own fishing kit using a can, a thorn and some string; (2:16)
In wet conditions you can easily acquire tinder by shaving off strips of the inner bark of twigs and logs; (2:20)
Placing large rocks around a camp fire will keep your warmer because they will absorb heat even though the fire dies; (2:27)
Add charcoal to the water while boiling in order to remove the unpleasant smell; (2:39)
The inner strands of a paracord helps you tie your equipment or make a shelter without using the whole paracord. (2:52)
Duct tape a thermal blanket to the inside of your shelter to stay warm; (3:00)
Put a glowstick in your B.O.B. in case you'll want to attract attention. (3:10)
If you carry a rain coat you can use it as a make shift shelter, you can also create a solar still to gather and purify sea water or you can use it to collect rain water; (3:23)
Put some water purification tablets in your pack; (3:47)
Use barbwire to make a fishing hook with paracord. (3:56)
Don't throw away animal entrails; use them as bait for fishing, traps and snares; (4:20)
How to remove the stinging sensation after you accidentally touch a stinging nettle; (4:36)
Don't waste time on chopping logs, a swift kick is perfect; (4:50)
Don't forget your first aid kit and copies of important documents (birth certificate, medical records etc.); (5:02)
Pack a small amount of money; (5:19)
Make yourself a platform out of leaves and weeds to create yourself a soft raised bed (5:27)
When you pack your bag, put the light equipment at the bottom and the heavy things on top; (5:57)
Avoid sweating in cold weather; (6:10)
Carry a pack of cigarettes even though you are not a smoker; (6:33)
Keep insects away with smoke; (6:42)
Don't forget to pack some pairs of socks; (6:59)
If you get a blister, take a duct tape and place it directly over the area; (7:10)
Carry chewing gum with you, it has a mild laxative effect; (7:41)
Don't drink too much water on an empty stomach; (7:51)
Know how to signal S.O.S.; (8:18)
Don't set up camp near water; (8:43)
The internationally recognized distress signal: raise both arms up into Y position and back down erratically; (9:00)
4 reasons to stop smoking during a survival situation; (9:49)
Don't drink water just because you see an animal doing it (10:18)
If you come across coconuts, drink the milk only from green coconuts (10:28)
Another reason to carry aluminum foil in your B.O.B.; (10:43)
Cramp Balls can be very useful when you need to start a fire; (0:00)
How to make an easy signal torch; (0:45)
Start a fire using bark; (0:59)
Start a fire using a pencil sharper; (1:24)
Start a fire using dandelion; (1:33)
Start a fire using feathers; (1:43)
Start a fire using pine resin; (1:50)
If you melt some pine resin, you will get a glue which can be used in different situations; (1:56)
How to make a signal fire; (2:35)
Don't just insulate your shelter, insulate yourself; (2:46)
Use your plastic sandwich bag and a water purification tablet to purify water;  (2:54)
Gather water from moss; (3:05)
Gather dew water using your clothes; (3:18)
Waterproofing your gear; (3:29)
Make a water filter using charcoal, sand and grass; (3:44)
You can use your aluminum foil to make a bowl to boil the water; (4:12)
Used shotgun shells can be melted down and reshaped in order to build different tools; (4:26)
Start a fire using pine cones; (4:43)
Place an aluminum foil next to the fire to use as much of the heat as possible; (4:56)
Reflecting the heat of the fire with natural materials; (5:12)
Make a giant mirror using aluminum foil; (5:25)
Put in your BOB a simple signal device; (5:38)
Don't rely on signal mirrors because they depend on the sunlight and can't reflect sunlight in a northern direction, you will need two mirrors to do that; (5:54)
If you are in the northern hemisphere, and the sun is in the highest point of the sky, then that's south; (6:15)
Use raw apples to heal a wound or ulceration; (6:27)
The pine resin can also be used as an antiseptic liquid; (6:38)
Use acorns, oak bark or blackberry as a remedy for diarrhea; (7:12)
Use rose hips or dandelion for constipation problems; (7:45)
Avoid being snow blinded using charcoal or bark; (8:03)
Melt the snow before drinking it; (8:51)
How to use dock leaves as a natural antihistamine; (9:01)
Use willow tree inner-bark as aspirin; (9:19)
Use cattails to start a fire; (9:41)
Make a toothpaste using charcoal; (9:55)
If the food is almost over, then the best thing you can do is to wait until night to eat because your body will burn a lot of calories during the night to keep you warm; (10:06)
Use alcohol as an antiseptic; (10:17)
If you are dehydrated, drinking your own urine is not the answer, it will dehydrate you even more; (10:30)
Use paracord to make a glue; (10:47)
Tampons can be used to stop bleeding or to start a fire; (11:01)
How to harden your wooden tools; (11:15)
Placing duct tape on the edge of a hot water container will prevent burning your lips; (11:24)
Use aluminum foil to boil water faster; (11:32)
Make a pillow using trash bags and leaves; (11:52)
A scarf can help you do a lot of things; (12:12)
A duct tape is very useful; (12:23)
A reflecting emergency blanket can be used to cool down or to heat yourself; (12:34)
Insulate your shelter with natural materials, such as pine branches; (12:51)
Bark from a dead tree will help you build up your waterproof roof; (13:00)
Use strings (guitar strings here) to catch animals; (13:29)
Rat traps can be very useful; (13:32)
A red sky can be a sign that a storm is close; (13:43)
Pack up some toilet paper; (13:57)
You may also like: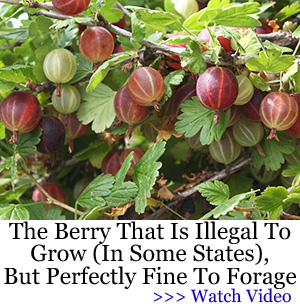 Deinfluencing You: 14 Items You Should Stop Stockpiling Right Now
Do You Make These Fatal Mistakes In A Crisis? (Video)
You Need This To Survive A FEMA Takeover
How Long Can You Store Water Before It Becomes Unsafe To Drink?