Whether you're looking for convenience meals or want the best recipes for long-term storage for your emergency kit, these are the top five meals in a jar.
With easy recipes and step-by-step instructions, you'll have no trouble getting the most out of these pressure canned meals in a jar.
If you're new to canning, purchase the necessary equipment and familiarize yourself with the basics before you start.
Most county extension offices also offer low-cost classes you can take to help you feel more confident about canning.
Necessary Equipment
Here are a few other tools you'll need:
Canning jars
Canning jar funnel
Kitchen tongs
Jar lifter
Stainless steel ladle
Bubble remover
Measuring cups and spoons
Pressure canner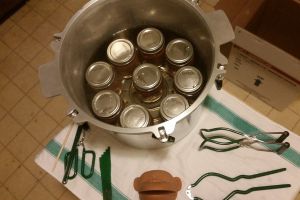 It's essential to follow safety precautions when canning foods at home. Prevent food-borne illnesses and spoilage issues using tested recipes from trusted sources.
Be aware that if you live at an elevation higher than 2,000 feet, you must process food at more pounds of pressure.
However, using the wrong pressure when canning your meals is not the most critical mistake you can make; this one is, and even the most experienced cooks can fall victim to it.
Pressure Canning Meals in a Jar
These five meals in a jar are simple to prepare favorites. Canned recipes for long-term storage will last 5 to 10 years, and they are the perfect way to stock your emergency cupboard with ready-to-eat meals.
You don't need a major crisis to enjoy these all-time favorites. They're also perfect for feeding the family when you're not sure what to cook for dinner or don't feel like going to the store.
The following recipes are for canning pint jars. If you want to use quarts, they will need to be processed for 90 minutes.
Beef or Venison Stew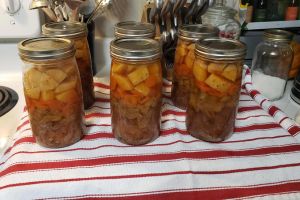 Beef stew is good, but somehow, it's even better when it has been home-canned.
This is one of the easiest canned meal-in-a-jar recipes to make.
Always use fresh, high-quality beef or venison and vegetables.
Don't forget that supermarket vegetables often undergo treatments with potentially harmful chemicals and pesticides.
But there's one easy trick you can use to test the quality of the produce you find in supermarkets – and it's not something they teach you in schools or on mainstream channels.
Prepare the Ingredients
Start by cutting up all of the ingredients. Cut the beef into 1-inch cubes and brown the beef in 6 tablespoons of olive oil in a large skillet.
Potatoes should be peeled and diced into 1-inch chunks, and carrots can be sliced into rounds or chunks smaller than one inch. Cut onions and celery into ½" pieces.
Ingredients
5 pounds stew meat
12 cups potatoes (approximately 5-pound bag of potatoes)
8 cups carrots (about 3 pounds of purchased carrots)
3 cups onions (about 2 medium onions)
3 cups celery (one small celery head)
12 cups beef stock
4 teaspoons salt
½ teaspoon black pepper
1 teaspoon dried thyme
Procedure
You can mix all ingredients together and fill up the jars or add them to the jars one at a time to distribute them evenly. Tightly pack the ingredients into the jars. This recipe makes 14 pint jars.
At the same time, bring the beef broth to a boil, then reduce the heat and allow it to simmer while you fill the jars.
Fill the jars to within one inch with beef broth, wipe the rims, apply the lids, and process them for 75 minutes (90 minutes for quarts).
Chicken Soup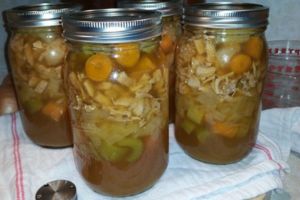 This chicken soup recipe can be used in a variety of ways.
Heat it up and serve it just as it is, or add pasta to make a delicious chicken noodle soup.
You can also add thickeners and serve it over rice, potatoes, or dumplings.
It's one of the most versatile canned meals in a jar you'll ever make.
This recipe yields up to 16 pint jars.
Ingredients
Assemble the following ingredients in a stock pot:
8 quarts chicken stock
6 cups diced chicken, cooked
3 cups diced celery (about one small head of celery)
3 cups sliced carrots
2 cups chopped onion (2 medium onions)
Salt and pepper to taste
Procedure
Bring the ingredients to a boil. Use a ladle to distribute the contents evenly in your jar. There should be plenty of chicken broth to fill up your jars.
If you need more broth, having extra chicken broth on hand will allow you to fill the jars up all the way, allowing one inch of head space.
Related: How To Can Bone Broth At Home With 2 Years Shelf Life
Wipe the rims and apply the lids. Process the jars for 75 minutes with 11 pounds of pressure.
Chili con Carne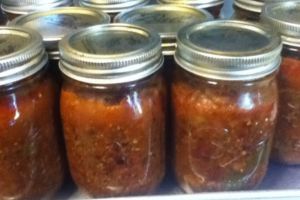 This chili is delicious and nutritious, and you'll love how easy it is to make.
Enjoy it alone or serve it with tortilla chips or cornbread muffins.
This recipe makes 14 pints of canned chili.
Start by Soaking the Beans
Start with 6 cups of dried pinto or kidney beans. Wash them and place them in a stockpot. Add 11 cups of water and allow them to soak for 12 to 18 hours.
After soaking, drain and discard the water. Add 11 cups of fresh water and 4 teaspoons of salt. Bring to a boil, then reduce the heat and simmer for 30 minutes.
Drain and discard the water again, and set the beans aside.
Ingredients
6 lbs ground beef
1-1/2 cups chopped onion
1 cup chopped peppers of your choice (optional)
1 tsp black pepper
3 to 6 tbsp chili powder
2 quarts crushed or whole tomatoes
Procedure
Brown the ground beef, onions, and peppers, and drain the fat. Add to the beans with the remaining ingredients and simmer for another 5 minutes.
Fill warm, clean jars, leaving one inch of head space. Wipe the rims and apply the lids. Process the jars for 75 minutes with 11 pounds of pressure.
Vegetarian Chili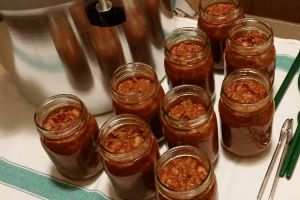 Vegetarian chili might not be on the top of your list, especially if you're a meat-eater. But this is a low-cost way to can food to add to your emergency prep kit without hurting your wallet.
Vegetarian chili is also a great way to use the surplus veggies from your garden.
You can always add ground beef or chicken to this vegetarian chili recipe before eating it. Or, serve it with rice for a hearty, fulfilling meal.
This recipe yields approximately 9 pints.
Start by Soaking the Beans
Soak 3 cups of dried kidney beans in about 12 cups of water overnight. Drain and rinse the beans. Add water to cover the beans and simmer for 30 minutes. Drain well and set aside.
Make the Sauce
Assemble the rest of the ingredients in a large stock pot:
2 cups diced onion
1 cup diced sweet bell pepper
3 tablespoons chili powder
1 tablespoon salt
1 teaspoon black pepper
8 cups tomato juice or vegetable stock
½ cup tomato paste
2 teaspoons dried thyme
2 teaspoons dried cumin
6 garlic cloves, minced
¼ cup fresh parsley, chopped
Bring to a boil, then add the beans. Return to a boil and then turn off the heat.
Procedure
Ladle the vegetarian chili into warm jars, allowing one inch of headspace. Wipe the rims and apply the lids. Process for 75 minutes at 11 pounds of pressure.
Split Pea Soup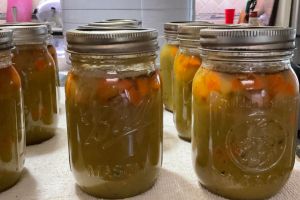 Split pea soup is hearty and makes a great winter soup.
It's packed full of nutrition, too, making it a top choice for long-term storage meals to have on hand when SHTF.
This recipe makes 10 pint jars.
Start by Simmering the Peas
You'll need two 1-pound packages of split peas, which is about 4 cups of split peas total. Place them in a stockpot with 4 quarts of water. Simmer until they are soft, about one hour.
Related: 21 Old-Fashioned Recipes Your Grandma Knew By Heart
Ingredients
Combine the following ingredients with the peas and simmer for another 30 minutes.
2 cups diced onion
3 cups carrots
2 cups diced ham
1 tablespoon Worcestershire sauce
1 bay leaf
1 tablespoon salt (or to taste)
1 teaspoon black pepper
Procedure
Remove the bay leaf from the split pea soup. Fill warm jars, allowing one inch of headspace. Wipe the rims, apply the lids, and process for 75 minutes at 11 pounds of pressure.
Making canned meals in a jar is a great way to prepare your pantry for long-term storage.
Canning is a great skill to have, and it's not as complicated as many people think it is. A lot of preppers are canning pros, but you don't have to be to make these pressure canned meals in a jar.
With these favorites, you can rest assured that you're getting all the nutrition and convenience you need no matter what happens.
You may also like: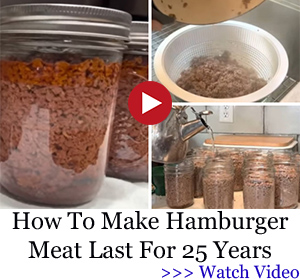 Deadly Mistakes When Storing Water For SHTF
5 Free Food Spots in Your Area That Most People Don't Know About (Maps Included) (Video)
Places To Avoid: Where Looters Will Strike First When SHTF