Imagine some 2000 years ago a Pharaoh was buried in the great pyramids and adorned in gold and riches. Radical wealth disparity in that ancient Egypt, huh?
Not only did the great pharaohs spend eternity under a blanket of gold and jewels, they were also entombed with all kinds of trinkets and even foods! In fact, Archeologists have found honey in these tombs that is easily 2000 years old. The oldest sample has been dated at 3000 years old!
An ingredient like honey basically lasts forever! Of course, it's not the only ingredient that will last for a very long time. As preppers we see the value in ingredients that have a long shelf life.
If food can sit on your shelves for a lifetime than that means you have food for any and all circumstances. For preppers and those seeking a lifetime of self-reliance and independence, FOOD is going to be the single most important commodity in your life in the 21st century.
Related: What Do I Store in My Pantry As a Prepper?
Best by Confusion
Most people believe that the date on the can of food or the package of food at the supermarket is religion. They believe that food past that date is trash.
These best by dates are part of a very interesting misunderstanding that few people clarify. The industry has used this confusion to sell more food!
If people knew the intent of the best by date, rather than the perceived notion, they would buy less food and hold onto what is in their pantry for much longer.
Best by is a quality date. When a food item is produced in a batch, the company is putting its name and reputation out on the market with that product. That food item will not taste the same way forever. There will come a time when a can of soup starts to taste different because of the time in the can. A packaged baked good will taste different after a length of time passes.
Once the taste is compromised, it is no longer representative of that brand and its reputation. It is no longer at its BEST.
Of course, it can be eaten for a long time past that date. Keep that in mind.
Here are 5 delicious recipes with ingredients that last 100 years:
#1. Rice and Bean Soup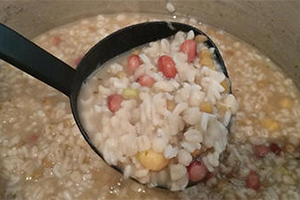 The ingredients you will need are:
1 Cup of Red Beans
¼ Cup of Rice
6 Cups of water
1 Tsp of Chili Powder, Garlic Powder and Turmeric, each
1 Bouillon Cube.
The first thing to do is soak your beans in warm water overnight.
The next day, start by cooking your beans in 6 cups of water and simmer them for about 4 hours or until they are soft. Do not add salt until your beans are soft, or it could prevent them from ever getting tender.
Once the beans have gotten tender, you will add your bouillon cube and spices. Next add your rice and simmer the soup until your rice has cooked through. At this point you can adjust seasoning to your preference with salt and pepper.
#2. Smoked Fish and Dried Potato Cakes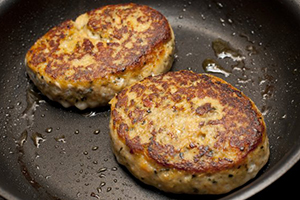 For this second recipe you will need:
1 Cup of Smoked White Fish
2 Cups of Dried Potato Flakes, Dices or Powder
¼ Cup of Flour
¼ Cup of water
1 Egg.
Mix all your ingredients together in a bowl. Form them into patties. Fry on both sides in a cast iron skill with oil. Once they are crispy on both sides, they are ready. Drain excess oil and eat.
Related: 8 Ways to Use Your Rancid Oil for Survival
#3. Red Wheat Berry Cereal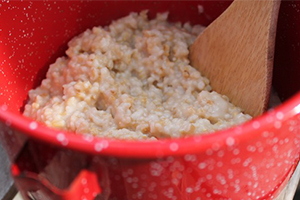 The ingredients needed are:
2 Cups Hard Red Wheat
7 Cups Water
1 Cup of Oats
¼ Cup of Powdered Milk
1 Cup Cooked Wheat Berries
Salt to taste
Cinnamon.
First, cook the wheat berries for one hour in your 7 cups of water, and add salt to make them tender.
Next cook your cup of oats 'till almost done and add your powdered milk and wheat berries. Stir in some cinnamon to taste and you are ready to serve this breakfast up.
Related: 10 Ingenious Ways to Keep Moths Away From Your Grains
#4. Ramen with Jerky and Egg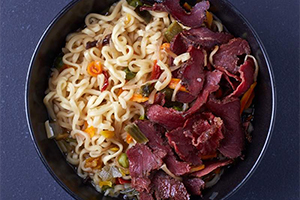 The ingredients you'll need are:
4 Packs of Beef Ramen
Fresh or Frozen Soup Vegetables (corn, peas, potatoes)
1 egg
Tbsp of Dashi Powder.
This is a super easy recipe. Make your Ramen by package directions. Add your soup vegetables, dashi and bring back to a simmer. Take it off the heat and stir in your jerky. Fry the egg and add it on top.
#5. Pemmican and Lentils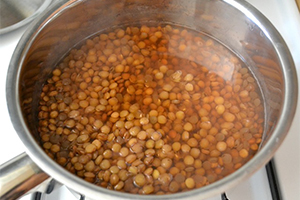 This recipe calls for 6 ingredients only:
1 Cup of Lentils
2 Cups of Water
1 Beef Bouillon Cube
1 Tbsp of Curry Powder
1 Onion, Diced
Start your onion in a pan with a little bit of oil. Sauté the onion over low heat until it goes translucent. Add your lentils and cook them for a minute or so.
Add your water, curry powder and bouillon cube to the pan. Simmer your lentils until they are soft.
In a separate bowl add your pemmican. Drain your lentils and add them to the bowl. Toss the mix sparingly and serve.
These ingredients that last 100 years or more, should be found in every prepper's pantry.  Which of these ingredients are in your pantry?
You may also like: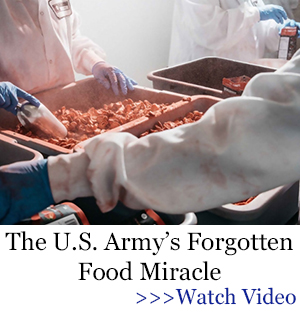 If I Could Only Stockpile 10 Foods
10 Things Cowboys Carried With Them in the Wild West to Survive  (Video)
How Long Can You Store Food In The Freezer? (Infographic)
How the Early Pioneers Preserved Food and What They Ate
What Really Happens if You Eat a Bucket of Survival Food When SHTF