From droughts to floods, there's no way of predicting when a crisis may attack our lives. For this reason, preppers seek a variety of different ways they can prepare themselves for sudden crises.
From stockpiling food to ensuring proper sanitation, survivalists ensure they are always ready to combat challenging times.
Here we discuss in-depth one incredible way preppers can survive upcoming crises:
What's A Survival Garden And Why Do I Need One?
One fantastic way to combat the crisis is by investing in a survival garden. These gardens allow you to produce your own supply of nutritious fruits and vegetables.
Investing energy and resources in a survival garden provides survivalists with an extra layer of protection in disastrous times.
How To Create The Perfect Garden?
The core foundation of each survival garden is curating a high-quality seed. To ensure the perfect environment for your seeds, you need to design your garden appropriately. For this reason, make sure your vegetable garden exists in a spot that receives the most sunlight.
Moreover, make sure there's enough space between your beds to ensure you can tread over without causing any harm.
The Main Ingredient Of Survival Garden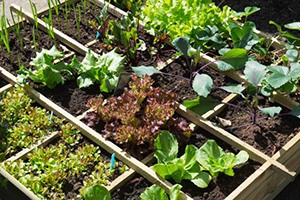 After designing your garden comes choosing the right seeds. In reality, they are the garden's backbone, and therefore, you should have a good collection of seeds.
They should be long-lasting and easy to store to yield premium-quality plantations.
Next, we will discuss the qualities of seeds that make them the right choice for survival gardens.
Related: How to Plant a Perennial Food Garden – Fruits & Veggies That Will Keep Coming Back Year After Year
Qualities Of Survival Seeds
Over the long era of crop domestication, experts have learned a plethora of new seed traits. The quality of seed defines its performance and growth rate.
Here, we discuss the top qualities of survival seeds:
These are extracted from the most delicious fruits and vegetables. Thus these offer high-quality yields
The diverse collection of seeds that grow on survival gardens makes planting seeds a more manageable task in your growing area. Plus, these require minimum care and space, which makes them an attractive choice.
The plethora of options allows you to choose seasonal as well as all-year-round seeds.
These healthy seeds offer growers complete nutrition
Pick seeds that match your food safety concerns like organic, non-GMO, and so on. That way, you ensure a healthy yield.
The genetic characteristics of your seeds may make a difference as well. Consider picking heirloom over hybrids to enjoy proven and healthy seeds.
Regular seeds deteriorate during harvest. However, survival seeds have a low-rate of deterioration in conditioning and harvesting season if stored properly.
How Are Survival Seeds Different From Regular Ones?
Survival seeds are organic seeds and are typically non-GMO and non-hybrid, making them a comparatively more popular option. Other than that, survival seeds boast a better shelf life.
You can quickly store it in a plastic bag or metal tin that closes tightly. Always store it in a cool, dry, and dark place.
Best Seeds For Survival Gardens
Here we take an in-depth look into the best seeds for a survival garden:
Cabbage
A winter harvest – this crop provides gardeners with a considerable amount of produce. Planting a seed every two weeks offers you enough supply to last the whole year.
Moreover, sowing a substantial amount of cabbage in winter ensures enough crops to last up to six months. You may even enjoy turning it into sauerkraut.
Related: How To Make Sauerkraut – The Most Effective Probiotic
Onions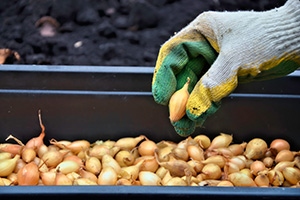 Onions are a vital ingredient in the kitchen, often grown from onion sets. However, you can grow these from seeds in four months during the growing season.
In contrast, you may cultivate the seedlings indoors and transplant them in summer for a healthy yield.
Plus, you can harvest spring onions and onion leaves with carrots when the time's right!
Wild Lettuce
Grown in almost any kind of soil, wild lettuce boasts pain-relieving and sedative effects. The incredible plant reduces pain by acting directly on your central nervous system.
In fact, its sap is so useful that it can numb the most severe of pains. The perfect alternative to commercial painkillers, wild lettuce is a must-have product.
Radish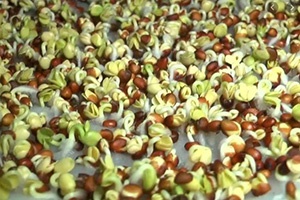 Radish may be at the bottom of most people's favorite vegetable list but secures its place on the top for being the fastest growing vegetable.
With a fantastic sowing-to-harvest of 20 to 30 days, the root vegetable allows users to harvest the vegetable before the month is even over.
Avid gardeners can enjoy a continuous harvest of radish simply if they continue sowing the seeds each day until the growing season comes to an end.
Tomatoes
A vegetable popular in everyone's house, the tomato is something homeowners can't resist growing in their garden, primarily when available in a plethora of different types from current, beefsteak, and whatnot.
Moreover, if your garden lacks adequate space, you can stake tomatoes to ensure they grow vertically. Best of all, you can convert excess crops into a sauce.
Peppermint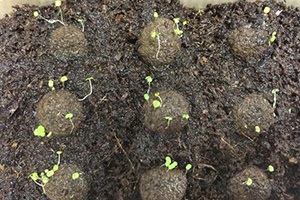 Featuring an incredible aroma, these seeds yield delicious dark green leaves.
Typically, you use peppermints sparingly in tea infusions.
Peppermint boasts fantastic medicinal properties to treat nerves, bile, liver, and stomach problems.
Once you sow these, you'll have to wait 5 to 6 months before you can enjoy eating them.
Related: Make Your Own Peppermint Oil – The Best Insect Repellent
Carrots
Typically grown during the cool-weather, carrots offer a continuous nutritious and delicious yield.
Not to mention, you can grow these under the snow and in USDA zones 4-10. These take about two to three months to grow appropriately.
Potatoes
With the best of both worlds, potatoes are a calorie-dense crop having high proteins, fiber, potassium, and vitamin C. Each potato plant offers between 4 to 5 small potatoes.
During the harvesting period, consider keeping the best ones and green ones for seed stocking.
Avoid eating green ones since they are poisonous.
Meadowsweet
Meadowsweet is a tall perennial boasting a distinctive smell and even better taste.
In Medieval times, people would crush the plant and use it as a pain reliever.
These are best grown from June to August in wet soil and are known to break a fever and encourage sweating during flu.
Corn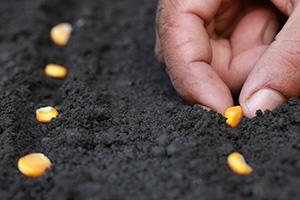 Corn is one cereal crop best grown during warm weather.
Each stalk stands tall and lean to provide you with two or more ears of corn.
The trio of corn, bean, and squash- otherwise known as the three sisters- is an incredible plantation plan for you.
Wheat
One of the most nutritious plantations, wheat, is high in carbs, fibers, proteins, and vitamin B. Plus, without a little bit of effort, you can convert these into flour.
Related: Turning Flour into Hardtack Biscuits With Over 100 Year Shelf Life
Calendula
Calendula can survive in almost any weather, which makes it a popular survival garden seed.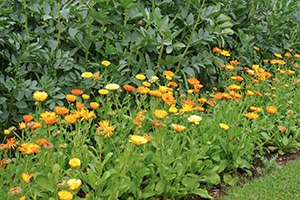 Moreover, these are easy to grow and offer pretty, bright flowers alongside the seed.
The plant boasts pain-relieving properties that help prevent muscle spasms, reduce fever. They are also extremely useful in treating sore throat and stomach ulcers.
Spinach
Spinach offers survival gardeners with iron and vitamin-rich crop.
Moreover, you can use it in almost any dish! Enjoy feasting on delicious leaves through the summer season by planting spinach in early spring.
Kale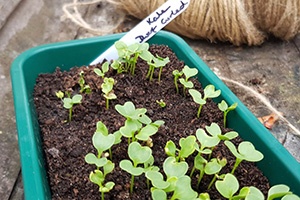 Kale requires at least two months before it's ready for harvesting.
But the benefit of sowing Kale is that you can grow it in almost any kind of soil to receive a nutritious end product.
Plant these versatile seeds from spring to fall to enjoy munching on kale chips later on.
Yarrow
You may grow yarrow in spring or autumn to yield a nutritious and delicious end product.
Moreover, yarrow develops pretty fast, which makes it a popular choice among survivalist gardeners. One benefit of this lovely herb is that it's an excellent way to heal wounds.
Related: 10 Most Powerful Medicinal Plants Used by Cherokees
Squash
A super easy crop to grow, winter squash offers an incredible variety rich in starch calories and vitamins.
They also offer you excellent dietary fibers and store better than other crops. In fact, sealing them in water-tight containers allows you to store them for an indefinite period.
Pumpkin
Famous for assisting early settlers survive in a completely new place, pumpkins are perfect for sweet and savory dishes.
These are full of vital vitamins, minerals, carbohydrates, and fatty acids. Pumpkin offers a substantial yield and takes between three to four months to grow.
Asparagus
Grown by digging deep trenches and planting the crown into them, asparagus takes a couple of years before you can harvest them.
However, asparagus is a perennial vegetable, which means that it will come back each year.
Peppers
Fill your garden up with sweet and hot peppers to change bland dishes into spicy, mouth-watering ones.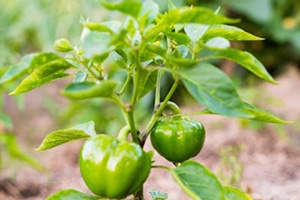 Related: How To Make Pepper Spray
Available in an array of rainbow colors, survival gardeners can choose whichever speaks to them.
Moreover, these are grown in warm weather and take an average of two to three months to grow.
Beetroot
Popular for offering an excellent yield even during frost, survivalist gardeners may grow vegetables in a row several inches apart. Beetroots will pop out of the soil two months later to indicate that they are ready for harvest.
Beans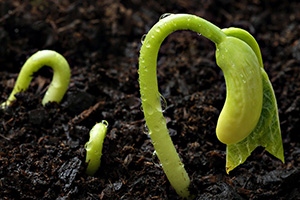 Beans may be of two types, i.e., bush beans and pole beans. Pole beans offer a better yield. However, you'll need to stake them.
Moreover, it would help if you planted beans early in summer to get your hands on a continuous yield of nutritious vegetables.
Not to mention, these are rich in vitamin A, C, and K, calcium, and fiber.
Related: Get An Unlimited Supply Of Beans Growing This Tree
How To Store Survival Seeds
Survivalists should place their survival seeds in either a plastic or tin can and ensure the seal is tight and appropriate. After that, you should place it in a dark and dry place with a relaxed ambiance and low temperature.
Moreover, survival gardeners should utilize moisture-proof containers while ensuring you don't expose the seeds to sunlight. Gardeners should also consider carefully rotating seeds to ensure you plant the oldest ones first.
Lastly, survivalists should save seeds that grow well in their climates.
Factors To Consider When Using Survival Seeds
Survivalist's mission is to seek and store a plethora of survival seeds that meet their food preference.
Here are several factors you should consider before purchasing survival seeds:
Make sure your seed collection is diverse and broad. Moreover, make sure you select survival seeds that are easy to grow.
When designing your garden, be sure to place water lines and sources in the right places.
Ensure your garden is easy to expand and large enough to allow you to rotate crops throughout the region.
All in all, growing a survival garden is an excellent idea for preppers. From the ease to the plethora of available options, there's no way you can go wrong with a survival garden.
Enjoy a constant supply of nutritious and healthy vegetables by planting all the right seeds in your garden.
You may also like: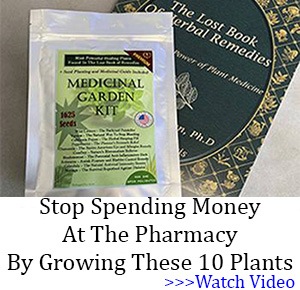 10 Survival Crops You Can Grow Without Irrigation
If You See This Plant In Your Backyard, Burn It Immediately (Video)
How Much Land Do You Need to Be Self-Sufficient?
5 Survival Foods Your Grandmother Used To Make
DIY Home Remedy For Bronchitis