We call them zip ties, zap straps, or cable ties, and sometimes it seems that much of our modern life is held together by them. These thin plastic ratcheting straps have a lot of utility and should be included in any bug out bag, survival kit, or other outdoor kits.
This article is a list of 15 survival uses for zip ties but in reality, their utility is only limited by your imagination.
1. Secure Prisoners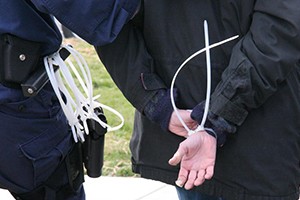 Zip ties are so useful as handcuffs that law enforcement around the world uses a beefed-up version of the standard zip tie to secure prisoners.
Using zip ties to restrain a human being must only be used in accordance with the laws, rules, and regulations of your specific area.
This is not something that should be taken lightly, since zip ties can cause a significant amount of tissue damage if tightened too much.
It is important to realize that the commercially available zip ties are very easy to get out of, if you know what you are doing.
Related: Scare Them Off Or Shoot Them Dead?
2. Cable Ties
This is the most obvious use because this is quite literally what these ties are designed to do. Be it electrical wires or hoses, use zip ties to secure these in place and out of harms way.
3. Lashing
If you run out of or do not have cordage, then zip ties can be used to secure most things together that other cordage would.
This is not always a good option though, since zip ties and cordage work differently. Zip ties also can not be loosened easily so what you've lashed together can not be adjusted or undone without cutting the zip tie.
4. Repair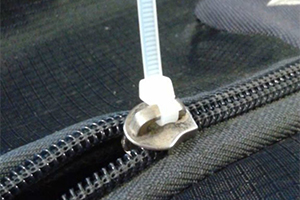 I've used zip ties so often to repair gear that I have buckles that have been held on with zip ties for close to two decades. You can also use zip ties to join together the two sides of a blown-out zipper or to reattach straps to packs or gear bags.
I've even used zip ties to sew together large tears in packs or gear bags.
Related: 15 Pieces of Crucial Urban Survival Gear
5. Splint
Instead of paracord, duct tape, or bandages, you can secure a splint to a fractured arm, leg, or finger by using zip ties. Just don't let the ties cut off circulation.
6. Organizing Gear
Zip ties can be used to organize loops of paracord, pens, small items, etc. A wrap of zip tie can be used to keep similar small items bundled together and easier to organize and stow.
You can also use them to compress rolls of clothing to save space and make your gear more organized.
7. Secure Your Boots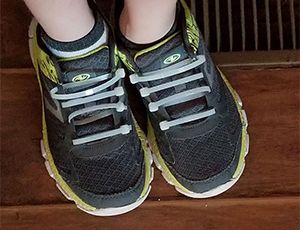 We have all had boot laces blow out and using a zip tie to secure the eyelets together is a good option.
Unfortunately, the only adjustment you can make is to tighten the straps which limits your ability to adjust the fit of your boot or shoe.
Another major downside is that you'll have to cut the ties every time you need to remove your footwear.
8. Hanging Items
A simple loop of zip tie can be used to hang items from anything that the zip tie is long enough to be wrapped around.
I like to make a loose loop out of a zip tie and secure it to whatever object that I want to hang something from with another zip tie. I then use a carabiner to attach the lantern, bag, pouch, etc. to the loop. This allows me to be able to use the same hanging point for multiple objects.
9. Trail Markers
Attaching a colored zip tie to a branch can act as a low-profile trail marker. These are good because they are not as obvious as a strip of flagging tape wrapped around a tree. For the same reason, they are not always ideal because they are easy to miss.
This method of marking is great for marking the location of a hidden cache because it is easy to miss if you do not know what to look for.
10. Tamper-Resistant Lock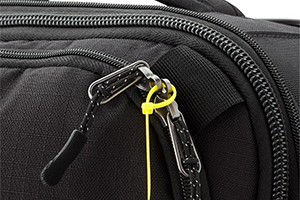 Securing the two ends of a zipper together with a zip tie instead of a padlock is a good way to create a tamper-resistant way to keep your belongings secure.
To gain access to the contents of the bag one would have to cut the zip tie, go through your stuff, and then replace the zip tie.
If you use zip ties of a unique color, then it would be even more unlikely that a potential thief would be able to cut the tie, and re-secure the zipper with a new tie.
Related: Home Security Tips From an Ex-Burglar
11. Make a Handle
A loop of zip tie strapped to a gear bag, a bundle of branches, water containers, etc. can make a good improvised handle. Zip ties are also great for repairing handles that have broken off too.
One point to note is that zip ties are very narrow and can cut into the skin if carrying heavier loads. Wear gloves or wrap the makeshift handle in fabric or leather and save your hands.
12. Attaching Gear
I can not count the number of times that I have attached gear to a pack, web gear, belt, or tactical vest using zip ties. These also work well for reinforcing and adding extra security to MOLLE gear.
I will often secure pouches to packs and molle panels with some zip ties for added security.
13. Make a Spear
Zap strapping a knife to a pole can make a good improvised spear. While I never recommend using a knife in this way, it is a viable option to fashion a quick and dirty survival weapon.
Instead of a knife, you can also secure stone points or spear points made from scrap metal.
Related: How To Make a Glass Arrowhead
14. Tourniquet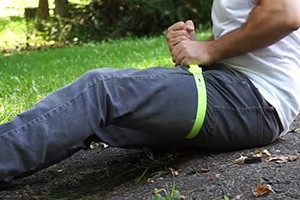 A large and thick zip tie can be used as a last-ditch emergency tourniquet. Since you are guaranteeing tissue damage, you should secure the zip tie as close to the wound as practical.
This is the kind of intervention that absolutely can result in the loss of a limb and the major issue with using a zip tie as a tourniquet is that it will be very difficult to remove without potential harm to the patient.
The zip tie will also dig into the skin and can cause a lot of additional damage. It needs to be stated again that this is a LIFE OR LIMB decision and not to be taken lightly.
Warning:Do not do this, except in dire life or death emergencies.
15. Added Traction
Tie large zip ties around your boots or shoes to help increase traction on ice and snow, but don't ratchet it down too tight as to cut off circulation.
You can also use zip ties to secure anything to the sole of your boots that you think might bite into snow and ice. Zip ties can be useful in attaching your boots to improvised snowshoes as well.
There are far more survival uses for zip ties than what is listed here. I am confident that if you throw a bundle or two into your kits and packs, you'll find an almost infinite amount of uses for them if you use your imagination. What else are you using zip ties for? I'd be happy to find out in your comments below.
You may also like:
12 x More Efficient than Solar Panels? New Inventions Takes (Video)
15 Reasons to Add 4lb Of Lard to Your SHTF Stockpile
Why Doesn't The Government Want You To Be More Independent