Given the state of the world in 2021, with supply chains in disarray and an uncertainty of what the future holds, preparing for the worst-case scenario appears prudent.
In addition to food and supplies that everyone should be prepping, having a Bug Out Bag that can be quickly picked up on the way out the door during a SHTF scenario is common sense.
When packing a Bug Out Bag, consider what food and supplies are necessary for 48 hours in a survival situation. Obtaining the survival gear can be as simple as stocking up on basic, multipurpose items from The Dollar Tree.
The Dollar Tree has everything required for basic preparation, all within a limited budget. In all reality, there is no reason to buy an overpriced Bug Out Bag created by "survival experts" that has all the bells and whistles when something simple will do.
The Dollar Tree has all the essential survival gear like emergency supplies, canned food, necessary electronics like flashlights, and water. So grab your soon-to-be Bug Out Bag, or if in a pinch, buy a backpack at The Dollar Tree and fill it with survival gear that offers mobile preparedness.
Dollar Tree Emergency Supplies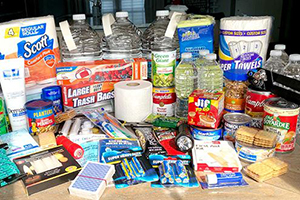 The Dollar Tree has an emergency supply section that has basic survival gear. Some of the inventory includes plastic bottles of water, toilet paper, canned food, a can opener, paracord, lighters, candles, flashlights, batteries, tools, first aid kits, hand sanitizer, large trash bags, hygiene products, bleach, and pet food.
Water Supplies
Water supplies are often the most overlooked aspect of preparedness. Since water is required to remain hydrated, necessary for cooking, and for cleaning, stocking up on plastic bottles of water is a no-brainer. A Bug Out Bag also should have a bottle of water at a minimum, although any more than that becomes too heavy to carry.
Related: Does Water Really Expire?
Anyone in a survival situation will have to find a clean water source and should add a small bottle of bleach into their Bug Out Bag to treat any water they come across if they don't have the opportunity to start a fire and boil water. Somewhere between 8 drops of bleach per gallon of clear water and 16 drops of bleach per gallon of cloudy water is enough to purify water if left to sit for 30 minutes.
While bleach sterilization is great in a pinch, boiled water is the best water purifying option so buy a small metal pot that can be used to boil water and cook food.
Hygiene Products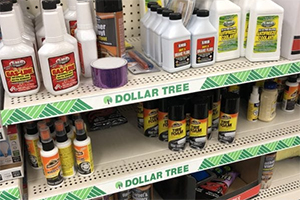 A roll of toilet paper and hygiene products like a toothbrush, floss, toothpaste, soap, and deodorant are nice to have in a backpack as they don't take up too much space.
Floss can serve a number of use cases, like doubling as a fishing line.
Canned Food Items
A large stock of canned food items is the mainstay of any serious prepper, along with dry food like rice and beans that can be stored for years.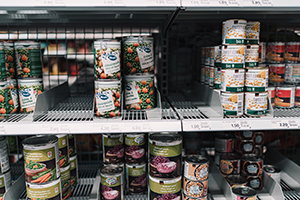 Sealed bags of crackers, pistachios, cashews, almonds, and peanuts are great sources of quick, healthy calories.
In a Bug Out Bag, a couple of cans of tuna, crackers, and packets of nuts provide the necessary protein during a SHTF scenario.
Pet owners also have to consider packing enough pet food to keep their companions happy.
Fire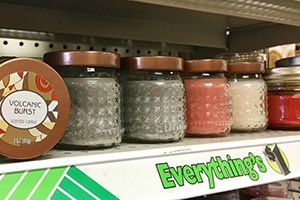 A source of fire is absolutely essential during a survival situation so including lighters, matches, and candles into a Bug Out Bag ensures that starting a fire won't be overly difficult.
Related: How to Make Firebricks and Wood Stove Logs for Free!
Additionally, stock up on a small bottle of alcohol-based hand sanitizer or vaseline and cotton balls to create vaseline glazed cotton balls that can serve as a fire starter.
Although out of stock at the moment, likely due to unprecedented demand from preppers, the Fancy Heat Canned Fuel is the simplest way to cook on the go.
Paracord
This is a necessary item to include in a backpack, as it has so many potential uses. Paracord is essential in securing survival shelters, setting up animal traps, and scaling dangerous terrain.
First Aid Kit
The Dollar Tree offers a First Aid Kit that is small enough to fit into a Bug Out Bag and will be handy if needed.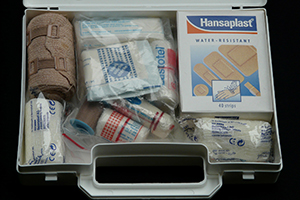 The First Aid Kit includes bandages, antibiotic ointment, rubbing alcohol, cotton swabs, pain relief medication, medical tape, and gauze pads.
Also, consider adding Hydrocortisone cream to the First Aid Kit.
Related: DIY Dollar Store First Aid Kit
Basic Tools
Basic tools like pliers, knives, a flashlight, and batteries can all be found at The Dollar Tree and should be incorporated into a backpack.
In addition to a fixed blade knife, The Dollar Tree also offers both 8-in-1 and 4-in-1 pocket knives.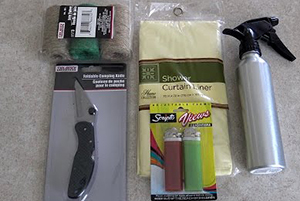 The 8-in-1 pocket knife has a scissors, knife, Phillips screwdriver, can opener, bottle opener, nail file, flat screwdriver, and a corkscrew.
Also, include an X-Acto knife, available at The Dollar Tree, as it offers an infinite number of use cases.
Ponchos and Large Trash Bags
Ponchos and large trash bags take up very little space, but have so many use cases during a survival situation, like doubling as a tarp for a survival shelter and keeping a Bug Out Bag dry when it is raining.
Being prepared for the weather, whatever it may bring makes a survival situation bearable, even in the worst conditions. Since winter is near, add winter clothes like hats and gloves, as hyperthermia is a threat when in the wilderness.
Duct Tape
Last but not least, stock up on duct tape from The Dollar Tree, as it ensures that one can do almost anything, in any situation, if they have a roll of duct tape handy. In order to fit duct tape into the bag, roll out a copious amount over an empty roll of toilet paper and flatten it out.
Being prepared is more of a mindset than anything else. While it takes a trained eye to visualize everyday items as survival gear, anyone can be prepared for a survival situation even if they are on a limited budget.
With the ominous start to the decade, many people are waking up to the reality where basic preparation doesn't seem like a fringe movement, but rather the only logical way forward.
At the most basic level, buying $1 survival gear from The Dollar Tree is simply smart preparation that could save your life.
You may also like: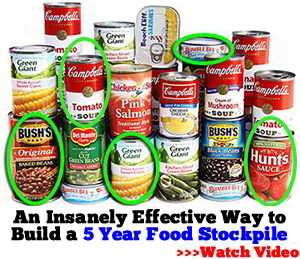 How To Camouflage Yourself In A Survival Situation
10 Medical Supplies You Need To Stockpile Before It's Too Late (Video)
How To Prepare Your Car In Case You Have To Live In It
10 Cast Iron Cooking Mistakes You Need To Stop Making Right Now