There's a general idea that any major disaster is going to cause a breakdown of society, with the associated breakdown of law and order.
Many preppers seem to think that the police and other public servants will abandon their posts, the moment it seems like the ability to pay them becomes questionable.
While I'm sure there are a few who are like this, I have more faith in our law-enforcement community, most of whom have joined that profession from a real desire to serve their fellow man.
I get it though. If everyone is struggling just to stay alive, is it fair for us to expect LEOs to man their posts, when they need to be able to feed their own families too?
Perhaps that would be a reasonable expectation if there were emergency supplies available to them as long as they were on the job. But as far as I know, no such reserves exist. And besides, if it did, there would be plenty of other people who would loudly declare that it wasn't fair that the food should be distributed to them.
Related: The Police and Military when SHTF – Friend or Armed Foe?
I also understand why there will be an increase in crime during such a time. Professional criminals don't know any other way to get what they need.
On top of that, there will be plenty of desperate people out there, who aren't ready for the crisis and don't have any source of supply.
At least some of those who live close to the edge of the law anyway will be quick to cross over the line, pushed there by their desperation. Nothing can make a person desperate faster than having hungry children at home.
When To Intervene
As long as the police are doing their jobs, allow them to do it.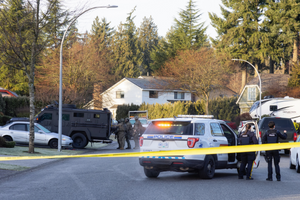 Don't try and take their place unless they ask for help and then if you do help, do it within the confines of what they request.
Having multiple law enforcement groups operating in the community, which aren't in communication with each other, will just cause confusion and might result in blue on blue fire.
Related: When To Let The Police Intervene And When To Take Justice Into Your Own Hands
I have no idea how many police will stay on their posts, but so what if they do abandon their posts? Even if they all do, will there be enough to counter the rise in crime?
Do we have to allow the criminals to take over? Do we have to just sit back and hope they leave us alone, while being prepared to defend our homes?
The History of Policing in America
Let me throw a little historic perspective in here. The very first police force in the United States was created in 1844 and made official in 1845. That was in New York.
Other major cities, like Boston and Philadelphia followed suit in the decades to follow. But even before that, the people had ways of policing their communities, either through volunteers or in a few cases, professional law enforcement officers who were not police.
The most common form of policing that occurred before the invention of police was the night watch. These were volunteers from the community who would watch over their homes and those of their neighbors, looking for fires, stray livestock and criminals involved in nefarious activity.
Night watchmen would take care of the problem themselves, if they could; and if they couldn't they would raise an alarm, so that the other men of the community could assist.
A small number of professional law enforcement officers were hired by different communities and called by a variety of different names: constables, sheriffs and marshals.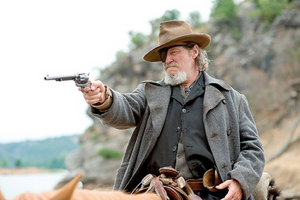 We've all heard of towns in the Old West which hired a town marshal. And we have all seen actor John Wayne play the part of Federal Marshal Reuben "Rooster" Cogburn in the movie True Grit.
The greatest lawmen in the West not only upheld the law, they embodied it.
Besides seeing these lawmen depicted on the silver screen, we've also seen their auxiliary troops, the posse. In other words, vigilantes deputized by the local law enforcement officer to help them bring in a wanted criminal.
The people of the community took the law seriously and assisted those hired to keep the law, when needed. That often included acts that go far beyond what has been depicted on the silver screen.
What If There Was No Law Enforcement?
Should our local police departments be lost, it only makes sense that many communities would fall back on the system that worked for so long. We humans like to live in organized communities, which means some sort of government, even if it is a simple one.
Related: The First Counties To Be Relieved By The Government After SHTF
The loss of organized government would either mean the law-abiding citizens of a community rising up and creating their own government or anarchy inviting war lords to take over.
This shows us clearly when the time for vigilantism comes. There's actually a very narrow window of opportunity between the time that organized government and law enforcement stop and the time that war lords take over.
If we the people don't rise up and take control of our communities during that short window of opportunity, we're going to find ourselves looking down the wrong end of the guns belonging to some war lord (read that as "criminal") taking over our community.
Seattle's Protest 'Autonomous Zone'
Just look what happened in Seattle when the "autonomous zone" was created.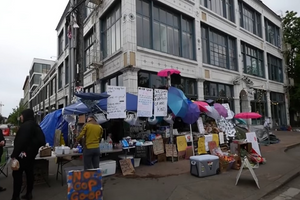 The idea was supposed to be to break out from under government authority, especially police authority.
So they kicked out the police and declared some six blocks of downtown Seattle an autonomous zone, no longer part of Seattle, Washington or the United States.
Related: 6 Items To Carry If There Are Protests In Your State
Within days, a well-known rapper in the zone took upon himself the role of their leader, making himself into a warlord. There was video online of him passing out guns to his followers.
Please note that these warlords are already organized and ready to take over, should the opportunity arise.
That doesn't necessarily mean that they're planning on taking over or awaiting the opportunity; but rather that they are organized, and because they are organized, they are ready to step into that role.
Most of them are criminal or semi-criminal gangs living amongst us, including gangs that push drugs.
Defending the Community
Going out alone against such groups would be suicidal. You or I might be able to defend our communities against single looters; but we can't defend them against gangs. For that we need to have others working with us.
So, the big question is, where do we come up with groups of law-abiding citizens to counter that threat as vigilantes?
There are actually several different types of groups in existence, which can be drawn upon to create a vigilante force, such as church men's groups, the guys who hang out at the shooting range, volunteer fire departments, local survival groups and other adult clubs and organizations.
A quick look around the neighborhood will make any number of such groups immediately obvious. Others, who are not part of any such groups may wish to join, but use these groups to start out with and form the core of the vigilante force.
One of the big advantages of drawing from civic groups to make up a vigilante force, besides availability, is that the members of such groups will already be vetted by their own groups.
Chances are pretty good that anyone in those groups will be law-abiding citizens, rather than a trouble maker that has infiltrated their ranks.
Even so, the vigilantes will need to keep an eye on each other, making sure that those who are supposed to be protecting the community aren't using their position to raid from the community and terrorize its members.
The tricky part in this is that it will be necessary to move quickly and get some sort of regular patrols in place before any of the gangs can start acting up.
Trying to subdue such action and take the community back from warlords will be much harder than keeping them from taking control in the first place. They may rise up and fight anyway, but they won't be doing it from a place of being entrenched and in control.
Related: 5 Things You Need to Do When There'll Be No Rule of Law
Organization is going to be critical to making any such vigilante force function effectively. It doesn't work for just anyone to go out at just any time, patrolling just any part of the community. A schedule will need to be created and maintained, ensuring that there is adequate protection at all times, especially at night.
Along with that, there will need to be a series of signals that can be used, just as they were in the old days, to call out for general help from the community.
Even those who are not part of the vigilante patrol should be made aware of those signals and asked to respond to them. An overwhelming show of force can be the best protection against criminal activity.
At the same time, keep in mind that the people who you will be recruiting from to form the vigilante force will all be dealing with the same sorts of problems at home that the police will, needing to take care of their families. So it will be difficult for them to become involved in patrolling the community.
You'll need to be sure to schedule the volunteers in such a way so as to ensure that they can still do the survival tasks that they need to for their own families, especially growing food and harvesting water.
You may also like: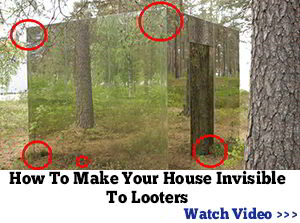 Delicious Recipes Using Cattails "The Supermarket of the Swamp"
Backyard Projects That Might Get You Arrested (Video)
25 Survival Uses For Leftover Bacon Grease