There are no age limits on prepping. Being prepared is a state of mind, and it's one you can have no matter how old you are. Maybe you're getting on a bit in years, but you still have a life to live – and you want to make sure you can carry on with it no matter what the world throws at you. If that's how you feel then prepping is for you.
It's not so easy for a senior citizen to prepare, though. You have a lot of experience, but you probably don't get around as easily as you used to and the chances are you're taking regular medication. There's a lot you can do on your own, but some things are best left to younger people. That means it's much easier to be part of a group.
Unfortunately some prepper groups tend to view older people as a burden, and they're reluctant to let them join. In fact many seniors themselves think they'd be a burden, and they'd rather do what they can on their own than inconvenience a group. These are pretty widespread attitudes, and on the surface you can understand them – but I believe they're way off target.
The truth is, seniors can be a huge asset to any group. If you're part of a group that's deciding whether or not to allow older people to join, or a retiree who's unsure whether they should look for a group, read on – I'm going to explain why being rich in years does not mean being poor in prepping skills.
Experience beats enthusiasm
Seniors might not have the energy of a younger person, but they have a lot more knowledge to fall back on – and knowledge is a powerful tool. It's especially powerful if the elder prepper has younger people around who can listen to their advice and put it into action. The senior knows what needs to be done; the juniors have the physical fitness to do it. It's a perfect example of synergy, when young and old working together can achieve much more than they could have on their own.
Older people have, just by virtue of having lived longer, encountered more situations than the young. They've built up large – sometimes vast – mental databases of problems and how they solved them. This is all knowledge that can be adapted to the new problems that will face us post-SHTF.
The experience of age isn't just about getting by with fewer household appliances. There are a lot of retired combat vets in the USA, and they're people who learned a lot of valuable lessons. Of course younger vets have fought battles just as hard as the ones in southeast Asia, but they had a lot more technology to support them. Someone who spent a year as a light infantryman in the A Shau Valley knows what it's like to fight for their life with nothing but what they can carry on their back; that mental attitude alone is valuable, never mind the practical skills they learned and probably will never forget.
Another benefit of age is a tendency to evaluate a situation before rushing in. The young are often impulsive; the old have learned to think before they act. That can be a priceless asset in a stressful situation. A respected senior can restrain the group from doing something rash, and encourage people to evaluate what's going on before drawing on their experience to come up with a solution.
Related: 5 Bad-ass Perimeter Defense Lessons From A Vietnam Vet
Self-reliance is a dying art
Most people today just aren't very self-reliant. Preppers are swimming against that trend, but the younger ones among us are still products of the modern, heavily interdependent consumer society. We want to do more for ourselves, but we don't always have the skills we need to actually do them. Of course we can learn those skills, and a big part of successful prepping is doing just that, but the reality is that for most preppers self-reliance is a new outlook we're picking up as we go. For many seniors it's what they grew up with.
Even just a few decades ago, most people did a lot more for themselves. They did more of their own repairs around the home, patched old clothes and made new ones, fixed up broken appliances and played shade tree mechanic when their car broke down. If you have a modern car there's no point even looking under the hood; most likely all you'll see is a plastic engine shield with a port for a diagnostic computer.
If you've grown up on modern cars, you probably haven't done much work on them yourself – but a lot of the mechanicals under that shield are the same as they've always been, and a handy old-timer can still fix the timing or change a plug just as well as he always could. He grew up in a world where people replaced their own fan belts; young people didn't.
Survival is multi-generational
In the drive to be as prepared for a crisis as you can be, it's easy to overlook the fact that you might need to do more than satisfy basic needs. If you're in a small group it's going to be all you can do to keep yourselves secure, provide a decent level of comfort, and provide necessities like food, fuel and water. A group of reasonably well-prepared adults, in the right place and with the right equipment, can sustain themselves indefinitely. But sustain yourselves for what?
If you're lucky the crisis will last for a period of a few weeks to a few years, before order is restored and society starts to rebuild. But what if it doesn't? Some scenarios, like a full-scale nuclear exchange or a powerful enough EMP attack, could do enough damage that the USA is finished as a political entity. The system, battered by the attack itself, would simply disintegrate under the pressure of trying to cope with the aftermath. Tens of millions would die and the rest would fragment into small communities, and many individuals, just trying to get by.
It took thousands of years for humanity to produce today's American society – but unless a significant number of preppers are forward-thinking enough, two or thee generations will be enough o take us back to the Neolithic period, with illiterate savages prowling superstitiously through the ruins of our civilization. To avoid that, someone's going to have to educate the next generation – and the old are the perfect people to do that.
If your group members have kids it's vital that they get an education. Of course they need to do their share of everyday tasks, but they need to learn to read and write, do at least basic math, and pick up any other knowledge they can. Without that, they'll never be able to maintain the assets you pass on to them, never mind grow them.
The main thing seniors bring to a group is knowledge and experience. They'll have the time, and usually the patience, to pass that on to children. When older people were at school they also learned by simple but effective methods that are a lot easier to pass on than today's over-complicated education theory. By bringing the older generation into your group, you're maximizing the chances of the next generation to survive – and rebuild the sort of society you want them to live in.
You may also like:
5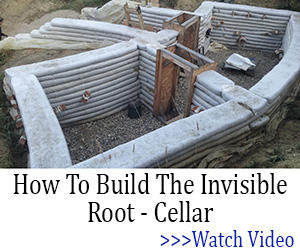 First Aid Skills Every Senior Should Know
World's Smallest Battery Powers House For 2 Days (Video)
3 Non Lethal Booby Traps From An Army Vet