I think I've heard it all now… there are bugs out there who eat paper. I guess that shouldn't be all that surprising, considering how termites go after wood and paper is made from wood fibers.
But I guess it's the kind of paper they eat which surprised me. The bugs I'm talking about seem to have an affinity for toilet paper. Maybe it's softness is easier on their jaws.
As best I know, we're talking about clean toilet paper here, just for clarity sake. Although considering what kinds of bugs are on this list, there might be one, at least, that likes the flavored kind. Uck! I think we'll just ignore that one.
The paper eaters I'm talking about are silverfish. If you haven't seen them, they're a silvery insect about 3/4 of an inch long. If you look close, there are a couple of antenna at one end and a few spikes on the tail at the other end.
Related: Plants You Should Grow Around Your House To Repel Insects And Bugs (Including Termites)
In between, you'll find six legs. They like damp climates, like the bathroom, which may have something to do with their affinity for the toilet paper roll.
Of course, silverfish aren't the only book eaters out there. Cockroaches, termites, and booklice all enjoy a page every now and then. So if the edges or your pages or the edges of your TP roll are getting chewed on, don't assume it's silverfish, it might be one of these other creepy-crawlies.
Since silverfish do like toilet paper, as well as other paper, I can see where these guys might be a problem for preppers, especially preppers who keep their stockpile in the basement.
A lot of basements are damp, making an ideal environment for them. Combine that with packs of toilet paper stacked on shelves, next to the wall, and it looks like you've got a buffet for silverfish all set up.
So, what can we do about this? How can you preserve your precious TP?
To start with, the plastic wrap around the package isn't going to do a bit of good. They can eat right through that. But keeping the packages of TP in would probably be a help.
Apparently silverfish like the edges of the rolls, pages or whatever they munch on; so there's a good chance they would only munch on the edges of the boxes, leaving the content alone… but you never know.
Personally, I think I'd like a little more secure storage for my TP collection. After all, that stuff's going to be worth its weight in gold, especially to women, once the SHTF. So it's worth spending a little money on protecting it.
Related: Homemade Substitutes for Toilet Paper
Secure TP Storage
There are two ways I know for protecting your TP stockpile, other than locking those precious rolls up in a waterproof bank vault somewhere. There's a lot of similarity between them and either one will work. A lot depends on the size rolls you're trying to store.
The first and easiest way of storing your toilet paper is in the PVC pipe. Specifically, I'm referring to the thin-wall 4-inch PVC pipe that's used for septic systems. Just make sure you buy the kind which isn't pierced with holes for effluent (liquid) dispersal in a leech field.
Normal toilet paper rolls will fit just fine in this pipe, but you won't be able to use the "double" and "triple" rolls. Just cut your pipe to fill your storage area, fill it will rolls of paper and cap both ends.
You don't even need to use PVC pipe adhesive to keep the bugs out, although doing that would make it waterproof, so it's probably worth doing.
The second, slightly harder method of storing your TP collection securely also involves building materials. But you're not going to be using the normal "consumer" rolls of toilet paper.
Instead, you'll need to buy the industrial size rolls which are found in factories, office and school bathrooms everywhere.
Related: 50 High-Value Items To Stockpile For When SHTF
These larger rolls are probably going to be a better deal anyway, although they might not be as soft. But then, when it's the only toilet paper around, I doubt there will be anyone complaining.
For this size roll, you'll want to buy the cardboard tubes which are used as forms for making foundation columns. These come in different sizes, so you need to make sure you buy the size that corresponds to your TP rolls; that will probably be the 12-inch size.
There aren't any caps available for these tubes, so you'll need to cut your own out of plywood, particleboard or OSB; whatever you have. Put one in place at one end, caulking it there.
Once it dries, fill the tube with as many rolls as it will hole and then put another round cap in the other end, also caulking it in place. Once the caulking dries, it would be a good idea to go around the edges with duct tape, just to ensure a good seal.
A Defensive Perimeter
Another option to consider, rather than going through the time of stuffing your TP in all those tubes, is to build a defensive perimeter around it. I'm not talking about a big perimeter here; we're just dealing with some little bugs.
But if you put an unbroken line of diatomaceous earth around your stack of TP packages, making sure that there's no place they can get through and that there's no place where the TP packages are touching the wall, you will have constructed an insurmountable obstacle for the silverfish.
Diatomaceous earth feels very soft in your fingers, but it doesn't feel that way to bugs. To them, it's nothing but sharp edges; sharp enough to cut them.
It is able to kill not only silverfish but a wide variety of other creepy crawlers. It's a great, natural way of protecting your home from bugs and to kill off the bugs that manage to get inside.
You may also like: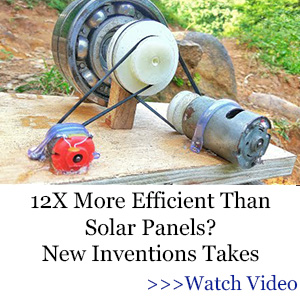 The U.S. Army's Forgotten Food Miracle (Video)
Toilet Paper Pills – The Best Invention You Didn't Know Existed
If You Find This in Your Garden, Burn It Immediately
How to Keep Moisture and Pests Away from Your Food Stockpile