When the feces hits the celestial oscillator, our way of life is going to change, but it won't really matter when the apocalypse happens if you create a culture of survival ahead of time. When it comes to raising animals, this is best done early. Animals require a lot of knowledge and practice to get right. The best preparation you can do is become an expert on the species that suit your needs, dietary habits, and available space. Some of these animals can be kept in your back yard, while others might require a few acres of land. Important considerations are how you would feed them if you didn't have a feed store, how you would butcher them if you didn't have a professional meat processor available, and how you would protect them from theft, disease, etc.
#9 Rabbits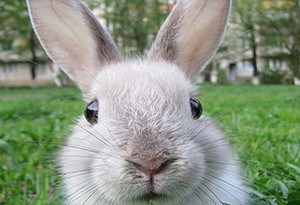 I ate rabbit for the first time in Colombia. It tastes like a gamier chicken, with a bit less fat and slightly lower meat content, but all in all, it was quite delicious! A rabbit is probably one of the easiest animals to raise because they require very little space, and their diet is oftentimes made up of items commonly found in your back yard or garden. If you are raising for meat, aim for a medium-sized breed like Chinchilla or New Zealand Whites. Rabbits prefer a quality clover-hay but will do nicely on good alfalfa. Just keep their little hayrack full at all times. You can also feed them vegetable and fruit cuttings from the kitchen; just pass by them on the way to the compost bin and give them your peels, vegetable tops, and salad leftovers. Lawn cuttings will even work (if you don't use a load of chemicals on it). Two does and a buck can produce up to 40 or 50 rabbits per year to eat. That's a lot of meat, and in a survival situation, it is my number one for efficiency and production capacity.
#8 Sheep
The same as goats, sheep are great for small acreages, they will consume low quality feed and thrive, plus their output is good in the same way! You can also consume sheep's milk, although they don't produce as much as goats, and culturally, the practice doesn't really exist. But it could! The drawback with sheep is climate; they prefer it dry and arid and like higher altitudes. Sheep have a hard time in temperate or humid areas for obvious reasons. However, they do have their advantages. Meat and wool are both two valuable and useful commodities to have available, especially in cold northerly climates. Another benefit of any small livestock is that when you work them, they are easy to control and manipulate compared to a cow or a horse, where accidents can result in broken bones rather than broken nails or bruises.
#7 Goats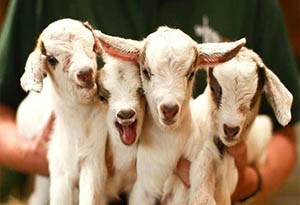 Another small livestock, goats are great if you are again limited on land and food resources. One of the greatest benefits from goats, besides meat, is their milk. Goat milk has the same hemoglobin structure as breast milk and is extremely digestible for humans. This is especially important if you or members of your family have trouble digesting cow's milk. As meat, a medium-sized goat will feed a family for a couple days. They are also great for clearing tall grass and brush in lieu of a lawn mower. Some additional benefits from goats are their pelt, which can be made into vests, tool bags and rugs. The Mohair breed is famous for their fine wool, which is commonly made into luxury coats. One of the greatest benefits of all are their ability to produce two or three babies per year, which means a fast turnaround time for meat and milk. Bottom line: Goats produce an efficient and plentiful output for the input required.
#6 Horses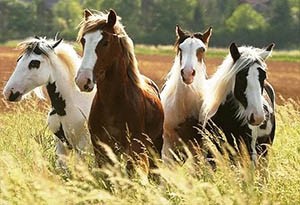 Like cows, they are big and inefficient. Their grazing needs are tremendous, and if your pasture is low on protein or your barn low on hay storage, then you will need to store concentrated feed. While many would think of a horse as a go-to vehicle and pulling animal, they require a high level of expertise and care to prevent injury and sickness. Horses are one of the only animals that require multiple experts to manage: a trainer to break them and make them useful, a farrier to trim their feet and keep them usable, and a vet to float their teeth and castrate. They can quickly consume a large chunk of time better reserved for other survival tasks. Unless you can train and trim, you might be better off with a couple bicycles. On the other hand, for people who do have the experience, a horse could be an extremely valuable animal both for their on-road and off-road capabilities and to cover great distances.
#5 Cows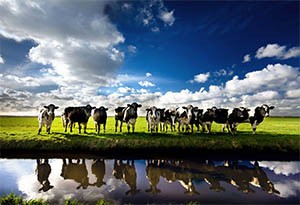 There is nothing like a big juicy T-bone steak on a rough post-apocalypse day of survival. However, they have many disadvantages, which, in my mind, will disqualify them immediately as a post-SHTF livestock to raise.
They require more land and food resources.
Low output to input: Nine months of gestation means you will only have one calf per year plus the cost of feeding them both.
Working them has a higher level of risk due to size and strength.
Basically, if you have no prior experience or a small acreage, raising cattle in a survival situation may not be for you. In normal times, cattle can be woefully inefficient, and in extreme circumstances, they can be a huge risk for a low output. Remember, a broken bone is much harder to treat and receive proper care for in survival situations! I would only recommend cows if you have plenty of pasture, grain production, and years of expertise. Close to 1,200 pounds of meat will go a long way toward feeding your family plus the additional benefit of being a barter item if you are well-versed in the care and processing. Even so, I would hesitate.
Related: How To Preserve Beef in Glass Jars
#4 Pigs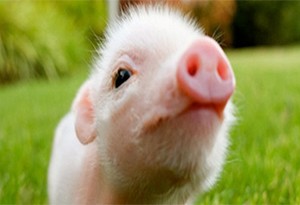 Better than an electric garbage disposal, pigs will eat almost anything. Leftovers, spoiled foods, and excess crop production—they will eat it. Just be sure they can't get into your garden, because they are also nature's plow and will turn the ground over in short order as they root and rut. Electric fencing is recommended for these animals to prevent escapees and from rooting down underneath. Now, on the topic of feeding, many producers mistake their high protein diet needs as an exclusively protein diet. Be sure you give them a balance of protein and carbs in order to gain weight, which means you can't count on them eating exclusively from the kitchen and garden scraps. A pig will consume 800 to 1,000 pounds of feed to reach market weight, so plan appropriately.
#3 Turkeys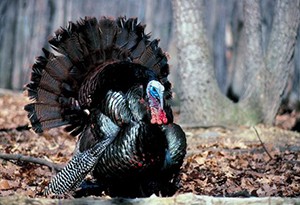 An American favorite, turkeys are larger than chickens and can help add variety to your diet. To have a turkey ready for Thanksgiving, you must have them started by June! If you have a large acreage, turkeys can forage for much of their food; otherwise, like chickens and ducks, you must have concentrated feed available for them as well. The cost to raise for one producer runs an average of $1.20 per pound. A quick note on turkeys: Domestic animals are easy to catch, which can make them susceptible to theft, as I discovered with a turkey I was raising last year for the big day. If you live in a heavily populated area or near busy roads, you might need to keep them in a movable shelter to prevent two-legged critters from taking advantage of your investment. Dogs are great to have in this situation to raise an intruder alert!
#2 Chickens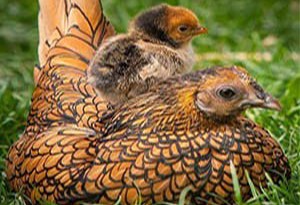 Chickens are another great post-apocalypse resource to have available, but the drawback is they need concentrated feed to fatten up and gain the type of meat you will need for eating. If you are able to cultivate your own corn in high enough quantity, or obtain it regardless of socio-economic unrest, then you won't have a problem. In recent years, there has been a lot of talk about grazing chickens in whatever field or pasture you have available using a coop on wheels that can be moved. This is great to augment their diet while aerating your pasture land and helping to cut down on bugs.
#1 Ducks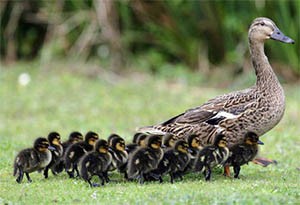 If you have never tried a duck egg you are in for a treat as they are larger and richer in taste than the chicken eggs we are all accustomed to.  They also tend to have higher nutrition levels too!  The only drawback to ducks is that they eat twice as much as chickens and can be very sneaky at hiding their eggs.  This can be a benefit if you live in an area which is heavily populated by non-domestic ducks in a SHTF scenario where you hunt their eggs.  Another drawback is their need to have a pond available to bathe and hunt food.  They can live without water, but they prefer it.  Definitely not an animal to have in the desert.
 Conclusion
There you have it—nine animals to raise (or not to raise) in a post-apocalyptic world. It all comes down to time and resources. If you are in the city, you can raise chickens, rabbits, and maybe even a goat or sheep to help augment your diet. A small animal with a large output can go a long way toward feeding you and your family in an extreme situation as well as giving you a barter item in the form of babies, eggs, milk, and meat. For people that have large farms and ranches with a long growing season, the larger animals like pigs, cows, and horses are easier to consider. Even so, I cannot stress again how inefficient bigger animals are for output and the risk of injury to the handler. Broken bones and infection can become a death sentence in survival situations. Contact your local agriculture extension to find out more information about which animals are best for your local resources and acreage.
The Battery That Can Power Your Home Completely Off The Grid
This Bug Will Kill Most of the Americans during the Next Crisis (video)
15 Things That You Can Forage For In Winter
How the Early Pioneers Preserved Food and What They Ate