Some of us forget that we're living with the World's Largest Ticking Bomb inside our own country. The Yellowstone Volcano is just one of the 10 Supervolcanos on Earth, but scientists think it is the first one to detonate. And for good reason!
Recently, a research group (at University of Utah), using seismic technology to scan its depths, have made a bombshell discovery.
They discovered a new reservoir of hot, partly molten rock 12 to 28 miles beneath the Yellowstone supervolcano, and it is 4.4 times larger than the shallower, long-known magma chamber.
The Yellowstone Volcano was considered the largest volcano on the continent. But with this new discovery it might be the largest volcano in the world.
"The hot rock in the newly discovered, deeper magma reservoir would fill the 1,000-cubic-mile Grand Canyon 11.2 times, while the previously known magma chamber would fill the Grand Canyon 2.5 times", says postdoctoral researcher Jamie Farrell
On top of that, the Yellowstone Volcano has a very intense underground activity. This triggers 2,000 to 3,000 small earthquakes in Yellowstone per year… which means around 7 earthquakes / day.
Some  researchers said that there are no real signs of an impending eruption. But at the same time, they point out that previous eruptions came fast. Writes Timmer:
"An examination of the shape and composition of crystals formed in previous eruptions indicate that the molten material experienced a rapid ascent to the surface, and didn't end up sitting in pools closer to the surface before being ejected. This suggests that a recharging of the deep magma reservoir could lead to relatively rapid eruptions, and there might not be any clear sign of the magma moving towards the surface from there that would tip us off to the coming eruptions.

All of which suggests that monitoring the deep magma reservoir is probably the best way to understand what Yellowstone might be up to." (Source)
This Can be the End of the World as we Know it (Video)
How devastating is a Supervulcano Eruption
First of all I would like to say that humankind (humanoids) has only witnessed 4 Supervulcano eruptions.
640,000 years ago – Yellowstone Hotspot USA – ejected 240 mi³
254,000 years ago –  Whakamaru New Zealand – ejected 480 mi³
74,000 years ago –  Lake Toba Indonesia  – ejected 670 mi³ – eradicated at least 60% of human population. It is believed that the Toba catastrophe caused a global volcanic winter of 6–10 years and possibly a 1,000-year-long cooling episode. This event coincides with a population bottleneck in human evolution when human populations sharply decreased to only 3,000–10,000 surviving individuals. It is supported by genetic evidence suggesting that today's humans are descended from a very small population of between 1,000 and 10,000 breeding pairs that existed about 70,000 years ago (Source)
26,500 years ago – Lake Taupo New Zealand – ejected 280 mi³ – the last major eruption;
Supervulcano eruptions are so powerful that they often form circular calderas rather than cones because the downward withdrawal of magma causes the overlying mass to collapse and fill the void magma chamber beneath.
Two of Yellowstone's three major eruptions are classified as "Supereruptions". The last one formed the caldera that we now know, and it is measured at 30 x 45 miles – almost the size of the park.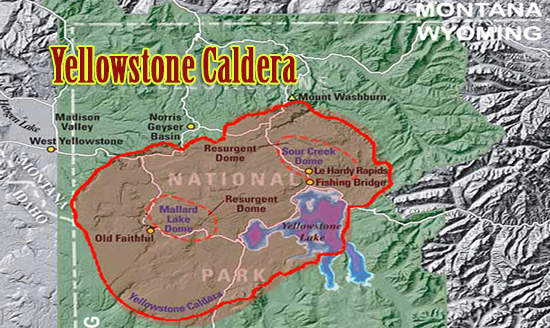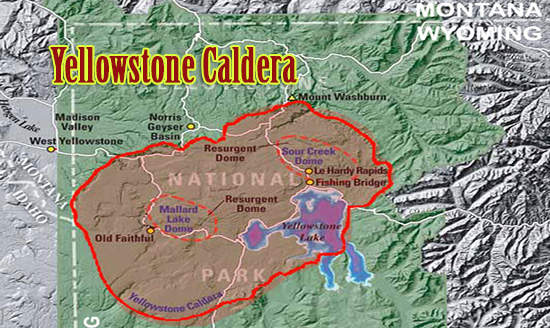 According to the U.S. Geological Survey, there have been three major eruptions of the Yellowstone supervolcano in the last few million years. The first was about 2.1 million years ago, and the second occurred 1.3 million years ago. The last major eruption was 640,000 years ago so approximately a 650,000 years recurrence. Even if we are lucky enough to elude the next eruption in this lifetime… America will face one of the most important natural catastrophes in modern history.
Yellowstone Volcano Death Zone: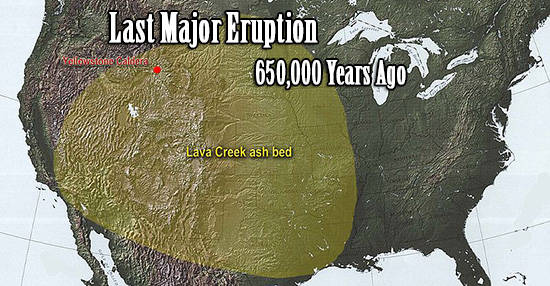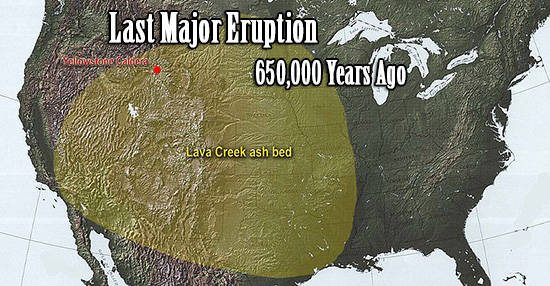 Some say that millions of U.S. citizens could end up in Brazil, Australia, or Argentina if the Yellowstone supervolcano erupts. Other say that there will be no time… and most of the US population will vanish in a cold ashy winter (such as a small ice age).
One thing is certain: the US will be affected the most… and (more important) Agriculture – all around the world – will suffer a deadly blow!!!
A few years long winter caused by the ash – blocking the sunlight – will set a new challenge for humankind. And if we survived as a human race the Toba Supervolcano  (74,000 years ago) that was probably because we were not dependent on the agriculture (wasn't even discovered). In fact humans were just hunters and gatherers.
Now, with a super populated Planet, we are more dependent on our crops than ever before.
A year long winter will start a worldwide famine of unprecedented levels. And if we face a 5 year long winter… I'm not sure we are going to survive as a human race.
And don't think that a Supervulcano cannot extinct us.
Related: An insanely effective way to build a 5 year food stockpile (Video)
Worst Case Scenario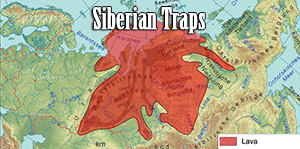 Few people know this, but the largest extinction event that has ever happened on this Planet was the P-Tr extinction event – 250 million years ago – when 96% of all marine species and 70% of terrestrial vertebrate species disappeared (this is before dinosaurs).
It is believed that the Apocalypse was initiated by a massive volcano, coal/gas fires and explosions from the Siberian Traps. The Siberian Traps form a large region of volcanic rock in Siberia (Russia). The massive eruptive event blasted unprecedented amounts of lava and gas into the atmosphere. See map.
You may also like:
The Most Important Prophecy that is Encrypted Inside our Holy Bible (Video)
The 7 Lost US Nuclear Bombs that ISIS is trying to get Their Hands on
24 Lost Survival Tips from 100 Years Ago – with Illustrations
7 Actions to Take Immediately Following an EMP Strike