We often hear about proposed gun control measures in the news. One proposed gun control measure that comes up repeatedly is the prohibition of specific types of firearms.
Whether we like it or not, there are specific types of firearms that politicians serving in the Federal or state governments in the United States do not want civilians owning.
Most other countries have already banned these firearms or at least put stringent restrictions on them, and there are understandably many fears that the same is bound to happen to Americans as well.
Here are five guns the government doesn't want you to have:
AR-15 Rifles and Carbines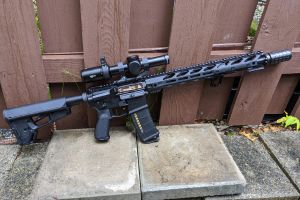 The AR-15 is both the most popular rifle in America as well as the most vilified. Depending on which side of the debate you're on, the AR-15 is either one of the best weapons you can own or it's the absolute bane of firearms existence. A common argument made in favor of banning AR-15s in America is that "nobody needs an AR-15."
If this is true, then why do an estimated over 1 in 20 Americans own one? The reason is pretty simple: it's a good rifle!
Related: 7 Homemade Weapons That A Prepper Should Have
The AR-15 is easy to shoot due to its minimal recoil, and is easily customizable due to the plethora of accessories and add-ons that are available on the market.
It's also immensely practical, as it can easily fulfill the role of both a home defense and hunting rifle.
Still, none of that has stopped several elected officials from calling for the complete banning of sales of the AR-15 as well as requiring existing ARs floating around in civilian hands to be turned in.
Likewise, there has been an equally forceful argument against the banning of AR-15s from those who recognize the usefulness of them in civilian hands, which is why a complete ban hasn't happened yet.
AR-15 Pistols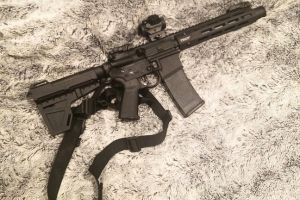 Another AR-15 that deserves its own category is the AR-15 pistol. An AR-15 pistol is simply an AR-15 with a 10-inch or lesser barrel. Under current United States Federal law, civilians can legally own AR-15s with 16-inch or longer barrels (rifles and carbines), or AR-15s with 10 inch or lesser barrels (pistols).
The AR-15 pistols have received extra scrutiny from government officials due to the fact that they are easily concealable.
Also under current Federal law, firearms classified as pistols cannot be equipped with a stock that enables the pistol to be fired from the shoulder, because if they are they become classified as short barreled rifles (SBRs), which are restricted.
To get around this, AR-15 pistols are commonly equipped with stabilizing pistol braces, which have also received extra scrutiny from government officials for years. A pistol brace is a replacement for a buttstock, and is designed to wrap around a shooter's arm so they can more effectively fire the weapon one handed.
But the brace can also be used in the same manner as a traditional stock if it is pressed against the shooter's shoulder.
Since stabilizing braces walk a fine line between being a stock or not, they are often vilified by gun control advocates.
The ATF recently released a new rule that pistols with stabilizing braces must be registered as SBRs under the National Firearms Act, but the rule is currently being challenged in court.
Of course, all of this necessitates the question of why adding a stock to a legal pistol is restricted in the first place, but that's perhaps a question for another day.
AK-47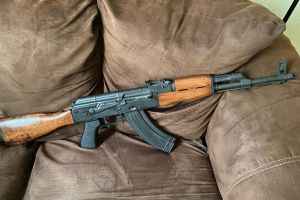 The AR-15 is perhaps the most disparaged firearm by gun control advocates today, but the AK-47 is a close second. The AK-47 is actually the most popular semi-automatic rifle worldwide.
Related: Best States For Self-Defense. Do You Live In One Of Them?
It's well known for its inherent ruggedness and reliability, and the 7.62x39mm round it fires actually offers a bit more power than the 5.56x45mm NATO round of the AR-15.
To the government officials arguing for the prohibition of the AR-15, the AK-47 is every bit as 'evil.'
Any law enacted that bans AR-15s would almost certainly ban the AK-47 and its associated variants in the same law.
Pistol Caliber Carbines
Pistol caliber carbines are often vilified by the same gun control advocates arguing the prohibition of the AR-15 and AK-47. The reason is pretty simple: they look just as 'scary' as ARs and AKs do.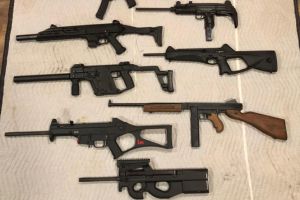 Also known as PCCs, pistol caliber carbines are short shoulder-fired rifles that fire pistol-caliber ammunition.
This includes guns like pistol-caliber       AR-15s, Beretta Cx4 Storm, CZ Scorpion, HK MP5, Kel-Tec SUB-2000, Ruger PC Carbine, and the SIG Sauer MPX.
On one hand, pistol caliber carbines lack the range and power of a carbine firing rifle ammunition. On the other hand, they are much easier to shoot with less recoil and are cheaper to shoot as well.
Gun control advocates in the government also don't like the fact that pistol caliber carbines can sometimes be very compact and easy to conceal on one's person, much like how an AR-15 pistol is.
Barrett M82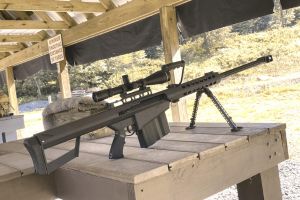 The Barrett M82 is a .50-caliber semi-automatic sniper rifle that is one of the most powerful shoulder-fired weapons in existence.
The .50 BMG round it fires is the same round used in the .50 Browning M2 machine gun. This fact alone makes it a prime target by pro-gun control officials.
The M82 is most famous for its use in the military, where it is used to engage enemy personnel at long distances.
But believe it or not, the Barrett M82 was actually marketed to civilians before it was marketed to military units. The gun saw very limited service in the 1990s and wasn't fully adopted until the early 2000s.
Today, few civilians own the Barrett M82 because of how expensive it is. But that hasn't stopped government officials from forcefully advocating it being banned from civilian use, with the argument commonly being that it's "too powerful" for civilians to get their hands on.
The above five types of guns are perhaps the five most cited by gun control advocates serving in the government calling for certain types of guns to be banned.
Whether they actually will be is yet to be determined and will likely be an ongoing struggle unless there is a massive cultural shift one way or the other.
For now, however, each of the above firearms we've discussed are legal in the United States…and hopefully it will stay that way.
You may also like: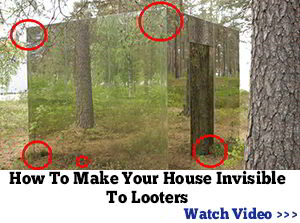 Antibiotic Herbs And Plants To Grow Before SHTF
How To Build An Underground Bunker For Only $400 (Video)
Why You Should Put A Silver Coin In Water