Pests are a plant's worst enemy. From aphids to snails, grasshoppers to fungi, these organisms can infest their chosen plant and either hamper its development or destroy it completely.
In practice, there are several methods of pest control that you can use, ranging from biological methods (introducing predators to prey on your pests) to man-made chemicals to keep your plants safe.
But many of these techniques are either impractical for daily use, or leave our plants coated in chemicals that we don't want to consume.
And yet, a safer solution could be hiding in your pantry: a homemade bio-pesticide from onion or garlic skins.
Related: How To Protect Your Garden From Pests And Diseases
Home Made Bio-Pesticide
Bio-pesticides are organic pesticides that make use of the defense mechanisms developed by certain plants, and applying those organic chemicals to your garden. This results in a non-toxic technique to control pests, that is safe for the plant and for you.
One of the best and easiest bio-pesticides you can make at home is based on common kitchen waste: onion skins.
You can use skins or dry leaves from any member of the onion family, including white onions, shallots, garlic, or even leeks. Repurposing household waste in this way is great for sustainability, and means you can produce as much pesticide as you need for zero cost.
Onion and garlic skins contain potassium, magnesium, phosphorus, and zinc which are great for plants' growth and development. But they also contain sulfur compounds: allicin in garlic, and lacrymatory factor in onion, which is why cutting onions makes your eyes water.
These sulfur compounds are toxic to insects, parasitic nematodes, slugs, snails, and fungi. They are also effective insect repellants, meaning you don't just kill the pests on your plants today, but keep them away in the days to come.
How To Make Onion-Garlic Skin Pesticide
The first step is to collect some onion and garlic skins.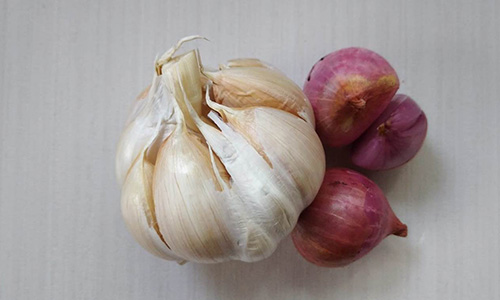 Simply strip away the dried, outer layers: for this demonstration, we are using the outside skins of some garlic and shallots.
You can also collect the skins whenever you are cooking, and store them in a dry container or in the freezer until you are ready to use them.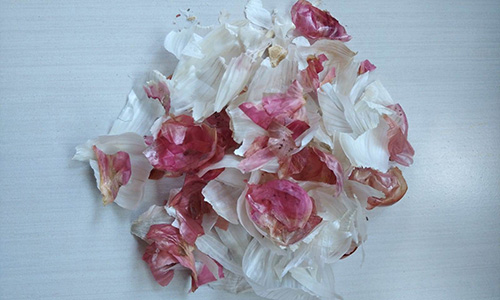 Put the skins into a transparent bottle or container. Add some water, leaving a little space at the top of the bottle.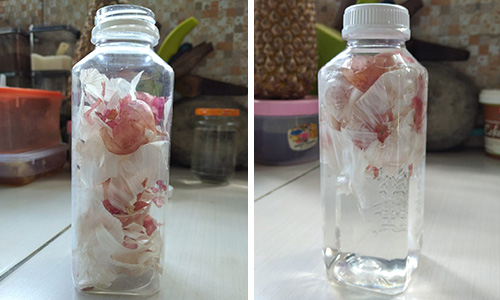 Keep the bottle at room temperature for 2 – 3 days. When the biopesticide is ready to use, the color of the liquid will turn brown, and the onion and garlic skins will form a mass at the bottom of the bottle.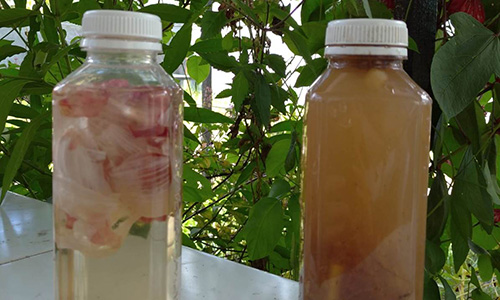 When you open the bottle, there will be a strong smell – this is from the sulfur compounds that are going to kill the bugs.
Using Your Homemade Pesticide
If you use the pesticide on infested plants, the easiest way to apply it is to transfer the pesticide to a spray bottle.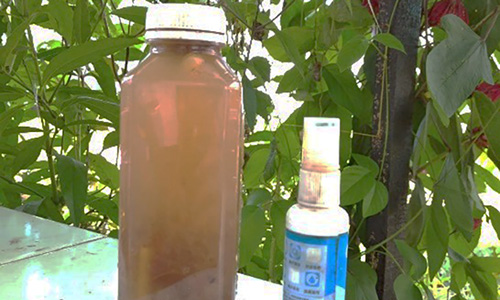 If you want to treat an existing infestation, you can target your pesticide spray onto the parts of the plant that are infested. Alternatively, if you're using it as a repellent, then you can apply broadly to the whole plant.
Related: Make Your Own Peppermint Oil – The Best Insect Repellent
The best time to do this is in the early morning or evening. Try not to spray the plant in the middle of the day in hot weather, because it could make the plant wither.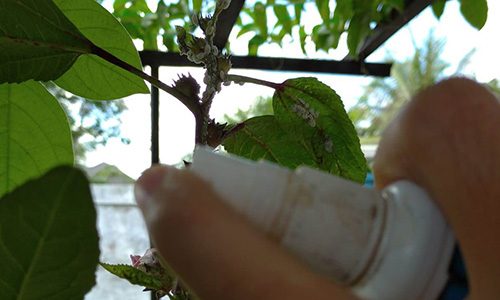 The effects are noticeable within a few hours.
The part of the plants that you sprayed with the pesticide will stay healthy, while the pests that were attacking the leaves and fruits of your plant will dry out and die.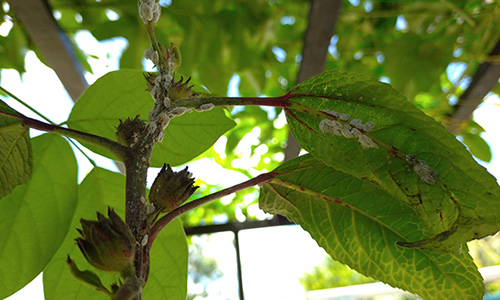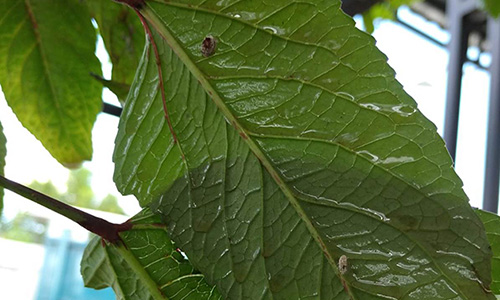 What Pests Can Be Killed With Onion-Garlic Skin Pesticide?
In a review of published research into the pesticidal properties of garlic, scientists have identified that the allium sulfur compounds in this simple onion and garlic skin recipe kill a range of pests.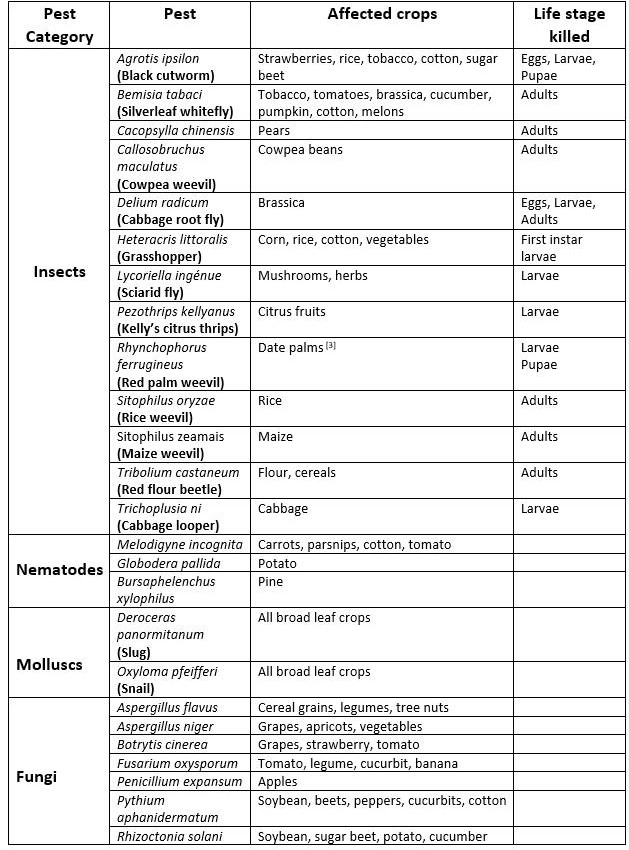 This concoction can also be used as a repellant and pesticide for other types of pest, including mosquitoes, ants, and bedbugs.
Pour a small amount of your pesticide into a dish, and put it in the room or area that you want to keep free of these insects.
As the aroma from the pesticide fills the room, these pests will make a sharp exit.
Related: Homemade Traps for Garden Pests
Warnings
1. Make sure to keep this mixture away from pets, as onions and their relatives can be toxic to dogs and cats.
2. The smell of this pesticide is very pungent. Although the aroma usually dissipates within 5 to 10 minutes after you apply it to plants, if you are using it in a dish to repel mosquitoes then the smell will linger for longer.
This may also be a good repellent for unwanted visitors of the human variety!
Bottom Line
Onions, garlic and their cousins have several uses in SHTF preparation, in traditional medicine, maintenance of household appliances, and even as a rooting agent for cuttings.
But this simple homemade pesticide is one of the cheapest and most effective pesticides you will find in your pantry.
You may also like: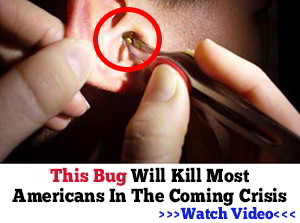 How Growing Your Own Vegetables Can Get You Arrested
What Happens If You Pour Sugar Into A Carved-Out Onion (Video)
26 Necessary Tools for Off-Grid Living